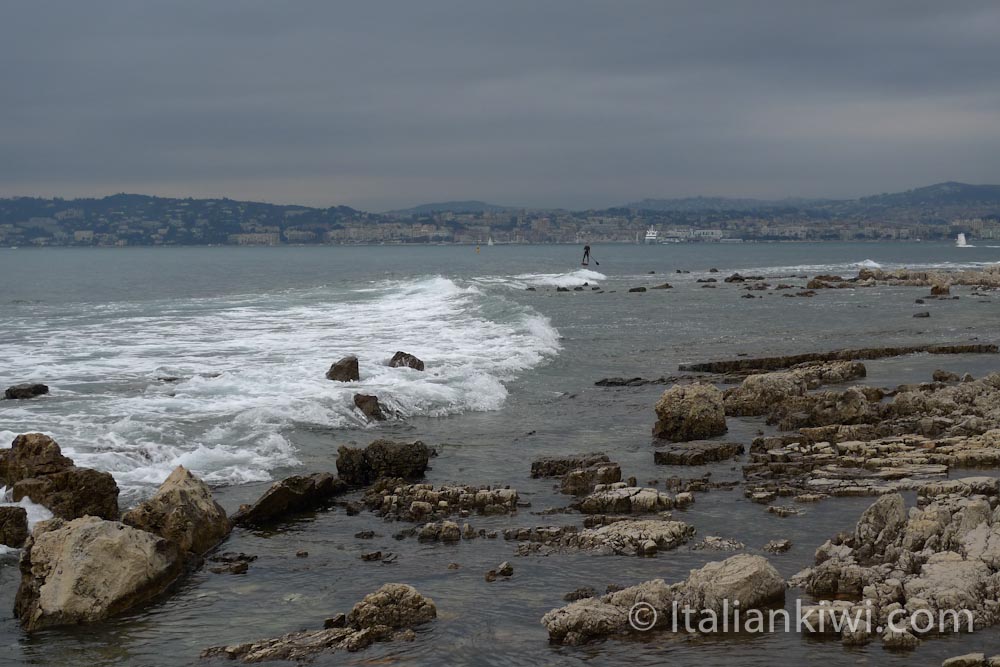 Why you should never volunteer for a school camp
Normally, I would start a recipe post with a photo of the "dish of the day", in this case "rolatine" that I am about to rave on about, but today, I'm starting with a photo taken of a beach just before the rain started.  This is to explain why you haven't heard from me for the past week or so.  I spent a week helping out on a school camp with my eldest son's class.  If you have never thought to imagine what it would be like to be stranded on a island for 5 days with 26 eight year olds when it's raining and cold and you have to force them to go out sailing, knowing that they're going to be doused with freezing sea water, now's the time to do it.  And now, breathe a sigh of relief that the person you're imagining was me and not you and go back to drinking your piping hot mug of tea or coffee. If you're curious, the island in question was Île Sainte-Marguerite, one of the beautiful Îles des Lérins, just off the coast of Cannes.  It's where the Man in the Iron Mask was imprisoned many hundreds of years ago.  I don't think the accommodation has been much updated from when he was there……I strongly urge you to go visit if you get the chance.  But, I also strongly urge you to go when it's warm and sunny……….and NOT to go with a class of 8 year olds.
What are rolatine?
So, I'm back on the "mainland" now, and finally warm again, so I can post this recipe.  It's another one of my mother-in-law's favourites (along with carote di Bianca and frittata di spinaci ). I have had requests from my husband's old school friends to put this one up.  When they used to go over to my husband's place back in high school, my mother-in-law would often make a huge pot of rolatine for them to eat.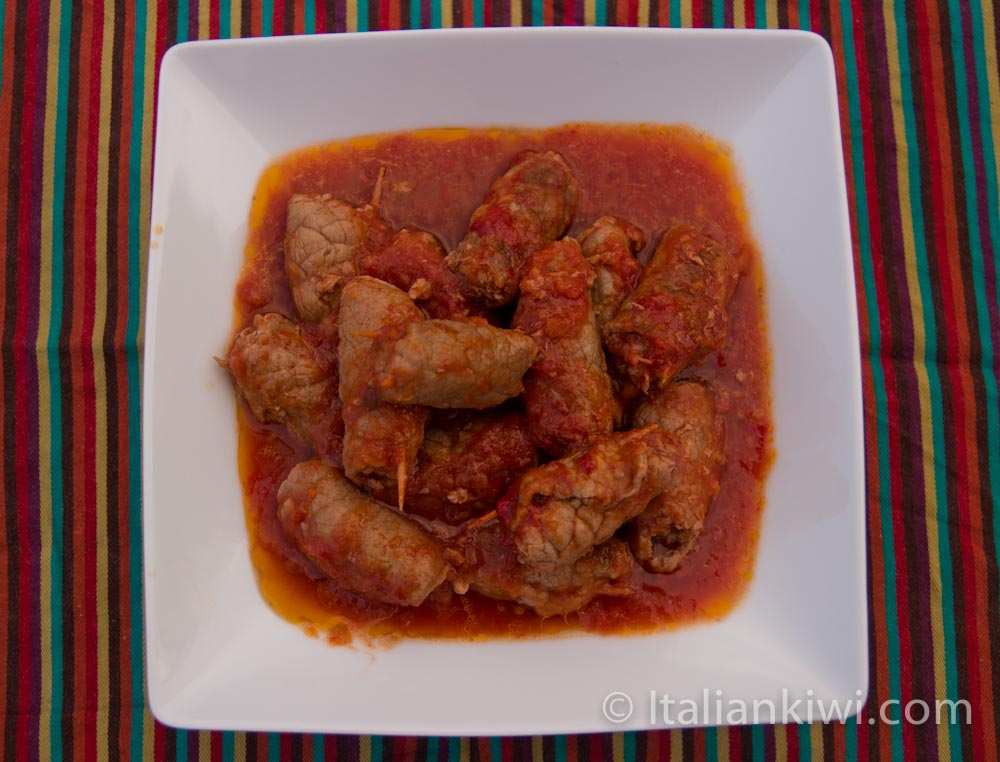 Where did the name "rolatine" come from?
The name "rolatine" comes from my mother-in-law, but this type of preparation is common throughout Italy.  The more common name is involtini. Involtini can be very diverse.  The basic precept is to use slices of meat of some kind or aubergine  and wrap it around a filling, which can range from vegetables, to cheese, to breadcrumbs or rice.  Your imagination is your only limitation (well, that and good sense for what goes together…….for instance, chicken stuffed with chocolate may be a bad idea). These rolatine are made with very thin slices of beef, and stuffed with a mixture of vegetables and prosciutto, then simmered in a tomato sauce.
Are you toothpick challenged too?
This is a great "make-ahead" dish, as the flavours deepen if it is left overnight after cooking it. The only tricky thing is to be good and sticking toothpicks through things.  My mother-in-law manages to use one toothpick and stick it straight through the centre of each rolatina so that you have an inbuilt nifty handle when eating it, and don't need a fork (which is great for parties!).  I am toothpick-challenged though and when I try to do this, everything falls out left and right.
By Lisa Watson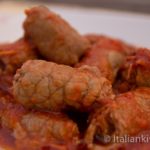 Print Recipe
Rolatine: stuffed fillets of beef
This delcious recipe for stuffed beef fillets froms from my Italian mother-in-law. Try it out today!
Ingredients
500

g

Thin slices of beef

1.1lbs – depends on appetite of people!

1/2

Onion

1

Carrot

1

Celery stalk

200

g

Prosciutto or cooked ham

7 oz

500

ml

tomato puree

Simmering water or broth

to cover

1

Beef bouillon cube

Toothpicks
Instructions
Cut the slices into pieces approximately 8 -10 cm wide (2 inches).

Chop the onion, carrot and celery in a food processor, or get your good knife out and mince the vegetables.

Lay the slices of beef on a plate or chopping board.  Spread a few teaspoons of the vegetable mixture on them, then add a layer of prosciutto or cooked ham.

Starting from the narrowest end (if there is one) roll the beef slice up and secure it with a toothpick (or two if you're like me).  Repeat this process for all the slices of beef.

Heat olive oil in a frying pan on medium-high and brown the beef rolls on all sides.

Lower the heat to medium/medium-low and add the tomato puree, 1 tsp salt, and the bouillon cube.

Add water to just cover the rolatine and leave to simmer for about 20 minutes, stirring occasionally.

If the sauce is too watery at the end, turn the heat up to let the sauce thicken a little.
Notes
Rolatine keep well in the fridge for 3 – 4 days.  They can be frozen.  Just cover them in their sauce and freeze in a tightly sealed container.