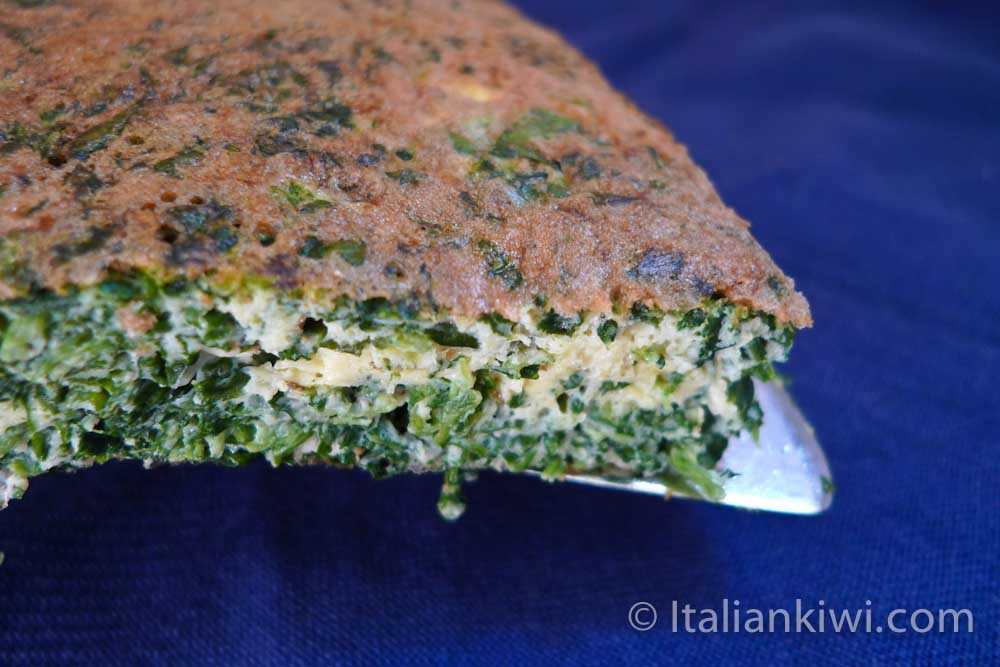 What to give to people who hate spinach so that they will eat spinach
So, what can you do to get people (especially the young kind!) to eat spinach.  Well, I'll let you in on a secret: this frittata is it, and not only will they eat spinach when it's hidden in an eggy mess, but they will eat eggs, which they also "hate" ( or so they tell me)! Frittata, generally, is a great way to use up those left-over vegetables that have been lurking in the back of the fridge for a while yelling, "EAT ME, NOT THAT!!" when you're reaching for the cheese or white wine. After you close the door in their imploring faces, they lapse into a wilting sulk and start to will themselves to turn brown and mouldy so they can get their revenge and mess up your vegetable drawer (Yes, Mr Endive, I'm talking to you!!).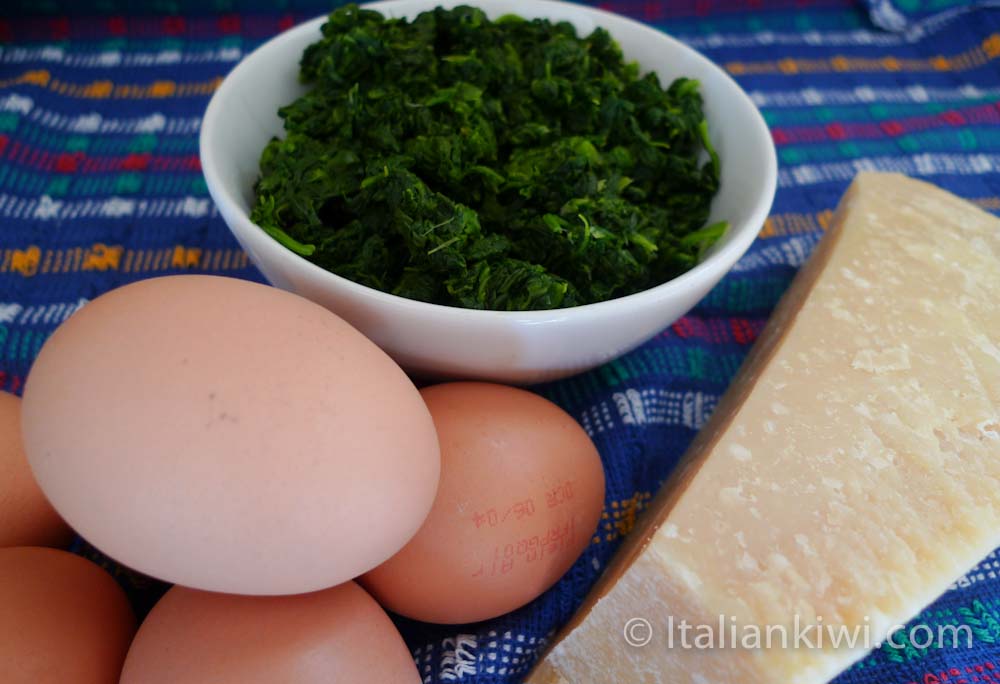 Frittata can be made quickly and is a useful leftover to have in the fridge
Another great thing about frittata is that you need very few ingredients and it only takes no more than half an hour to make from start to finish.  For me, it's always one of those meals I make when it gets late and I suddenly go into panic because there's nothing to eat for dinner. Even better, if there are left-overs and you have friends over for dinner, you can cut it into little squares and serve it as an aperitif.  The friends think you've gone to lots of trouble as it looks quite elegant (damn, now I've let the cat out of the bag on that one, I can't impress any of you guys with that trick again…..)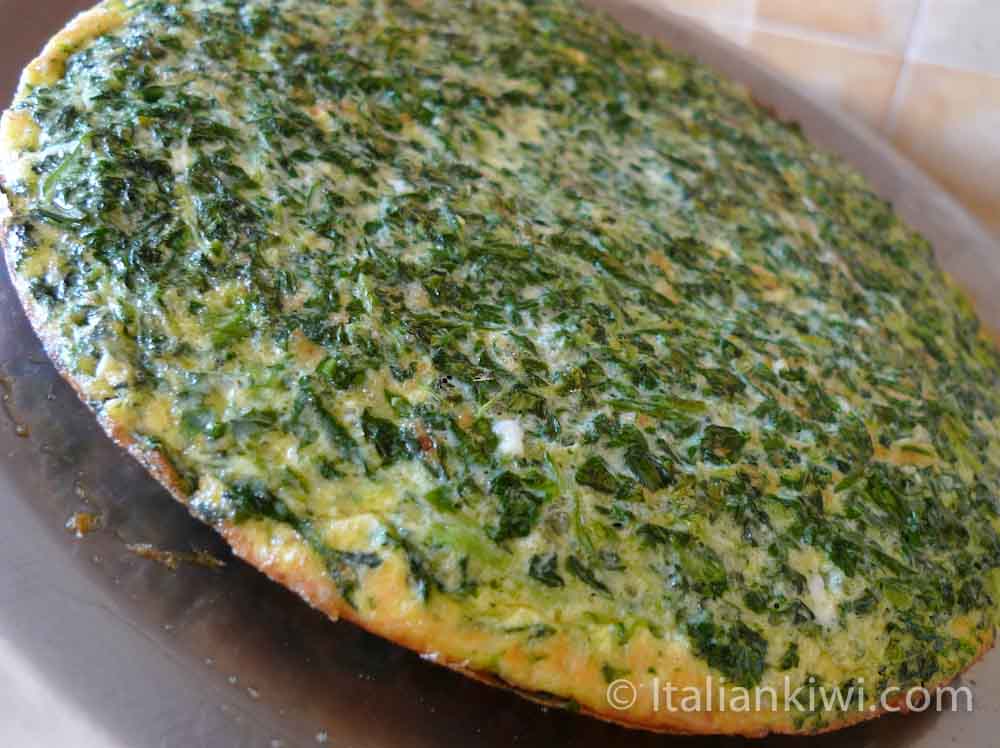 In Italy, spinach frittata is often eaten with red-wine vinegar sprinkled over it.  I've discovered that this vinegar is also a magic ingredient to make children (or at least mine) eat ANY vegetables I put in frittata. 🙂 You can find one with broad beans in it here.
It's also great cut up and put in a sandwich for a picnic or to take to work for lunch.
For tips and tricks to making the perfect frittata, click here.
By Lisa Watson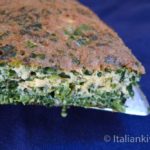 Print Recipe
Spinach Frittata
How to make spinach frittata, or What to give to people who hate spinach so that they will eat spinach
Ingredients
250

g

Frozen spinach

7oz ; or 1 large bunch of fresh spinach

6

Eggs

40

g

grated Parmesan cheese

1.4oz

2

Tbsp

Milk

1

tsp

Salt

Pepper

to taste

4

Tbsp

Olive oil
Instructions
Thaw frozen spinach or steam the fresh spinach.  Let it cool a little then squeeze as much water as possible out of it.

While waiting for the spinach, whisk the eggs with the cheese, milk and salt and pepper. Add the cooled spinach and mix everything together.  Don't add the spinach while it is hot otherwise the egg will cook around it and make lumpy mess. 🙂

Heat the oil in a frying-pan on medium heat.  I use a 26cm (10inch) diameter pan. Pour in the frittata mixture. Put a lid on the pan and leave it, without shaking or stirring, to cook for 7-10 minutes until the top is set.

Now comes the tricky part, but take a deep breath and "just do it!" as those shoe people say!  Slide the frittata out of the pan onto the lid or onto a plate.  It needs to be flipped so that the part which is the top at present can brown a little.  My method is to tip the frying-pan upside down and place it on top of the frittata and then turn everything right-way up again.  If you're feeling adventurous, you could try and flip the frittata off the plate into the pan.  Just have plenty of cleaning supplies handy!

Let what is now the bottom of the frittata brown for 2 – 3 minutes, then slide onto a plate.
Notes
Instead of spinach you can use any vegetable, or combination of vegetables you like.  They need to be chopped into small pieces, or sliced (e.g. zucchini). and cooked first.