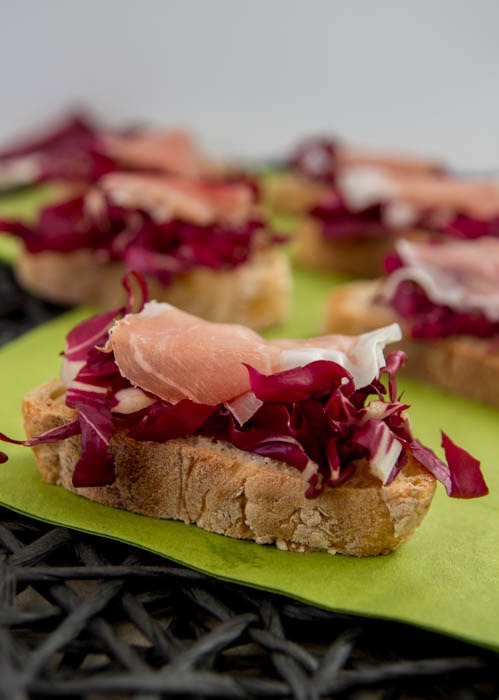 A delicious way to use up stale bread
What do you do with your leftover stale bread?  It feels wrong to just throw it out, right?  If you have chickens or pigs, you don't need to even worry about this issue, but as our cat is not very partial to stale bread, and we don't own any other livestock, I always need to find some other way to eat it.  Luckily for us, the Cucina Conversations group has come to the rescue this month!  If you look at the bottom of this post, you can find many delicious recipes for using stale bread.  I intend to try all of them! One of the easiest ways to use up old bread is to make bruschetta.  Since it's the middle of Winter, I thought I would try out some toppings more suitable to this time of the year, which is where the radicchio (red chicory/treviso salad) comes in.  If you are sweltering in the Southern hemisphere right now, go ahead and adorn your bruschetta with tomatoes and make the shivering people in the North jealous.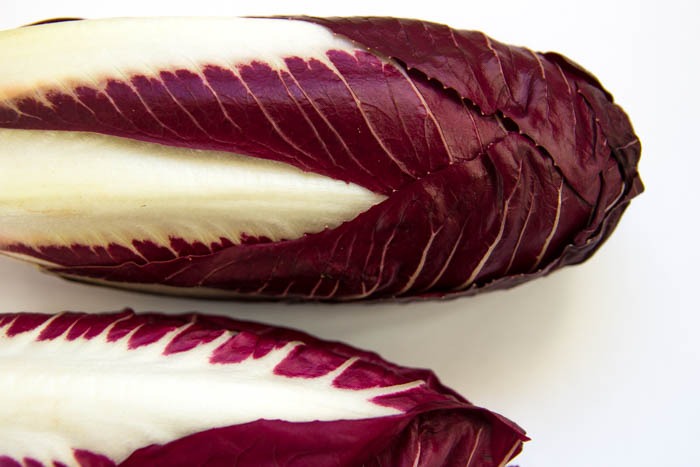 My illicit love affair
You may remember that I have a continuing love affair with radicchio.  Usually I cook it and add it to pasta sauces like this one and this one. Sometimes I throw it in a savoury tart like this one, and often I cook it up in a risotto, which I've just discovered I haven't written about on Italian Kiwi yet.  I will have to remedy that mistake as soon as I can! For this bruschetta recipe, I decided to use it uncooked as the colour is a much nicer red, rather than the nondescript brownish colour it becomes after it has some heat applied to it.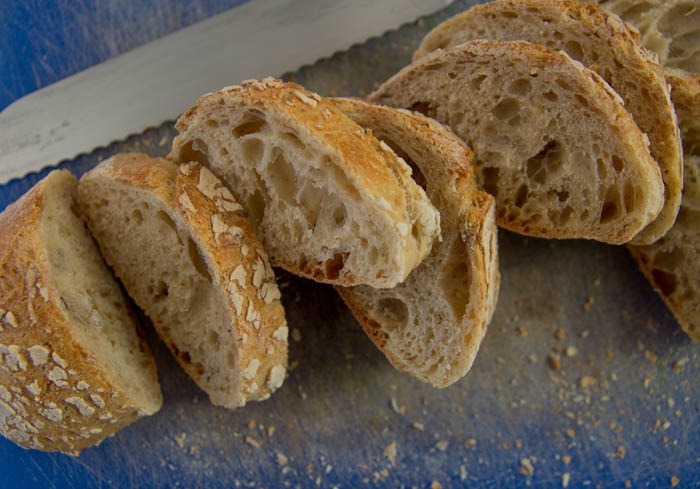 Where radicchio is king
The combination of radicchio and speck is a homage to the Alto Adige area of Italy; the beautiful mountainous area in the North-East of the country.  We were there  few years ago and ate all sorts of good food, like Heisseliebe , a special pasta called Spaetzle (which is just as much fun to eat as it is to pronounce), and piles and piles of speck.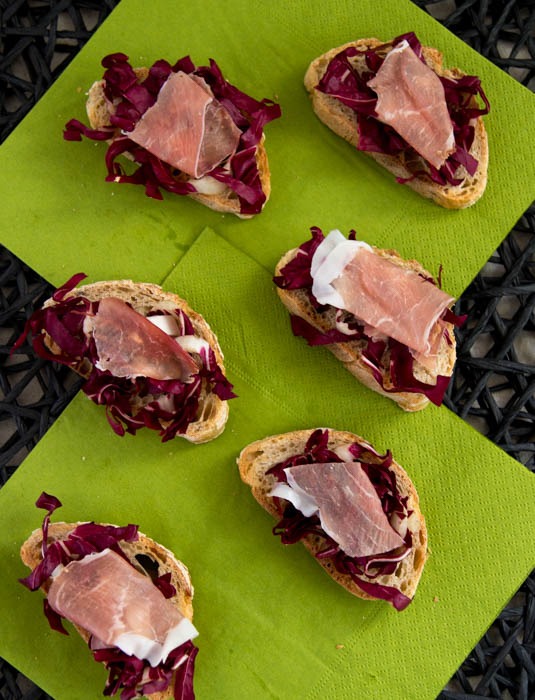 This post is one way to use your leftover bread for the monthly collection of recipes from the Cucina Conversations group. Have a look at the  blogs below to find out many fabulous recipes to make the most of your leftover bread:
Carmen from The Heirloom Chronicles whipped up a delicious pasta sauce made with fried breadcrumbs
Daniela from La Dani Gourmet baked a cake from her childhood which uses stale bread as one of its main ingredients, called Paciarella
Rosemarie  from Turin Mamma baked Piemontese stuffed onions 
Francesca from Pancakes And Biscotti  served up a very enticing pasta with breadcrumbs, tuna and lemon
Marialuisa from Marmellata e Cipolli put together a delicious polpettone del recupero 
Flavia from Flavia's Flavors with artichoke balls
Travel Photo Of The Week
So, of course, the travel photo for this week has to come from the Dolomite mountains.  The spiky peaks you see are typical for the astounding geology of the area.  There are gondolas everywhere (not the Venetian kind!) that take you up into the mountains to restaurants that serve the most delicious food.  Oh, and you can go hiking too: that's almost obligatory after stuffing yourself with the food there!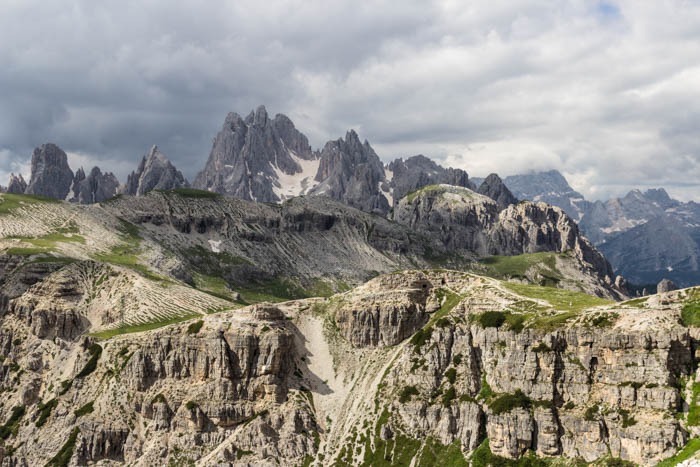 By Lisa Watson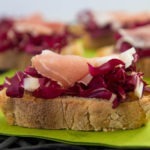 Print Recipe
Bruschetta with Red Endive and Speck
A delicious appetizer to give your guests that can be made in a few minutes.
Ingredients
4 to 8

depending on bread size Stale bread slices

1

clove

Garlic

to drizzle Olive Oil

3 – 4

thin slices Speck or raw ham

1

small head Radicchio

to taste Salt
Instructions
Rub the bread slices with the clove of garlic and drizzle olive oil on them.

Grill the slices under a broiler or on a barbecue grill, flipping them halfway through the grilling process, until lightly browned on both sides.

Slice the radicchio into thin strips.

Place the bread slices on a serving dish and put some radicchio on each one.

Top with a little speck.

Eat immediately.