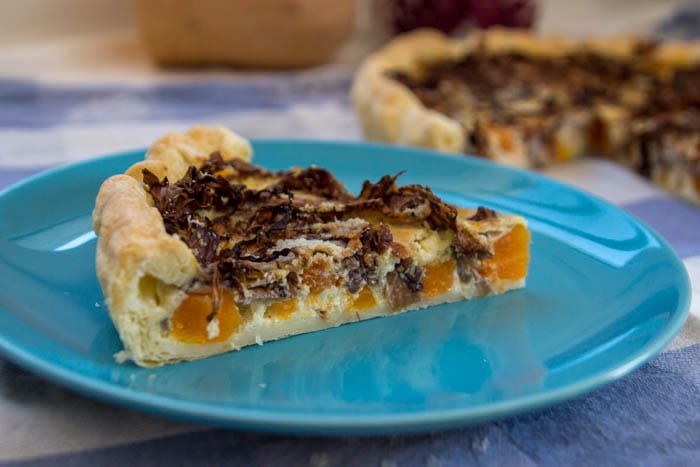 Making the most of  Winter vegetables before they disappear
I'm jumping in here with a winter-y recipe just before the season ends completely. Some of you may be snarling at this right now as you're still up to your knees in snowdrifts, but where I am, Spring has definitely started with a vengeance.  I can tell because there are blossoms everywhere, weeds are sprouting all over the garden, and Phoebe the cat is shedding hair in bucketfuls. Before the Winter vegetables disappear for a few months, I wanted to make a tart with two of my favourites: pumpkin and radicchio (red chicory). Pumpkin and radicchio seem to have evolved to be eaten together.  The sweetness of the pumpkin and the slight bitterness of the radicchio, or Italian Chicory, suit each other wonderfully and get on together famously in this Radicchio and Butternut Squash Tart.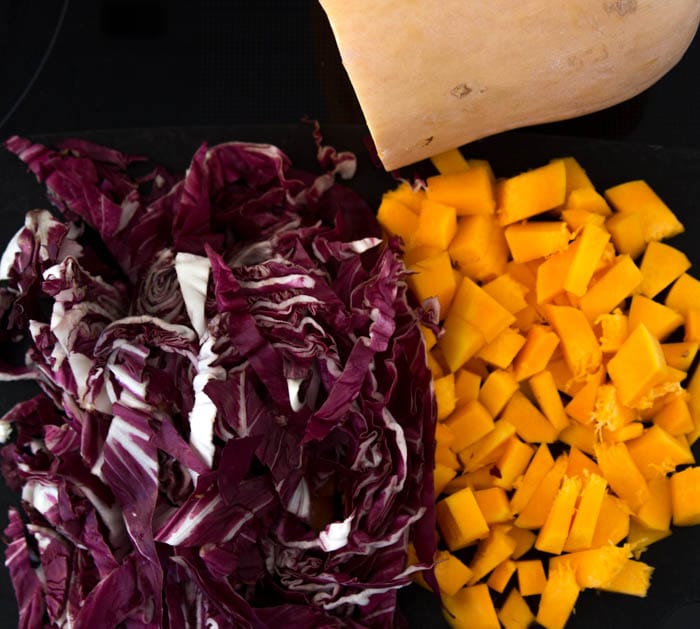 The difference between a quiche and an Italian savoury tart
You may have already seen from my recipes for pasta with radicchio and speck and  fusilli with radicchio and olives that I'm a big fan of the cooked salad.  I'm always excited by the arrival of radicchio in the stores over the Winter and try to use it as often as possible while it is in season.  I don't really like it raw that much as I find it too bitter, but it loses its astringency when it's cooked, and for me, becomes sort of addictive, kind of like wanting to eat fresh coriander on everything.
"So," you ask, "What's the difference between a quiche and an Italian tart (torta salata)?". It's all in the egg mixture.  A quiche has a lot more of the custard-like mixture holding the fillings together.  Many Italian tarts use whipped ricotta with the eggs, which makes them deliciously creamy.  In my laziness, I just used a little cream and milk for this one as I didn't feel like going out to buy ricotta.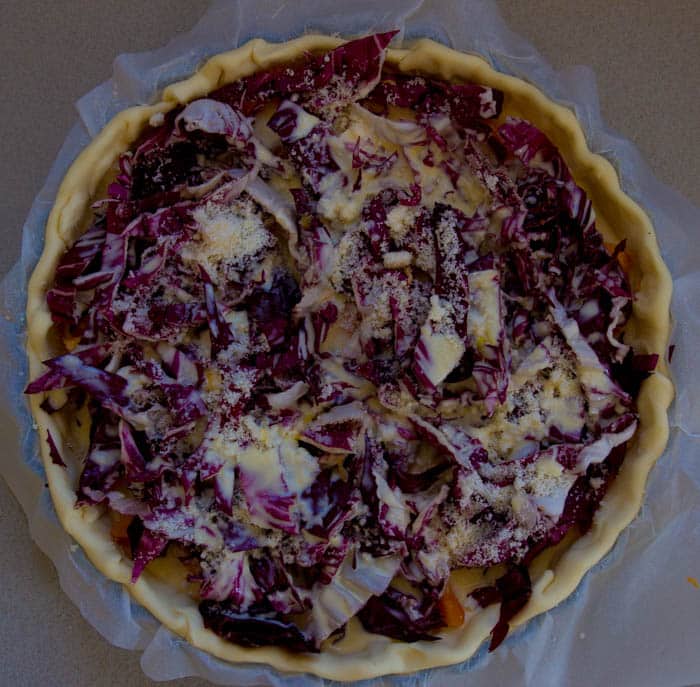 All about the pastry
I have never been brave enough to try to make puff pastry at home.  I saw a video of someone making it once and saw how much butter is rolled into it.  After that, I decided that I"d rather act like an ostrich with its head in the sand and buy it ready-made so that I can't see all that butter I'm eating.  That's also why I don't read the ingredients list on the packet when I buy it.  If the thought of puff pastry being too rich disturbs you, you can always make it with a less fat kind of pastry that you industriously make yourself, or buy from the supermarket.  What I love about this recipe is that the filling can be anything savoury you would like it to be.  I often fill the tart with fried onions, cheese and ham (to make a kind of a quiche Lorraine), or you could fill it with precooked spinach and dabs of fresh ricotta.  Your imagination is your only limit!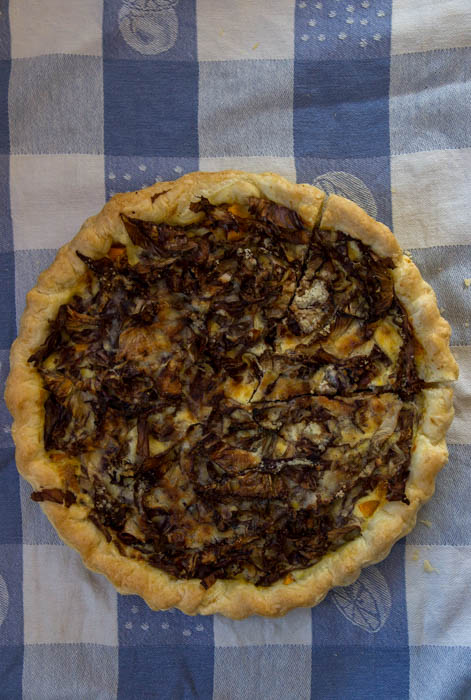 This post is part of Cucina Conversations.. We've gone for lighter food this month to fit the Italian tradition of observing the period of Lent, a period of abstinence which comes before the Easter celebration. To find more healthy recipes, click on the links below:
Francesca from Pancakes And Biscotti with Spaghetti and Asparagus Frittata
Carmen from The Heirloom Chronicles with Potato And Chicory Croquettes
Flavia from Flavia's Flavours with Rustic Spinach Tart
Rosemarie from Turin Mamma with Carciofi Trifolati
Marialuisa from Marmellata e Cipolle with a Chard And Cheese side
Daniela from Le Dani Gourmet with Pasta al Forno With Ricotta And Chicory
By Lisa Watson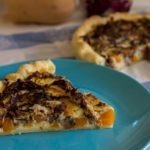 Print Recipe
Pumpkin and radicchio tart
How to make a delicious Italian savory tart using pumpkin and radicchio (red chicory)
Ingredients
1

roll

Puff Pastry

250

g

Butternut Squash

8.8 oz

150

g

Radicchio

5.2 oz

30

g

Grated Parmesan Cheese

6 Tbsp

3

Eggs

100

ml

Cream

1/2 cup

180

ml

Milk

3/4 cup

1

tsp

Salt
Instructions
Heat the oven to 180°C (350°F).

Grease a quiche pan and line it with baking paper.

Place the puff pastry in the pan and roll over and pinch the dough down so that you get a "pie-crust" form, with raised sides.

Peel the squash and chop it into small cubes.   Slice the radicchio into strips.

Put the squash pieces on the dough and spread them out evenly. Scatter the strips of radicchio over the top, then sprinkle everything with parmesan cheese.

Whisk the eggs, cream, milk and salt in a bowl, then pour it over the vegetables.

Bake in the oven for 30 minutes until the top of the tart browns and the filling is firm to the touch.
Notes
The tart can be baked 1 – 2 days in advance. To store it, leave it in the quiche pan and cover with clingfilm. Store it in the fridge until needed. Heat the tart in the oven for 10 minutes before eating, or eat it at room temperature.