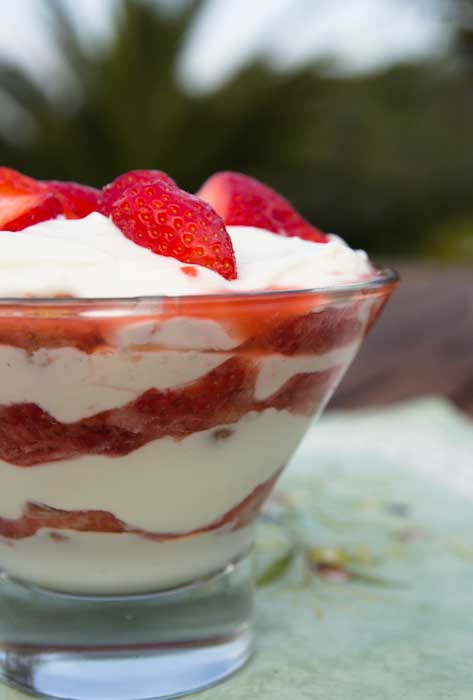 The Secrets Of The Dolomite Mountains Unveiled!
Last year we went for a couple of weeks to the Dolomite mountains in the North East of Italy, near the Austrian border. I wasn't sure what to expect exactly. I heard that the mountains were very beautiful, but that was about all I knew.  I was blown away by the area!  It was so picturesque that I kept on expecting to see dirndl-wearing Heidi, or Maria from "The Sound of Music" jump out from behind a geranium-decorated wooden chalet and start yodeling.  I know were weren't in Switzerland, but the landscape was just as breathtaking, with jagged mountain peaks, dark pine-tree clad hills, and perfectly-kept wooden chalets dotted throughout the valleys,where-ever you looked. We stayed on the edge of a small town called San Candido for the first week, and while strolling along the cobbled main street, trying to avoid stepping on basket weavers, and lederhosen-touting singers, we stumbled across a fabulous restaurant called Theatercafé Zentral.  (Notice the German name: everything was bilingual Italian and German there). We ended up eating there a few times during our holidays, partly because the food was excellent and partly because the waiter LOVED one of the soccer teams from Turin called Juventus, and so gave us special service when he found out my husband was from there (it helped that both the kids were wearing Juventus football shirts the first day we walked into the restaurant!).  One of the desserts we had was this one I want to write about today.  It's a pimped-up version of strawberries and cream: kind of a tiramisu without coffee or chocolate.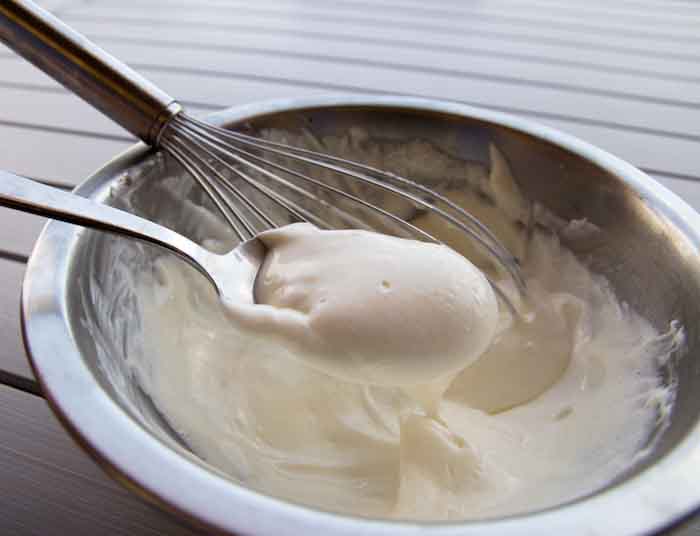 A Recipe For Strawberries With A Difference
When I ate their "strawberries and cream", I knew that I had to try to make it at home.  The Juventus-mad waiter gave me a brief outline of how to make the dessert, and now that strawberries are back in season, I wanted to try to recreate it.  Now, I'm sure after a year, my memory has faded a little, and maybe my strawberries and cream and not exactly like the ones I ate in the restaurant, but it turned out tremendously well, so I'd love to share it with you!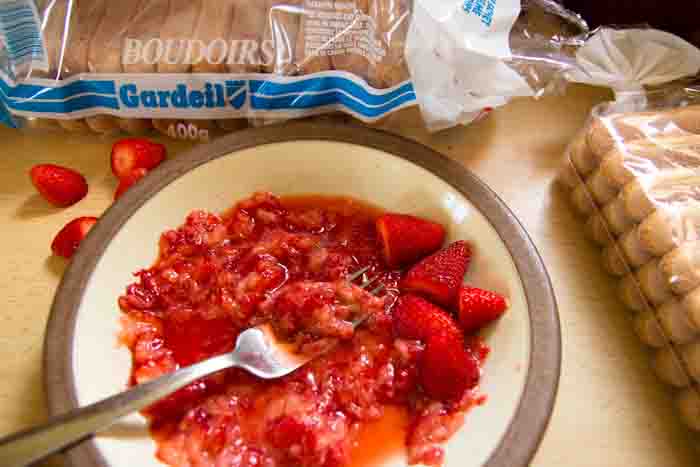 A Quick And Easy Recipe
This strawberries and cream recipe is fantastic as it doesn't need baking.  It's quick to make and just needs to go into the fridge for an hour after you've thrown it together.  If you're making it for guests, I suggest putting it into small, single serving glass containers (or even just glasses) so that you can see the layers. This recipe is also great as it's very flexible.  You can add less of the cream mixture and more of the strawberries if you prefer to make it lighter.
Travel Photos of the Week
There are two as the Dolomite Mountains are so incredible that I couldn't just leave you with one.  The photo below is of a must-do hike that goes around these peaks called the Tre Cime. It was one of the most spectacular hikes I've ever done!  There's a refuge halfway along the trail where you can sit and eat sausages and polenta and gaze across the valley at these majestic peaks.  When we looked with binoculars at the mountains, we were horrified to see tiny people on the top of them, and others slowly climbing up the sides.  I can't believe anybody would actually have the courage to scale the sheer walls!  I'll stick to my polenta and hefeweissen beer at the refuge and leave the dare-devil work to the experts. 🙂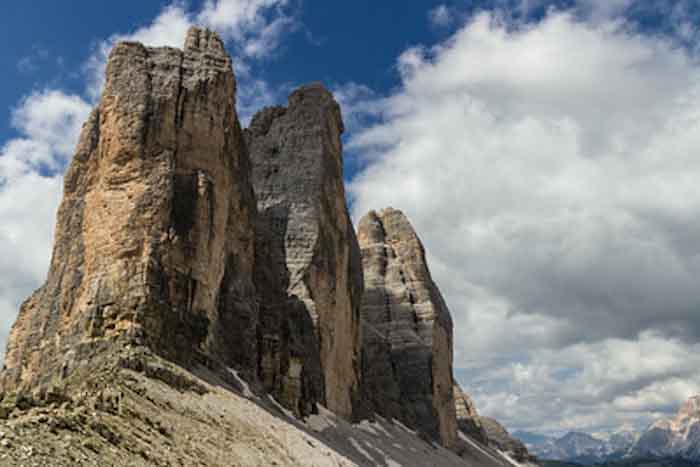 This second photo is of the wonderful residence we stayed at in San Candido called Residence Emmy. All the houses in the valley have bountiful geraniums along all their balconies in the Summer.  I would love to know if the flowers are given out for free, or subsidized by the city council, so that everything looks uniformly gorgeous.  Do they get fined if their flowers aren't up to scratch? I wish I'd asked when I was there!  I have to admit that for me, the fact that everything was so perfect unsettled me a little in the end. I like a little chaos and individualism as that reflects our personalities better.  So, I may not want to live in the Dolomite area, but I was very happy to visit it, and strongly urge you to go there too if you're ever in Italy.  It's different from anything else you'll see in your travels around the country!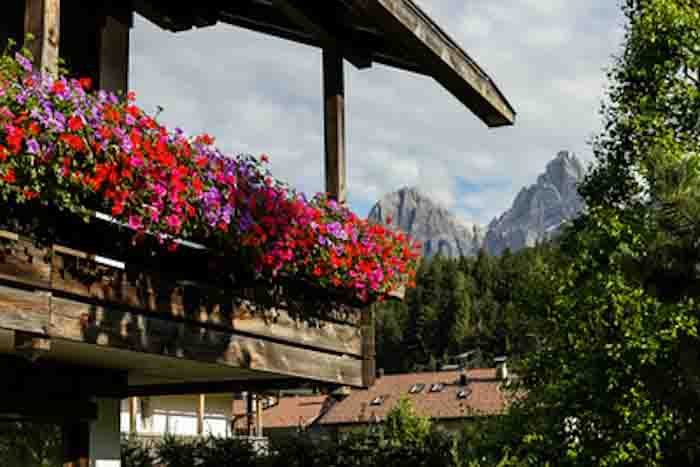 By Lisa Watson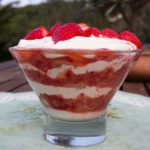 Print Recipe
Strawberries And Cream Italian Style!
How to make an easy and delicious Strawberries And Cream Italian Style!
Ingredients
250

g

Strawberries

8.8 oz

100

ml

Double Cream

3.7oz

110

g

Marscapone

3.7oz

25

g

Granulated Sugar

1 oz

1

packet

Savoiardi biscuits

Ladyfingers
Instructions
Mash the strawberries with a fork.  Reserve 3 or 4, depending on their size, for decorating the top.

Whisk the cream, marscapone and sugar together until the mixture becomes light and fluffy.
To Assemble the Strawberries and Cream Dessert:
Start with a putting a layer of the cream mixture on the bottom of your container, then a single layer of savoiardi biscuits dipped in the strawberries, then mashed strawberries.  Continue layering the ingredients this way until the container is full, or you run out of ingredients. You can break the biscuits in half or quarters if they don't fit well. Nobody will be able to tell in the end that they are broken! Finish with a layer of cream mixture.  Cover with plastic wrap and put in the fridge for at least one hour so that the biscuits can soak up the strawberry juice.

Before serving, slice the leftover strawberries and decorate the top.
Notes
This strawberries and cream dish can be made one day in advance.