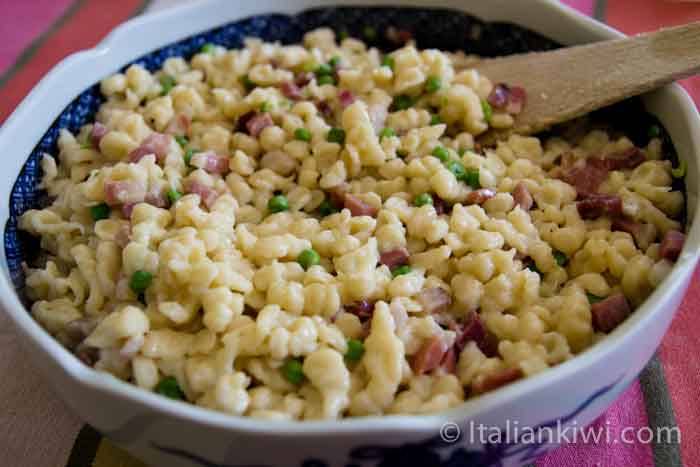 Spaetzle, mountains, and intriguing areas of Italy
The kids are back at school.  All is quiet on the Cote d'Azur as the tourists have flown back to the far corners of Europe from whence they came.  We can start thinking about Autumn and writing blog posts (oh, that last bit is about me, not you!).  During the Summer we spent two weeks wandering around the Dolomite mountains in Alto-Adige, Italy. The area is very confusing, and therefore incredibly interesting.  Everything is bilingual Italian/German.  The vast majority of people living in the region speak German as their first language, although they officially live in Italy. And, many of them speak Italian badly or with a very heavy German accent. The fabulous thing about the valley we stayed in, aside from the mountains, Heidi fields and quaint villages, was the food. They've taken the best of Austrian and Italian cuisine: spaetzle, frankfurters, sauerkraut and wonderful cakes along with great coffee, pizza and gelato.  Lucky we were hiking and biking all the time.  That way we could stuff ourselves with all these goodies! "Spaetzle?" you say. "What is spaeztle?" Well, you're in for a treat!  It's……..dare I say it without getting my Italian passport ripped out of my hands……even better than pasta! It's a batter made of flour and eggs.  You drop bits of it into boiling water to create puffy little morsels.  It's not pasta exactly, but not dumplings either.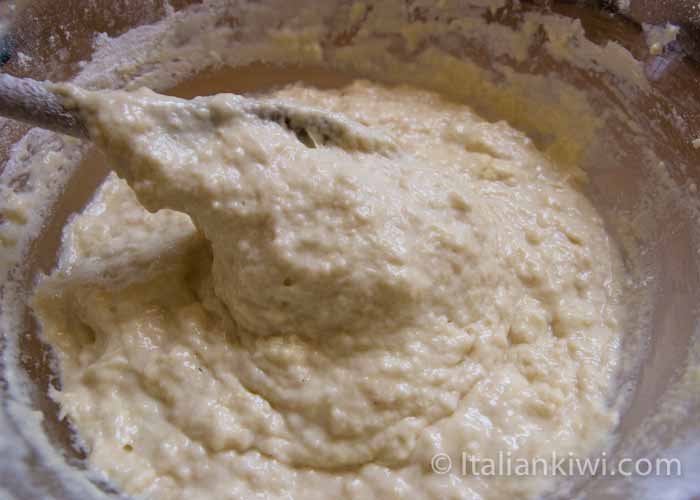 Yearning for more spaetzle
After coming home, we had a longing to eat Spaeztle again.  A fabulous German friend of mine gave me the recipe for it years ago.  She used to make it for me often when I lived there. Another fabulous friend gave me a spaetzle maker years ago too, so all I had to do was scramble through the cupboards to find the recipe and spaetzle grater, and voilá!  Off we went!  Lucky that I have these thoughtful friends around to help me on my spaetzle quest.  It's really very easy to make if you have the grater.  The hand you see in one of the photos below is that of my 10 year old son.  He also made the batter.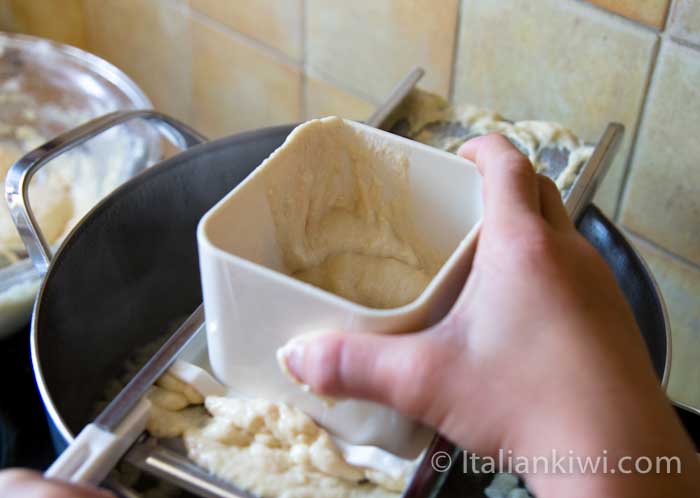 Alternatives to try if you can't find a spaetzle grater
If you don't have a special grater, never fear!  You can use a colander with big holes in it, or a flat grater and a knife, or even (so I read somewhere), drip the batter off a fork.  I think the last method would be pretty tricky and you might get big lumps of batter in the water…..when you use the special piece of equipment you see in the photo above, you dump a large spoonful of batter into the white plastic chamber and then run it back and forth over the grater part.  The strips of batter fall into the boiling water and cook almost immediately. You need to then scoop them out with a large spoon with holes in it (what are those spoons called?) and put it into the sauce you have already prepared ahead of time.
I made a sauce with cream, speck that we brought back from San Candido, and peas.  You can use pretty much any sauce that you would use for pasta, such as ragù, tomato or cream and cheese sauces.  You can also eat it as a side with a little butter or oil added to it so that it doesn't stick together.  Just for the record, unlike spaetzle, this eating it as a side thing is something you should NEVER do with pasta, especially if you have an Italian coming to dinner!
Travel photo of the week
This magnificent landscape is in the Dolomite mountains in north-eastern Italy.  Here you can only see two of the three peaks that tower above you as you ant-hike far below them.  the day we were there (and I imagine on my other days too) there were climbers who made it to the top of these pinnacles.  you could see their tiny figures sitting on the top and swinging their legs into the void.  As I have a bit of vertigo, I had enough trouble with some of the trail that ran along the moiddle of the scree slope far below, without going to those crazy lengths.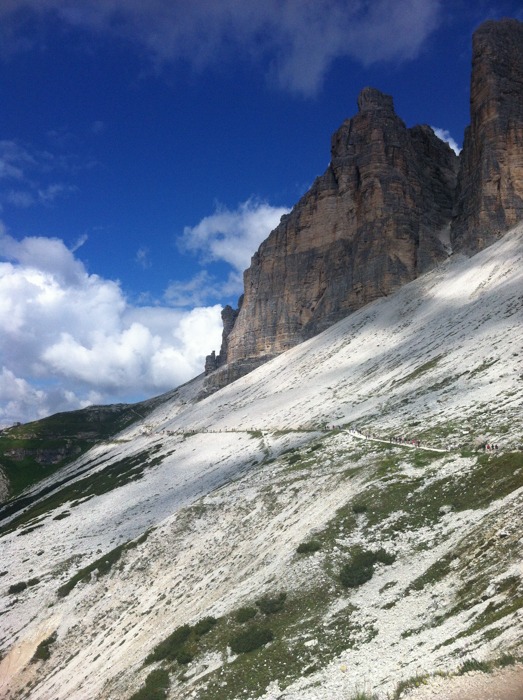 By Lisa Watson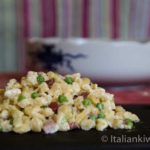 Print Recipe
Spaetzle with cream, peas, and bacon
Spaetzle: Alto Adige's Ingenious Answer to Pasta. find out how to make it easily at home.
Ingredients
3 1/2

cups

All-purpose flour

440 g

4

Eggs

1

tsp

Salt

1

cup

Water

250 ml

1

pinch

Nutmeg
For the Sauce
3/4

cup

Single cream

100

g

Cooked Peas

150

g

Cubed Speck or cooked ham

1 cup
Instructions
Put the flour, salt and nutmeg in a bowl.

Add the eggs and half the water.  Mix everything together.

Add the rest of the water bit by bit and mix until the batter is thick.

Bring a large pot of salted water to the boil.

Use the spaetzle grater, or a colander, or a flat grater to drip bits of batter into the water.

It will puff up slightly and cook immediately. Scoop it out and place it in the already prepared sauce.
For the Sauce:
If you are using speck, sauté it in a little olive oil until it is cooked. Boil the peas in salted water.

Drain the peas. Drain the speck on a paper-towel to remove the oil.

Gently heat the cream (but don't let it boil). Add the speck (or cubed ham) and peas. Don't add salt as the sauce will already be salty enough.
Notes
Spaetzle is also good reheated.  Just add a little oil or butter to it after it is cooked, and then keep it in the fridge.