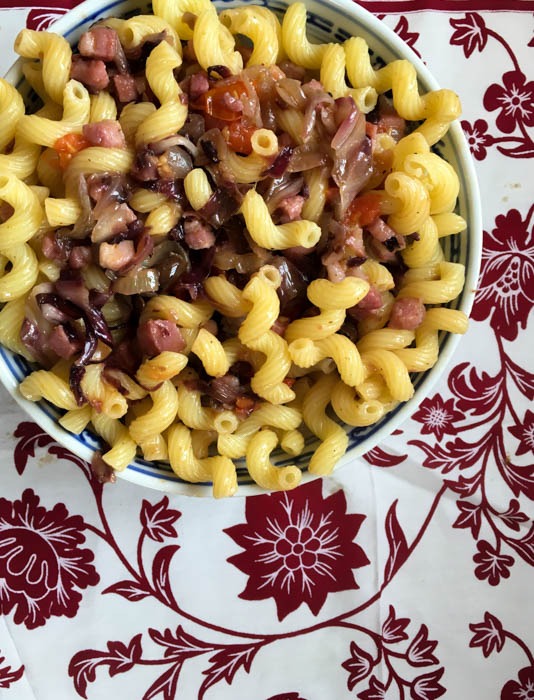 Time to make pasta with some radicchio
I'm  a little late, but happy New Year to you!  Sorry….things got a bit busy over Christmas and New Year so I haven't had much time to write anything.  My blog has been sitting in a corner sulking from all this neglect, so I thought that I had better coax it out from where it's hiding by posting a recipe.  And, what better way to start the year on a blog of Italian recipes, than with a pasta one!  I know that I've often thrown radicchio (sometimes known as Italian Chicory) in your face for other pasta dishes, but that's because it's one of my favourite vegetables, AND, more importantly, radicchio's in season right now as we speak!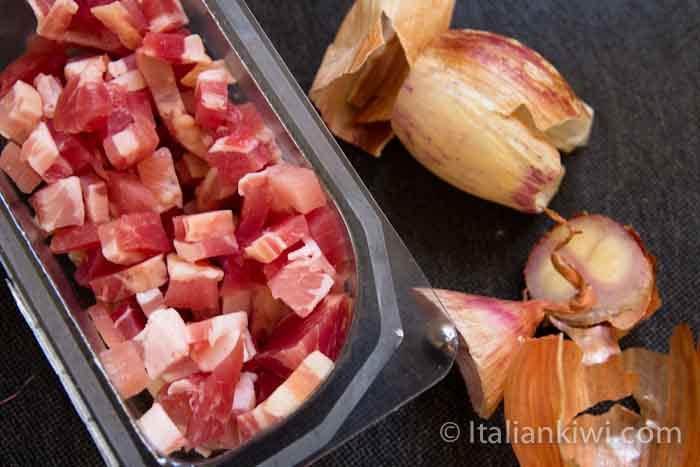 My sad gardening attempts
I tried to grow radicchio in the garden once, but was incredibly underwhelmed by the results.  I think that has less to do with the plant and more to do with me forgetting to water it, or take any care of it at all.  After growing up in New Zealand where you can stick pretty much anything in the ground and it will grow (except for a feather….I have it on good authority after trying it when I was a kid, that it will NOT grow into a bird), I am still not used to the concept of actually having to take care of things that you plant. So, I gave up my half-hearted attempt of  trying to grow radicchio and now just go buy it when I can find it in the supermarket.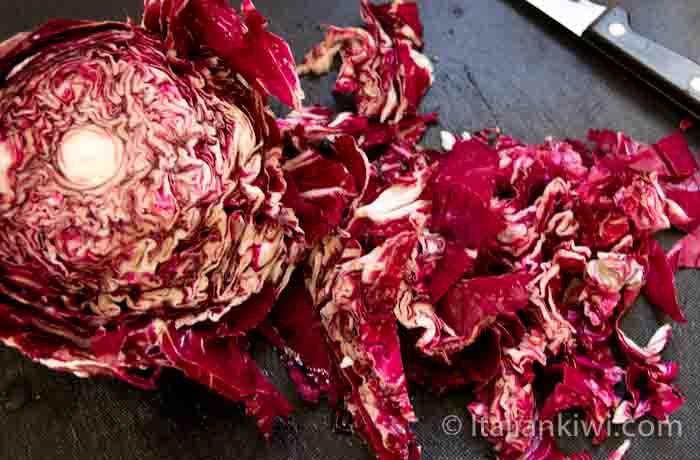 A pasta sauce with a difference
I made this pasta dish with a curly pasta called "cellentani".  It can also be called "cavatappi", or "corkscrew" in English (for obvious reasons!). I like this type of pasta for this sauce as the bits of radicchio, pancetta (bacon) and olives stick well in the spirals of the pasta shape, however if you can't find this type of pasta, any short pasta with work fine.  The sauce is very flexible in that you can add extra ingredients and it will still taste good, such as a sprinkle of chilli flakes, or halved cherry tomatoes. It is an unusual pasta sauce as most sauces for pasta have a base of cream, egg or tomato.  When you make this one, the "base" is a little bit of oil. It's important to add the oil, otherwise the pasta and sauce will just stick together in one gloopy mess.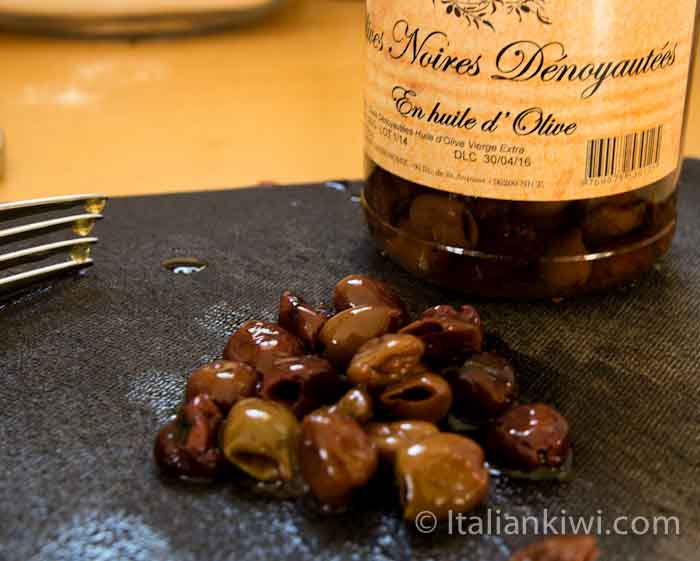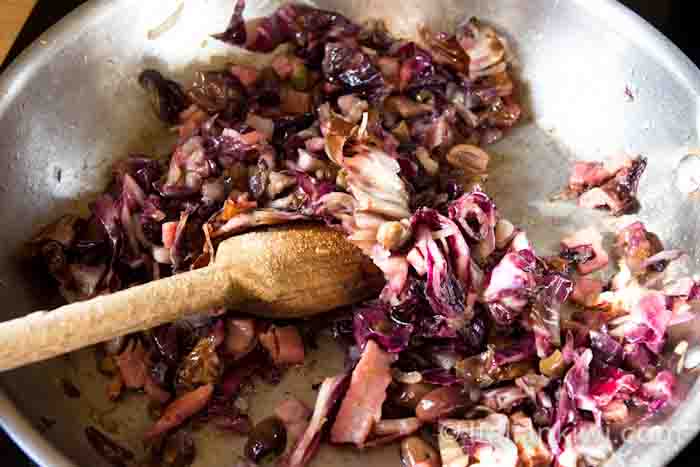 Travel Photo Of The Week
This photo was taken at the Cap d'Antibes on the Cote d'Azur in France. The Cap d'Antibes has a super-exclusive hotel on it, where many of the celebrities, such as Madonna, go to hide out during the Cannes Film Festival.  Luckily for us plebs, nobody can stop us walking around the coastal part of it! The town you can see in the distance is Nice, and if you crossed the mountains behind it, you would end up in Italy, if you don't get eaten on the way by the wolves that wander all through the mountains there.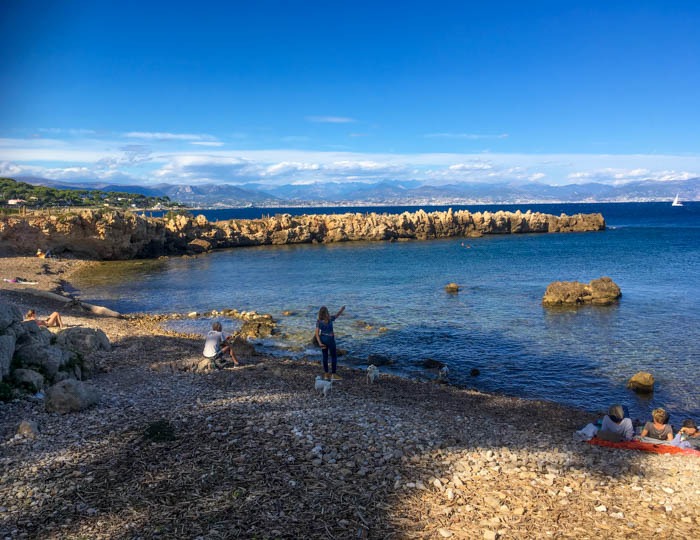 To find out how to cook pasta like an Italian does, check out my handy guide.
By Lisa Watson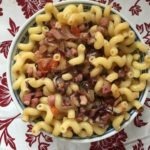 Print Recipe
Ingredients
400

g

14.1 oz Short Pasta

1

Shallot

75

g

2.6 oz Pancetta/Bacon

1

head Radicchio

approximately 10 – 15 Black Olives

4 -5

Tbsp

Good olive oil

30 – 40

g

1 oz Parmesan Cheese
Instructions
Finely chop the shallot. Slice the radicchio into strips. Roughly chop the olives.

Boil a large pot of salted water.  Cook the pasta per packet instructions.

While waiting for the water to boil, start making the sauce. Heat 3 Tbsp of olive oil in a frying pan on a medium heat.

 Saute the shallot for a few minutes until it becomes translucent.

Add the pancetta and saute until it starts to brown.

Add the radicchio and olives, then cook them until the radicchio wilts. If the sauce is ready before the pasta is cooked, just take it off the heat.

Drain the pasta well.  Add the sauce mixture to the pasta, along with the good olive oil and the grated parmesan cheese. Stir well to mix everything together, then serve.