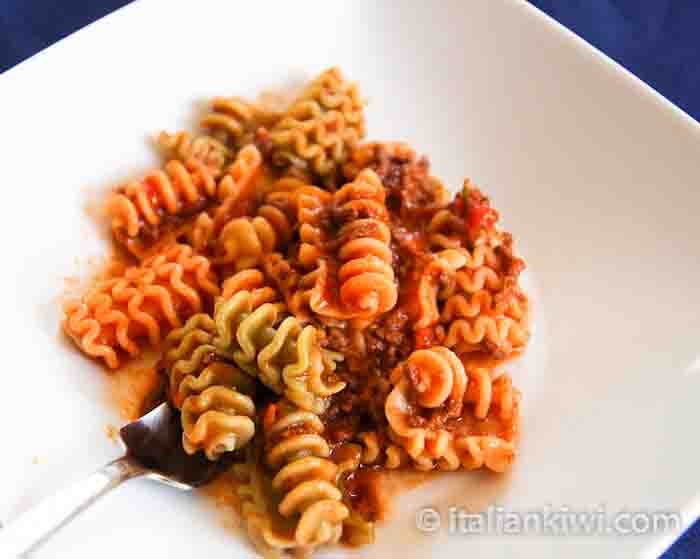 Every now and then when I'm feeling especially energetic, I make a big batch of ragù and then freeze it in portions so that I have a impressive tasting, good-for-you pasta sauce to pull out of the freezer at the last minute if we have unexpected guests, or if I just don't know what to cook that night.  I use my beloved pressure cooker to cook it (yes, I'm talking about that again……!), but you can easily make it without.  It just takes a little longer to cook.  So, while I'm finished and off having a swim, or drinking a Spritz (more on those later!!), you poor non-pressure cooker people will be sitting in the kitchen waiting for the ragù to finish cooking. Don't worry, as it's still worth it in the end! 🙂
There are nearly as many recipes for ragù as there are Italians in Italy.  Everyone has their own variations, and of course, insist that their version is the best. Some words of advice if you go to Italy: If you're in a restaurant, NEVER ask for pasta with "bolognaise/bolognese" sauce.  That is an American invention, and doesn't exist in Italy. It enters into the category with spaghetti with meatballs, deep-dish pizzas and garlic bread: these things are like Tex-Mex is to real Mexican food.  The dishes may taste good, but they're an on-steroids reincarnation of the real deal that have never graced a table-top in their life back in the home country.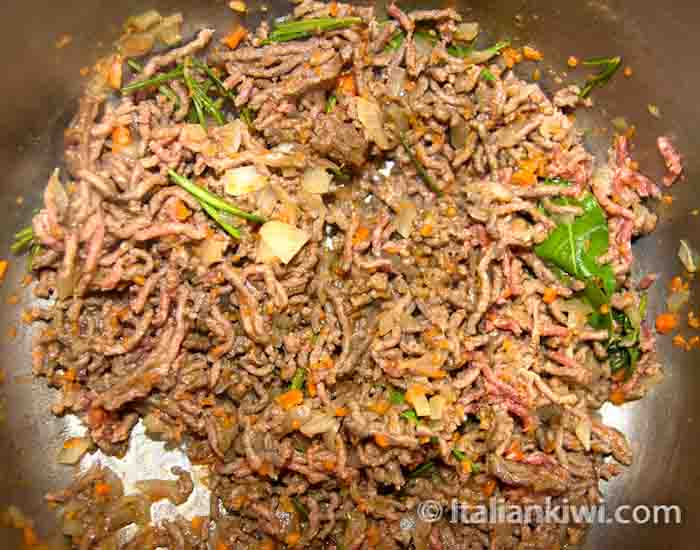 My husband's 95 year old grandmother makes and bottles ragù from scratch. She goes to the market, buys 25kg of tomatoes andthen bottles huge amounts of ragû.  I hardly have the motivation to make one batch that I freeze! I really should be ashamed of myself….. 🙂  I have to admit that this is not her recipe as she holds her cards very tight to her chest about the actual ingredients and method she uses.  I think she'd make a very good spy – no matter what torture she underwent, she would never give up her secrets to anyone. The government doesn't know what they're missing out on!  Anyway, the recipe below is very tasty, though, according to my family, nothing….. but nothing (!), is as good as Nonna P's sauce.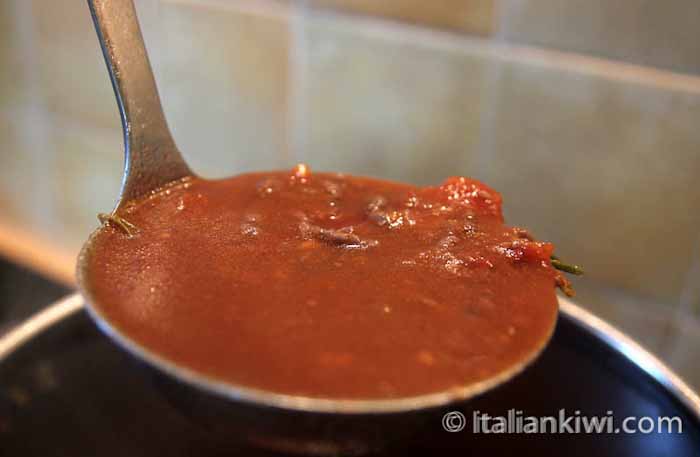 You can use pretty much any pasta with ragu, but shorter pasta (i.e. not spaghetti) is better.  I personally like to use fusilli or penne riagate. The pasta shown in the photo at the beginning of the post is a speciality one called Armoniche Giganti Tricolori, which means giant coloured harmonicas…….sounds more edible in Italian really……..
Travel Photo of the Week
This one comes from the home of ragù sauce: Bologna.  This may give you an idea of why pasta with a meat and tomato sauce has become to be known as "bolognaise" sauce, since it comes from here originally. We were here for a weekend in the middle of Winter, so unfortunately, this is the best photo I can show you.  It's a beautiful town and the food (just like everywhere in Italy!) is to die for!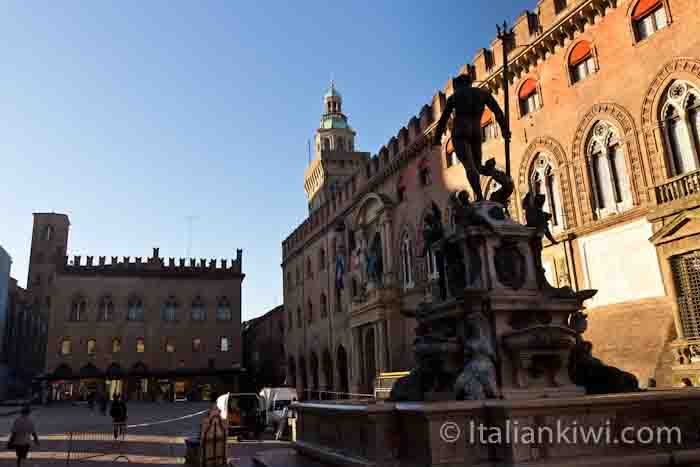 To find out how to cook pasta like an Italian does, check out my handy guide.
By Lisa Watson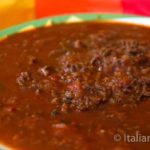 Print Recipe
Ragù
Ingredients
1

Onion

1

Carrot

1

Garlic clove

500

g

1.1lb Beef mince

1

Bay-leaf

Rosemary

oregano

150

ml

1/2 cup Red wine

1

L

4 cups Tomato puree

to cover Water

Salt and pepper

1

Bouillion cube
Instructions
Chop the onion and carrot finely and saute them with the clove of garlic on a medium heat in olive oil. You can also add 1 stalk of chopped celery if you like.

Add the mince and herbs and saute them until the mince is browned.

Add the wine and let it boil off.

Add the tomato puree and enough water to cover the minced meat. Add the bouillion cube and salt and pepper.

If using a pressure cooker, put on the lid and let it cook for 30 minutes from the first whistle. Take the lid off and let it simmer until it thickens a little in consistency.

If you are being more traditional, let the mixture simmer for 1 hour, stirring occasionally. Make sure the ragu doesn't get too dry, adding water if necessary.

Now you can decide what pasta you want with it. Maybe you will be able to impress a 95 year old grandma with your sauce!