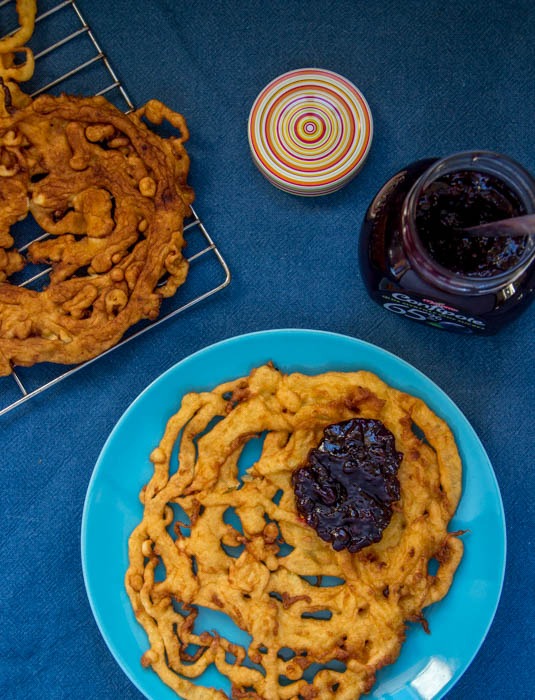 Strauben: Sugar-dusted swirls from Northern Italy
I came across these delicious fried treats a few years ago when we went to the Dolomite mountains in the North-East of Italy.  There's nothing better than a crunchy-tender freshly fried pastry dusted with powdered sugar  or lavishly spread with jam (traditionally it's blueberry jam) to give you a warm fuzzy feeling! These fried pastries are fun to make at home too as you can get the hidden artist in you to come out and make fantastical swirls and curls of batter before it cooks into a solid shape in the oil. Strauben were originally made in February during the Carnevale period where people dress up in costumes, eat and party before having to give everything up for Lent.  Nowadays, you can find strauben at markets and festivals all through the year when you go to the Trentino-Alto Adige area of Italy, or you can use this recipe and just go ahead and make them at home whenever you feel like it.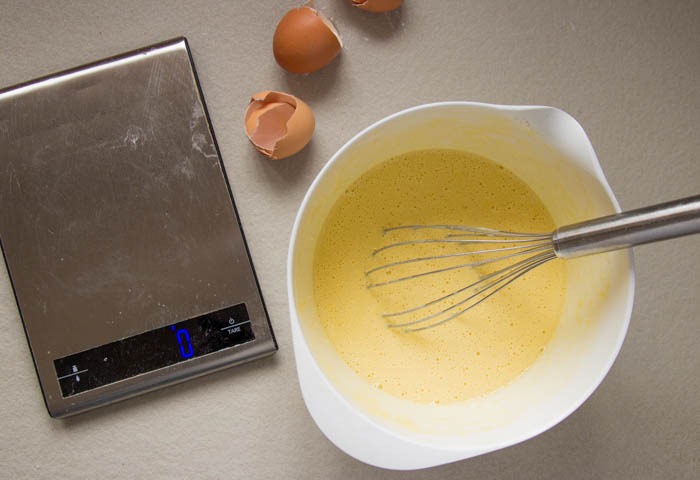 Creating art with Strauben batter
In fact, the only slightly tricky part of this recipe is making the batter spiral into the hot oil.  To do this, I used a funnel as you can see in the photo below.  It's a little messy as you get batter on the finger that's plugging the funnel hole.  You also have to keep cool, calm and collected and start gently making swirls as soon as the batter starts flowing into the oil.  If you are finding that the batter is too runny and is flowing too quickly to make any kind of meaningful swirl, just add flour to the mixture, 2 Tbsp at a time and see how that goes.  After a few tries, you'll get it down to a fine art and be able to create masterpieces of batter-y art!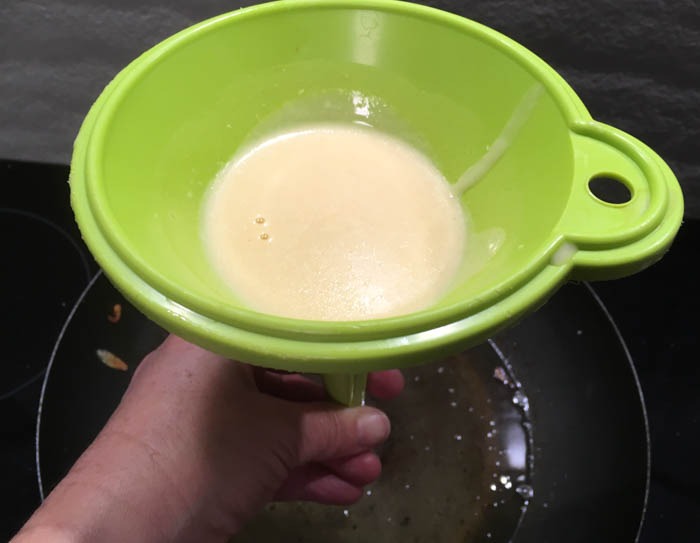 This post is part of the monthly Cucina Conversations theme.  This month,  as Carnival is being celebrated all over Italy, the recipes are special for this time of the year.  Strauben are traditionally eaten during Carnaval in the Trentino-Alto Adige region , but are so good that you'll find them throughout the year and festivals and markets in the area.  So, here's a tempting list of this month's recipes written just for you:
Daniela from La Dani Gourmet made a very special risotto with Cuttlefish and Chard
Rosemarie  from Turin Mamma baked some summery Parmigiana di Zucchini
Francesca from Pancakes And Biscotti  made delicious freind balls from Sardinia called Zeppole Sarde
Marialuisa from Marmellata e Cipolli fried up some mouthwatering Doughnuts
Flavia from Flavia's Flavors tempted us with crunchy Crostoli
Carmen from The Heirloom Chronicles made some sweet Bugie stuffed with apricot jam.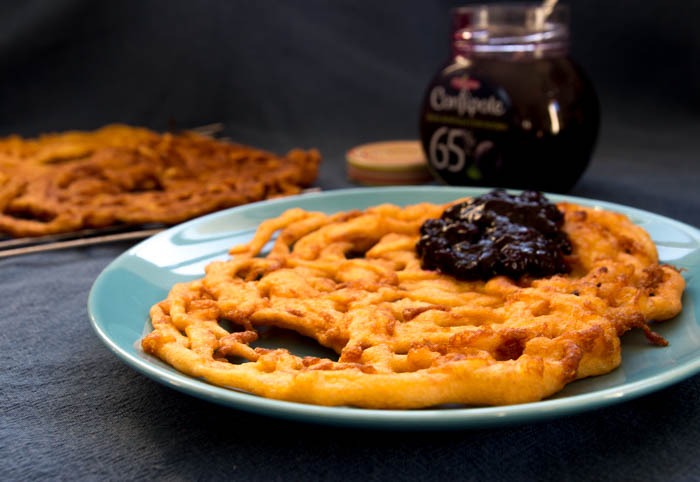 Travel Photo Of The Week
This photo shows you the very typical architecture from the Alto Adige region of Italy.  The buildings look very Swiss, and very unlike buildings I have seen anywhere else in Italy.  This was taken in a tiny village called Versciaco or Verschach, depending on whether you want to call it by its Italian or German name.  All the towns in the area have two names, which can make it very confusing for strangers visiting there.  I wrote a while back about this interesting bilingual area . When you go to speak to someone there, you never know whether they will speak Italian or German.  Often the German-speakers speak poor Italian, even though they are Italians, and the Italian speakers speak poor German, even though they live in a German speaking area.  If that doesn't confuse you, then nothing will! Anyway, if you do find yourself in this village, and are hungry, I absolutely recommend the Pizzeria and Restaurant Helmhotel, on the main road).  They have great Italian pizzas, and also wonderful South Tyrolean specialties.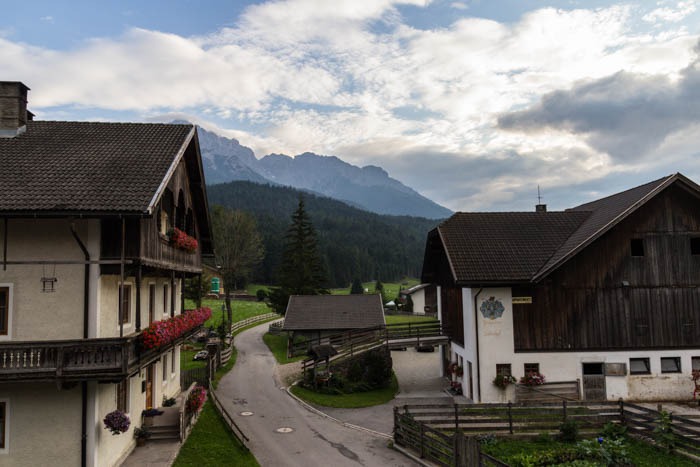 By Lisa Watson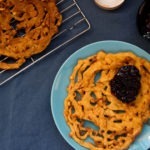 Print Recipe
Strauben swirls
Strauben are Italy's answer to American funnel cakes. Find out how to make these delicious treats at home.
Ingredients
200

g

Flour

7 oz/ 1 3/4 cups

3

Eggs

70

g

Melted Butter

2.5 oz/ 5 Tbsp

50

g

Sugar

1.7 oz/ 1/4 cup

1

pinch

Salt

250

ml

Milk

1 cup + 2 Tbsp

20

ml

Grappa or Rum (optional)

1 1/2 Tbsp

Vegetable oil
Instructions
Whisk all the dry ingredients together.

Melt the butter and leave it to cool slightly while whisking the eggs and milk into the dry ingredients.

Whisk in the butter and grappa, if using.

Pour approximately 5 cm (2 in) of oil into a large pot or wok.  Heat the oil.

Using a funnel, place your finger on the end of it and fill the funnel with batter until it comes about halfway up the funnel.

Put the funnel above the heated oil and swirl the funnel gently in circles as the batter pours out.

Leave for a couple of minutes to cook on one side and then flip it carefully and brown on the other side.

Drain on paper towels, the sprinkle with powdered sugar or spread jam on the strauben before eating.
Notes
The Strauben are best eaten hot, but they can be easily reheated in an un-oiled, non-stick frying pan up to 3 days after making them.