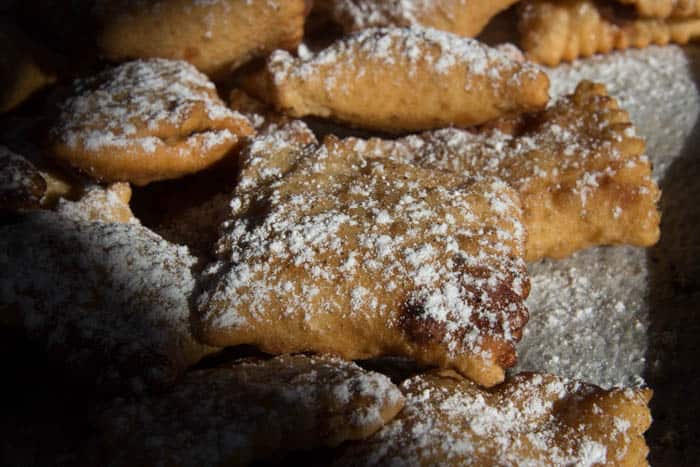 What happens during Carnival in Europe?
It's Carnival time in Europe right now! In France, that means that Nice on the Cote d'Azur has an enormous parade and a flower-throwing battle and the children get to dress up in costumes and throw confetti around (but more about that later).  In Italy, for Carnevale, people also get dressed up in costumes and have parties, but more importantly, there are many dishes eaten especially during this period.  After all, what kind of celebration would it be in Italy if there were no particular foods to be eaten while you're partying? There are some savoury foods to be had, but many of the looked-forward to delights are deep-fried pastries, such as doughnuts in many forms, crunchy sweet treats dusted in icing sugar, and these crostoli, which are pastries stuffed with chocolate or jam and also deep-fried.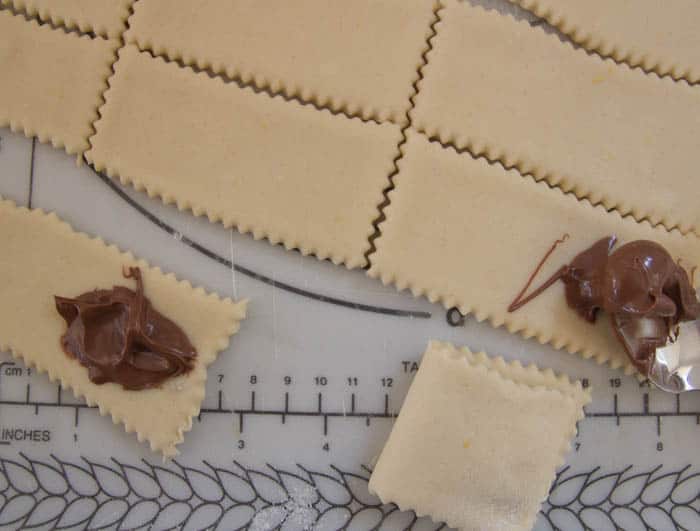 Eat Crostoli at any time of the year
You may be getting the idea now that there's a frying theme going on during Carnevale, and you would be right. Carnival is all about having fun and eating decadently before moving into the Lent period and denying yourself some of your favourite things until Easter rolls around. I'm not terribly good about denying myself things like Crostoli, so I would eat them at any time of the year! I made these with Nutella in the center of them, but they are equally as good with any kind of jam in them.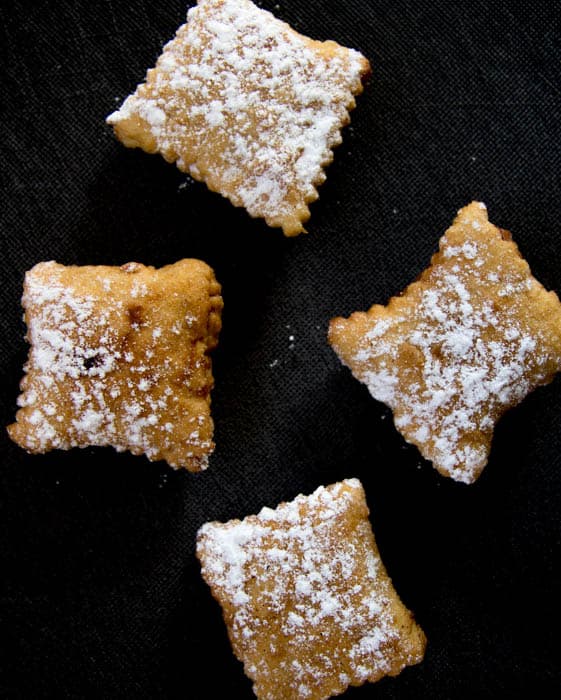 A shameful confession
Now, here I should be inserting a photo of the one of the tremendous floats in the parade that happens every February in Nice on the Cote d'Azur. Much to my shame, I have to confess that I haven't been to the landmark festival as of yet.  Well, I've only been here for 12 years.  It's still early days yet…..right? The Carnival parade in Nice looks like something to rival the Thanksgiving parade in New York (which I haven't been to either, but I've seen in every third movie set in New York), and at the end, they even have a huge fire to burn the king of the Carnival (don't worry, it's a statue, not a real person!).  I promise that I'll try to go next year and then I'll write about it.  If I don't, you have to right to scold me.
During Carnival time, the schools in our area also have a party for the kids.  They all get dressed up in costumes, throw confetti all over the place and eat sweets.  For weeks afterwards, I find tiny bits of coloured paper falling out of the kids' bags and clothes.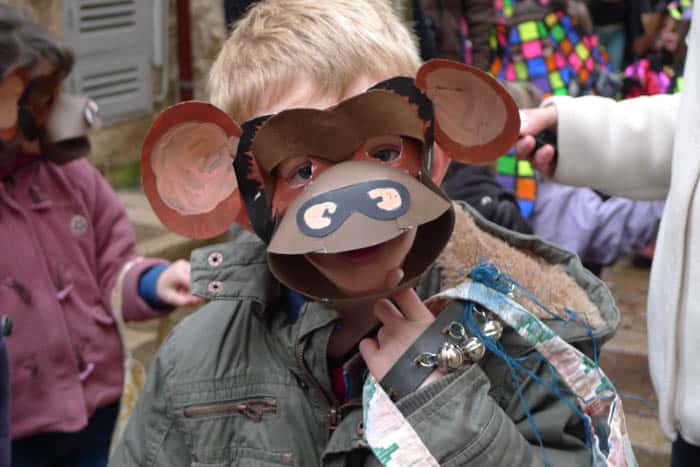 This post is part of our lovely monthly Cucina Conversations group.  This month we're all focusing on recipes that are eaten over the Carnival period in Italy.
Rosemarie from Turin Mamma with Fagioli Grassi
Carmen from The Heirloom Chronicles with Baccala And Crispy Peppers
Flavia from Flavia's Flavours with Frijole Veneziane
Francesca from Pancakes And Biscotti with Castagnole di Ricotta
Marialuisa from Marmellata e Cipolle with delicious meatballs
Daniela from Le Dani Gourmet with homemade doughnuts.
by Lisa Watson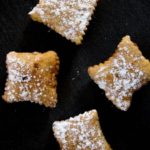 Print Recipe
Nutella- Stuffed Crostoli
Crostoli di Nutella: Sweet Italian Carnival Pastries recipe. These treats are eaten before Lent during the Carnival period in Italy.
Ingredients
450

g

All-purpose flour

40

g

Granulated white sugar

1

pinch

Salt

40

g

Butter at room temperature

2

Eggs

Lemon Zest

from 1 lemon

1

tsp

Vanilla Essence

300

ml

Water

Light oil

vegetable/sunflower

Nutella

Icing Sugar

Powdered Sugar
Instructions
Use a standing mixer. Mix the flour, sugar and salt together.

Add the lemon zest, butter cut into small chunks and eggs.

Turn the mixer on a low speed and add the water in a steady stream until the dough clumps together.

Knead the dough for 5 minutes until it is elastic and smooth.

Cover the bowl with a cloth and leave it to sit for at least one hour.

Roll out the dough on a floured surface until it is about 1/4 cm thick.

Cut the dough into rectangles, approximately 10 cm by 7 cm.

Add 1/2 tsp of Nutella to one half of the rectangle, then fold the other half of the dough on top of it and close the opening  firmly around the edges.

Add enough oil to a large pot to allow the crostoli to float.  Heat the oil and once hot, drop the crostoli in a few at a time.  Turn them over to allow them to brown on both sides.  The frying will only take a few minutes.

Take the crostoli out of the oil with a slotted spoon and drain them on kitchen paper.

Sprinkle the crostoli with icing sugar before serving.