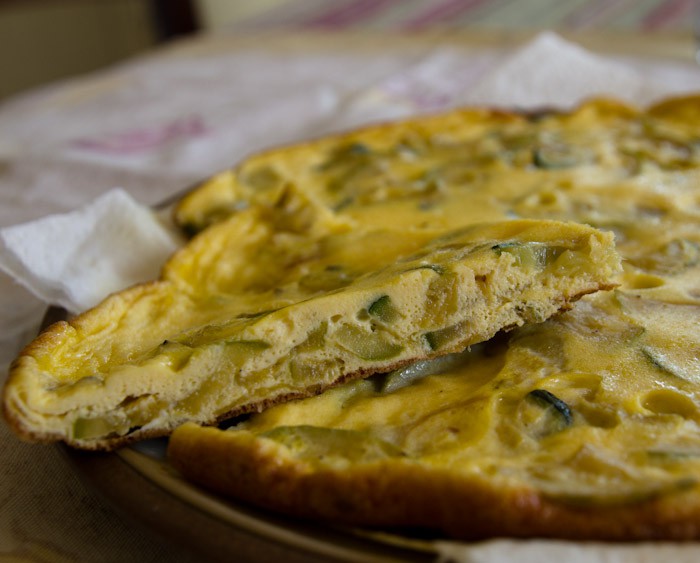 Zucchini or courgette, the frittata tastes good with either name
So, do you call these long green vegetables zucchini or courgettes?  After living in various English-speaking countries where each country uses slightly different words, I've forgotten who calls them zucchini and who calls them courgettes. Anyway, whatever they're called, thanks to the Summer, there are tons of them floating around right now that need to be used in a hurry! So, that's where this zucchini frittata comes in.  You can cram it with lots of zucchini so that they don't rot in the fridge. 🙂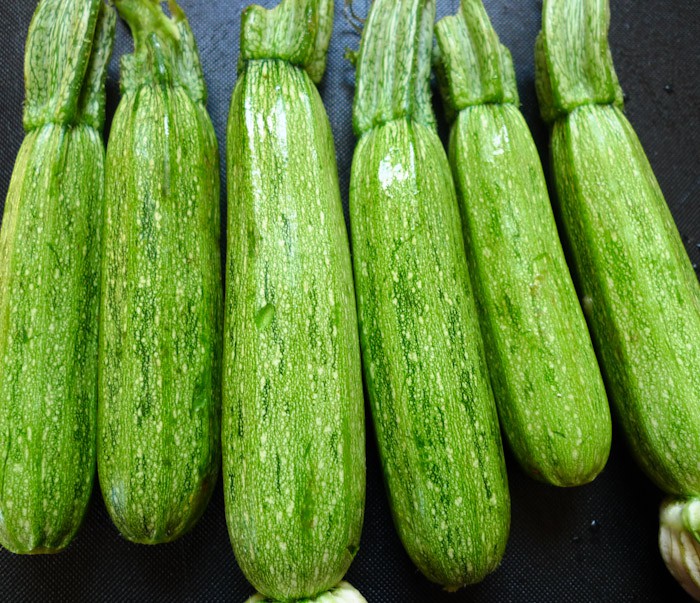 Slice them, dice them, or grate them
You can slice or dice the zucchini, depending on your preference; or even grate them.  Any way they're cut works fine in frittata, as long as the cubes aren't too thick.  I prefer to slice mine into rounds, but that's mainly because I'm awfully lazy and hate dicing vegetables.  Why can't they make all vegetables into exact cubes so that all the pieces comes out the same size? Actually, joking aside, I have seen a photo of cube watermelons.  Apparently it makes them easier to pack.  I'm not sure that I would want to buy one though.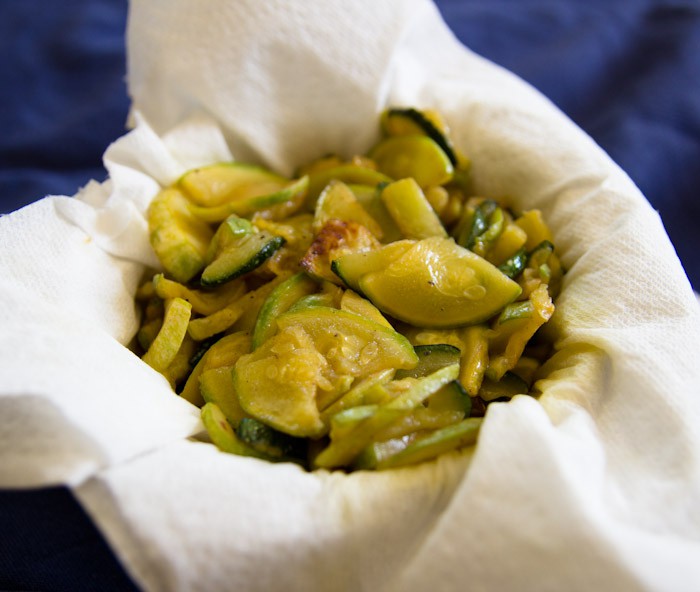 I was recently showing a friend how to make frittata and realized that there are all kinds of little hints that help it to come out well. So, after my teaching experience, here are all the hints that will guarantee a successful frittata comes out at the end!
Eight tips and tricks to help you realize your dream frittata
Don't beat the eggs too much. They should be just mixed together.
Use a non-stick frying pan.
Let the vegetables cool at least to warm before adding them to the egg.
If you are using a watery vegetable, such as spinach, squeeze all the liquid out of it that you can before you add it to the egg.
The oil in the frying pan should be medium-hot.  If you put your hand over the top of it, you should be able to feel the heat coming off, but it shouldn't be shimmering.  If it is too cold, the egg will stick to the pan; if it's too hot, the egg will blow up in your face!
Lift a corner of the frittata every now and then once it starts to set.  If it is browning too much, turn the heat down.
Before trying to flip the frittata, lay a tea-towel along your arm so that you don't get burnt by splashes of hot oil.
If you're scared to flip the frittata, keep the lid on tight and let the egg set completely.  It'll taste just as good if it's not browned on both sides.
Travel Photo of the Week
This week comes from the Salento region in Puglia, far down in the heel of Italy's "boot".  Centuries ago, these watchtowers lined the coast all around the South of Italy to guard against invasions by the Saracens.  The towers were close enough that you could see the next ones from the one you were standing in.  That way the signal could be passed quickly to get the defenses ready (as the Saracens were never just coming for a cup of tea). Nowadays, most of them are in ruins like this one below. It makes a great sightseeing trip to drive along the coast and visit them.  There are nearly 60, so you may not be able to see all of them!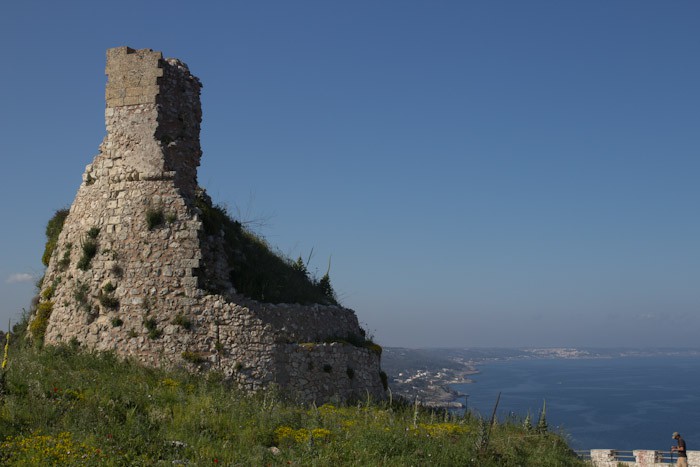 I'm going to be taking a break for the next couple of weeks to clean out some spider-webs and drink a Spritz or two  Enjoy the rest of August!  There are all KINDS of super things that will be coming up on Italian Kiwi in September!
By Lisa Watson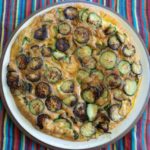 Print Recipe
Eight Tips and tricks To Make A Perfect Zucchini Frittata
Eight Tips and tricks To Make A Perfect Italian Frittata
Ingredients
3 – 4

medium-sized Zucchini

6

Eggs

2

Tbsp

Grated Parmesan Cheese

1

tsp

Salt

To taste Pepper
Instructions
Slice the zucchini into rounds about 1 cm (1/2 inch) thick, or chop into cubes.

Heat a frying pan with 2 – 3 Tbsp of olive oil. Cook the zucchini until they become slightly translucent and browned (approximately 10 – 15 minutes). Drain them on a kitchen paper-towel and leave to cool a little.

Wipe the pan with a paper towel and add another 3 -4 Tbsp olive oil. Heat on a moderate heat.

While the oil is heating, put all the ingredients in a bowl and beat them until the eggs become homogeneous.

Stir in the zucchini.

Pour the mixture into a frying pan and cover the pan with a lid.

Check the egg mixture every 5 minutes. When it is set on top, your frittata is done!  This step should take 10 – 15 minutes.

If you would like the frittata browned on both sides, slide the set frittata onto a plate and then place the pan over the top of it (after pouring out the excess oil). Flip everything upside-down and then place the pan with the frittata in it back on the heat for 3 – 4 minutes.