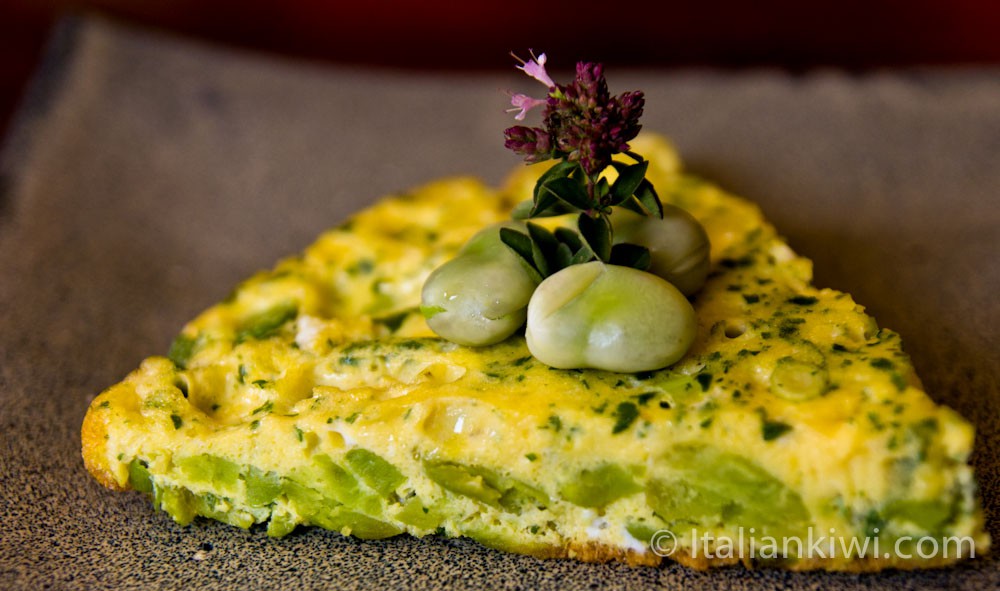 The signs of Spring: flowers, tourists and fresh broad beans
"Spring has sprung, the grass is riz, I wonder  where the birdies is?" as the eminent writer Spike Milligan was said to have recited, and my Mum always used to say when I was a kid.  And indeed, Spring has finally come (boy, did it take its time to get here!).  There are tulips, irises and daffodils popping out in the garden, and, more tellingly for the area I live in, foreign tourists everywhere (though not in our garden).  It MUST be Spring! There are strawberries and asparagus appearing at the markets, and also fresh fava beans!  Fava beans are lots of work to prepare, which means that I don't buy them as often as I should as I'm terribly lazy, but when I do decide to buy them and they don't go rotten as I've taken too long to get around to actually using them…….then, they're wonderful!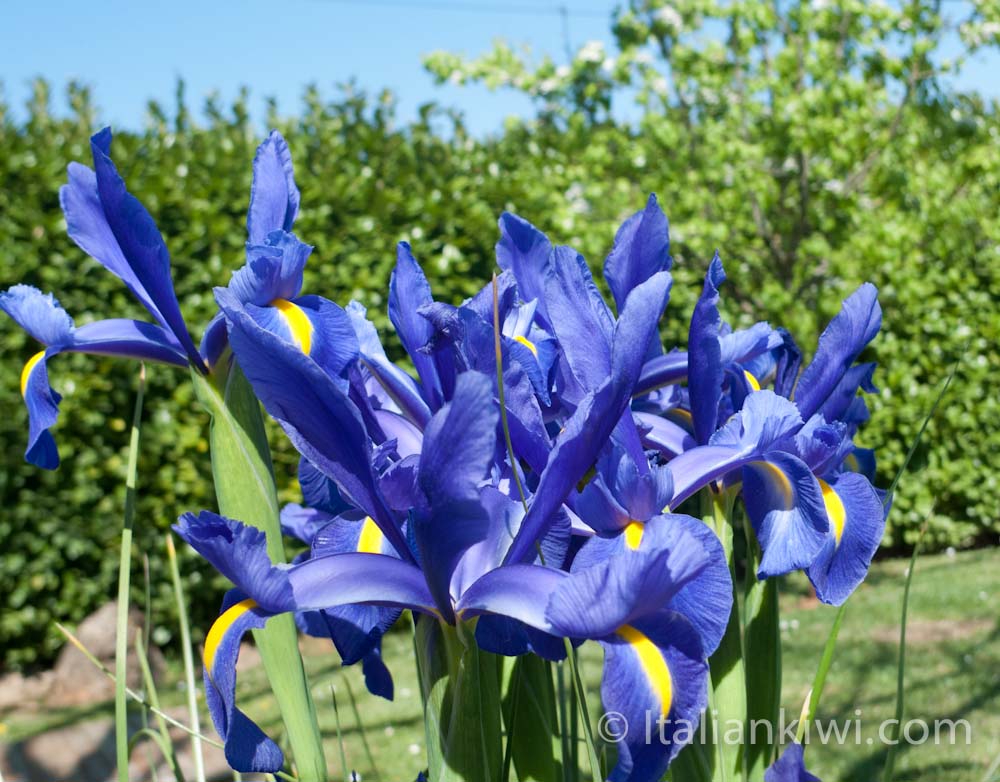 About using Pecorino cheese in the frittata
This frittata recipe is based on one from Tuscany.  It uses pecorino cheese which is a salty sheep cheese (try saying that fast 3 times in a row!) that you find in many, many different forms in Italy from Tuscany all the way to Sicily and over in the west to the island of Sardinia.  If you go to a market in Tuscany, you have a choice of 50 or so different types of pecorino, from hard and flaky, to soft and very delicately flavoured.  I love using the one in the photo below, called pecorino pepato, to make this frittata. Pecorino pepato actually comes from Sicily (yes, I had to find another way to sneak that place into a post again!).  It is filled with whole black peppercorns, which gives it quite a kick. The only problem with it is that my kids and husband like it so much that when I go to use it for cooking, it has often mysteriously "disappeared" from the fridge never to be seen again.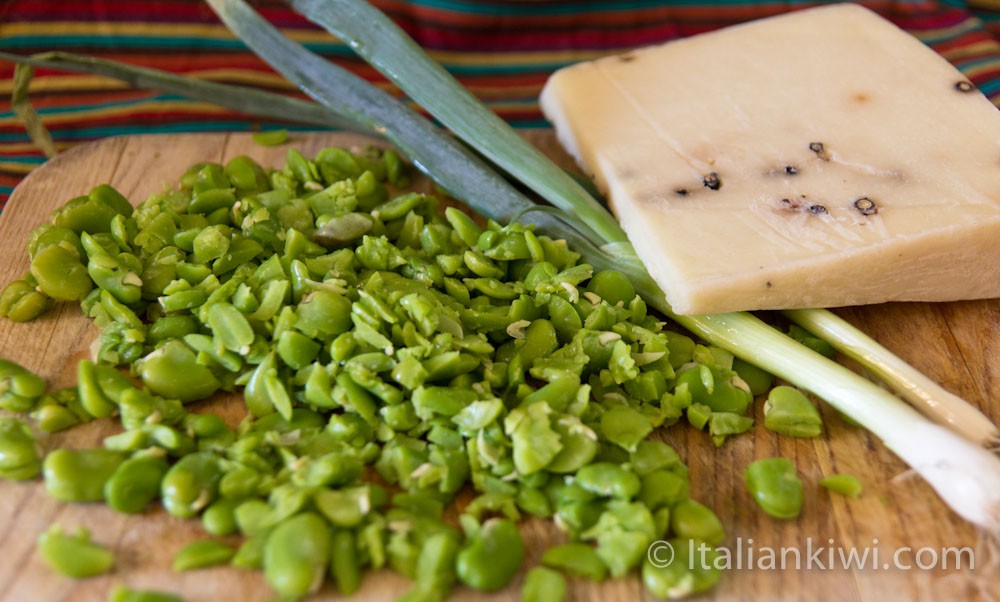 When to eat frittata
I've talked once before about the work  it takes to extract delicate green fava beans out of their prison.  It is totally worth it, which I realise each time I set my kids to opening them while I sit back with a cup of tea in hand and watch them. The frittata tastes like Spring, and that's a wonderful reason to make it!  It's great made the day before at eaten and room temperature as a first course, or as a light lunch with a green salad.
By Lisa Watson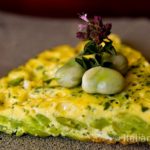 Print Recipe
Broad bean and spring onion frittata
how to make broad bean (Fava Bean) And Spring Onion Frittata
Ingredients
6

Eggs

200

g

Fresh fava beans (broad beans)

1 cup – once taken out of their pods

2

Spring onions

6

Tbsp

Pecorino cheese

grated

Salt and pepper

to taste

Italian parsley

a small handful

2-3

stems

Fresh oregano
Instructions
Shell the fava beans and cook them in boiling water for about 1 minute.  Once they have cooled, squeeze them out of their skins and roughly chop them.

Mince the white part of the spring onions, and chop the parsley and oregano. Grate the pecorino.

In a bowl, whisk the eggs and salt and pepper together.

Add the other ingredients and mix together.

Heat olive oil in a frying pan on medium heat.  When the oil is hot, pour the egg mixture in.

Cover and cook on medium-low until the frittata is set.

Slide it out onto a plate.  If you want to brown the upper side, flip it over carefully and leave it to cook for 2 or 3 minutes.
Notes
This is great eaten at room temperature.