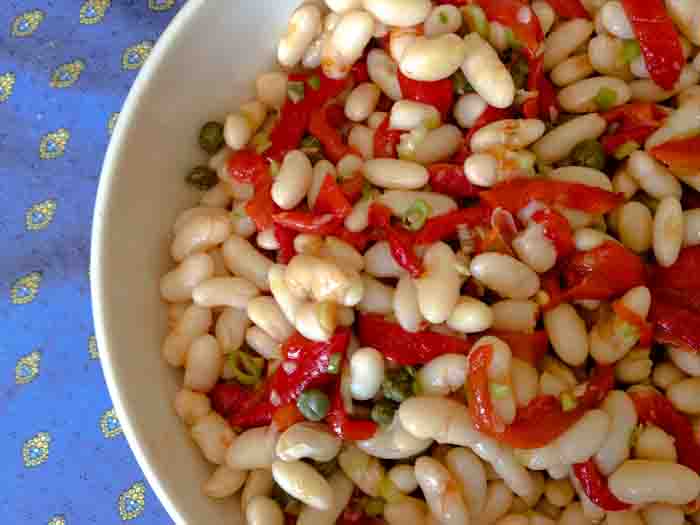 It's all about the tapas
So, here we are in the last week of Spanish Tapas Month on Italian Kiwi, with Part IV!  I hope you've been enjoying the change of scenery for a month and had a look at  the salmorejo soup , the tiny fried fish and the roasted peppers. This bean salad is the last of the Spanish tapas that I'd like to introduce you to.  I love it as it's very quick to make and keeps for at least 4 or 5 days in the fridge, so you can make a lot of it and eat it bit by bit over a number of days, or, if you misjudge how much of the bean salad you need to make for a party and end up with a whole lot of it left over (personal experience here!), then it keeps well so you can eat it over the next few days with no problems at all.
I've tried making this bean salad with canned beans and with dried beans and either way is great.  In fact, it's almost better with the canned ones (so you don't have to feel guilty about not cooking everything from scratch!) as they're "juicier", for want of a better word. I've also made the bean salad with pinto beans, and also with cannellini beans, and both worked marvelously.  As you can see, this bean salad is very versatile.
All about the village of Rhonda
This week, I'd like to show you a small town called Ronda: one of the many Pueblos Blancos in Andalucia.  It is famous for the huge bridge that was built in the 1700's (and is called the "new bridge"!), which connects one part of Ronda to the other.  We didn't have time to walk down to the bottom of the gorge, but apparently, it's worth it (as long as it's not 45 degrees C, of course),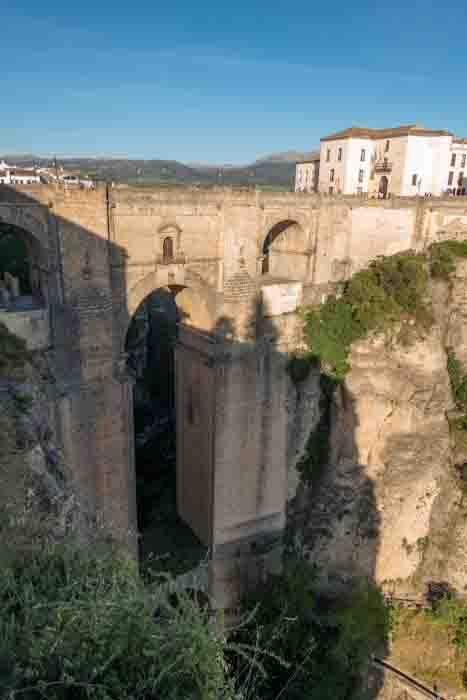 The evening we were in Ronda there was lots of practice for an upcoming religious procession going on.  We bumped into these teenagers (in the photo below) doing a practice run in the early evening.  Soon after I took this photo, the people carrying the box banged into the guys in front of them and everyone fell over.  The leader with the banner then threw it on the ground and started jumping up and down on it.  I guess this group had a little bit more practice to do ……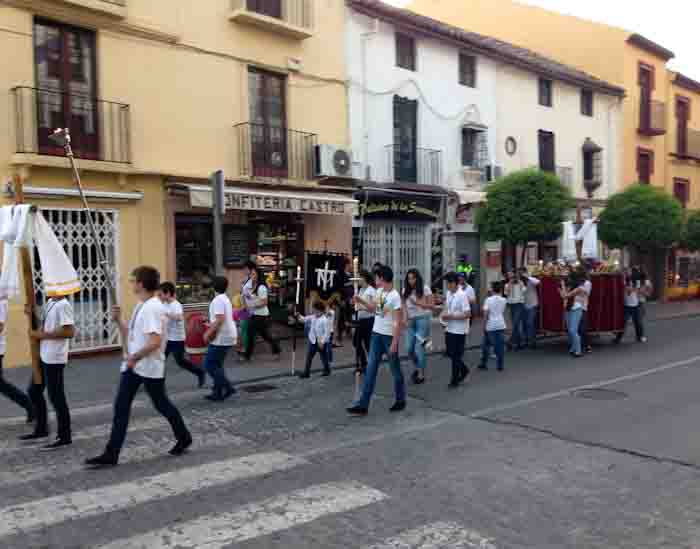 Even the toddlers were getting in on the game.  We saw a few of these decorated cardboard boxes wandering around the main square.  Every now and then a tiny kid would pop out from under the box and run around in circles around it.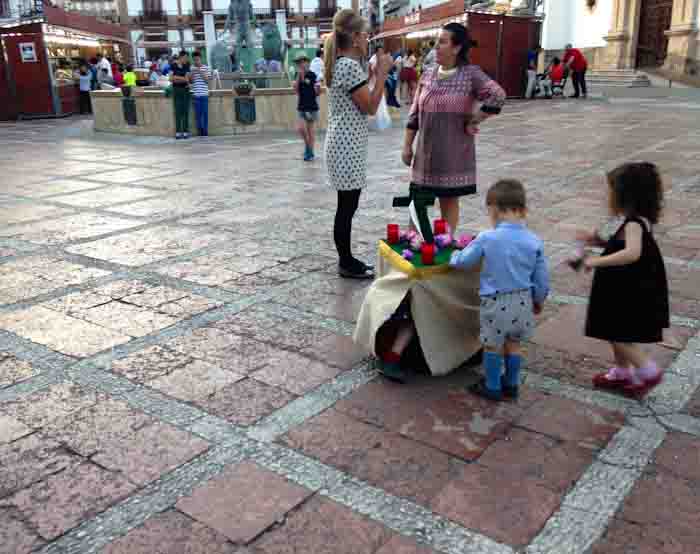 Where to go to eat in Rhonda
We had a fantastic dinner of tapas at the bar below called Camelot.  The name made us think that it might be a tourist trap, but it was far from it.  In fact, we were the only non-locals there.  The dishes were plentiful, delicious and cheap! If you go to Ronda, it's not to be missed!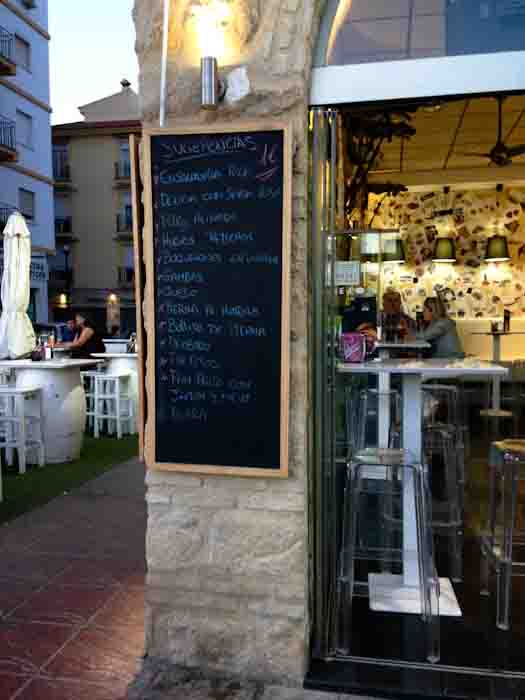 Where to stay in Rhonda
We stayed for the night in the nearby Arridah hotel.  It is a beautiful place in the countryside, run by an incredibly friendly and helpful  couple called Wilbert and John.  The hotel was outstanding!  It was difficult to tear ourselves away from it the next day.  We didn't even have time to sip cocktails and eat tapas on their roof-top terrace overlooking the countryside!  This is a place that we definitely want to go back to again sometime.
By Lisa Watson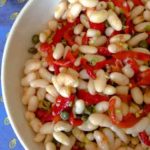 Print Recipe
Roasted Red Pepper and bean salad
This colourful and easy red pepper and dried bean salad will make a great addition to your table
Ingredients
480

g

Dried (or canned) beans e.g. cannelini, borlotti, pinto

17oz, 2 cups cooked

2

Red peppers

Capsicums

2 – 3

Spring onions

3

Tbsp

Capers

4

Tbsp

Olive oil

2

Tbsp

Sherry vinegar

Salt

To taste
Instructions
Roast the red peppers in a baking dish at 180°C (350°F) for 45 minutes.  Leave to cool.  The skins should peel off easily.  Also remove the seeds.  This step can be done a day or two before you make the salad. Just keep the peppers in an airtight container in the fridge until needed.

Slice the peppers and finely chop the spring onions.

Drain the beans.

Put all the ingredients in a salad bowl and mix.  Add more vinegar and salt to taste.

Chill the salad until needed.