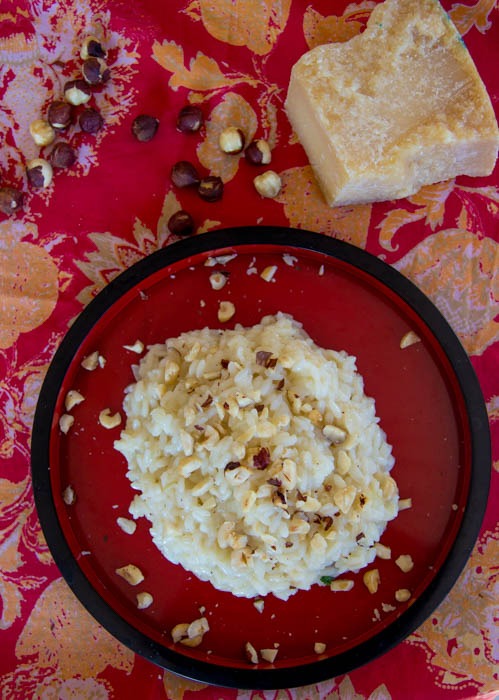 How to win over your guests and destroy your enemies using risotto
If you're looking for a first course to win over your guests and destroy your enemies, then you've come to the right place.  Risotto made with Prosecco (or any dry sparkling white wine) makes an elegant start to a meal.  Actually, I'm not sure how you will destroy your enemies with risotto, unless you dump a truck-load of it on top of them, but it will make any dinner guests glad that they took up your dinner invitation! It is very typical to eat risotto or pasta as a start to a long festive meal.  It is usually preceded by many aperitifs , and followed by some kind of meat dish and three or four different sides, then dessert, then coffee, then a liqueur like grappa to try to settle all that food jostling around in your stomach.  It's no surprise that in Italian, there is a word for the sleepiness you feel after eating a big meal for lunch: it's called *l'abbiocco*. This is one of those untranslatable words that they should really think up a word for in English.  We English-speakers get our own back though for the fact that Italians don't have a word for "toes"; they just call them "feet fingers" (dita dei piedi)!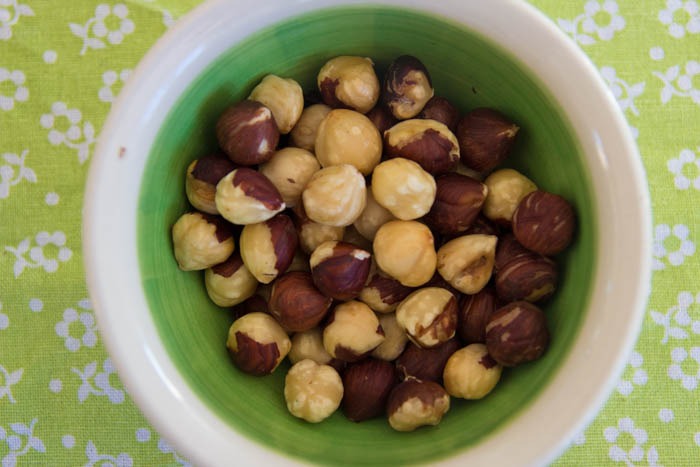 Tips to make risotto even more elegant
If you're looking to make this risotto even more sumptuous, you could drizzle some truffle oil over it just before serving, or ever scatter tiny pieces of chopped up truffle over the top of it; that is if you can get your hands on a truffle. This year because of the long drought, truffles in Italy are in short supply.
This risotto is very delicate in taste, so I highly recommend using homemade stock, or a good store-bought one, as most of the flavour comes from this ingredient.  You can find the recipe here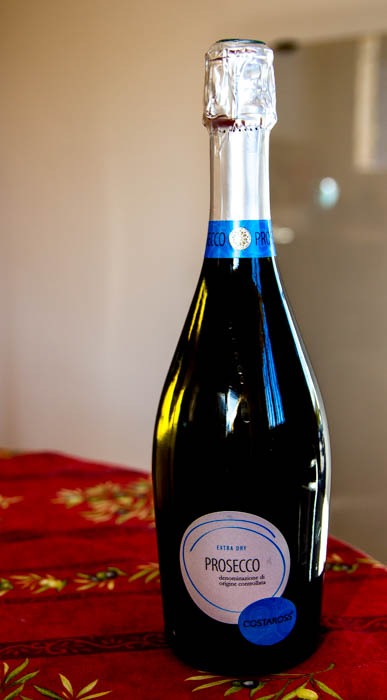 You can read about other recipe ideas to make your holiday season truly Italian here are a few more ideas from some wonderful Italian bloggers:
Daniela of La Dani Gourmet will be tempting us with a delicious sweet treat called torrone morbido,

Carmen of The Heirloom Chronicles baked a Sicilian Christmas pastries called Ciascuni, 
Francesca from Pancakes And Biscotti warmed us up with Italian Hot Chocolate
Flavia of Flavia's Flavors made a dessert eaten at this time of the year in Calabria called Struffoli,
Marialuisa of Marmellata di Cipolle made succulent Stuffed figs;
And Rosemarie over at Turin Mamma took us on a trip to North-Eastern Italy with Spätzle 
Travel Photo Of The Week

This photo is of Bassano di Grappa.  It is a beautiful village in the hills, not far from Venice, and very close to the vineyards that grow grapes for making wonderful Prosecco.  The grappa they also make in the area is made from the skins and stems of the grapes after the juice has been pressed out of them.
By Lisa Watson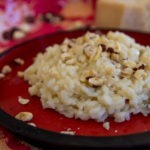 Print Recipe
Risotto with Prosecco and Hazelnuts
Amaze you guests with this recipe for Risotto with Prosecco and Hazelnuts!
Ingredients
4

Tbsp

Olive Oil

400

g

Canaroli or aborio rice

2 cups

1

small

Onion

200

ml

Prosecco

3/4 cup

Vegetable or Chicken Stock

60

g

Hazelnuts

2.1 oz

40

g

Grated Parmesan Cheese

4 Tbsp

1

tsp

Salt
Instructions
Toast the hazelnuts by putting them in a small dry frying pan and cooking them at a moderate temperature on the stove-top for 5 minutes.  Let cool, then chop roughly.

Heat the stock in a pot on the stove until it is simmering.

While the stock is heating, finely chop the onion.

Heat 4 Tbsp of olive oil in a different large, heavy-based pot.  Saute the onion until it becomes translucent.

Add the rice and stir until it browns slightly.

Add the prosecco and let it boil off.

Pour in enough heated stock to cover the rice mixture. and put the timer on for 13 minutes.

Add  the salt and stir in.

As the rice is cooking, watch the level of the water.  As it goes down, add water from the simmering pot, one ladle-full (or cupful) at a time. Stir the rice often.

As the time gets to around 12 minutes, start tasting the rice to see how done it is. The type of rice you have may vary the cooking times. If it's close to being cooked, don't add any more water and let the water in the rice boil off, stirring frequently.

Just before you take the risotto off the heat, add the Parmesan cheese and stir it in.

Sprinkle the risotto with the chopped hazelnuts before serving.