The joys of sick kids
Well, I've been out-of-order for a couple of weeks, thanks to my eldest son having flu that turned into pneumonia.  All of you out there who haven't had a flu jab yet this year (or the flu) , I really recommend you to go and get one.  This season's flu seems all very calm and normally fever-inducing, but then….."BOOO!!!", it jumps out at you from behind the door when you're least expecting it and invites its friends: bronchitis, ear infection and pneumonia to gatecrash the party. Now, those guys are very unfriendly guests and are the last ones to leave, even though you're cleaning up around them and dropping hints on how you're really tired, and their friend, the flu, already left a week ago.  Thank goodness for antibiotics, the A-bomb of the medical modern age.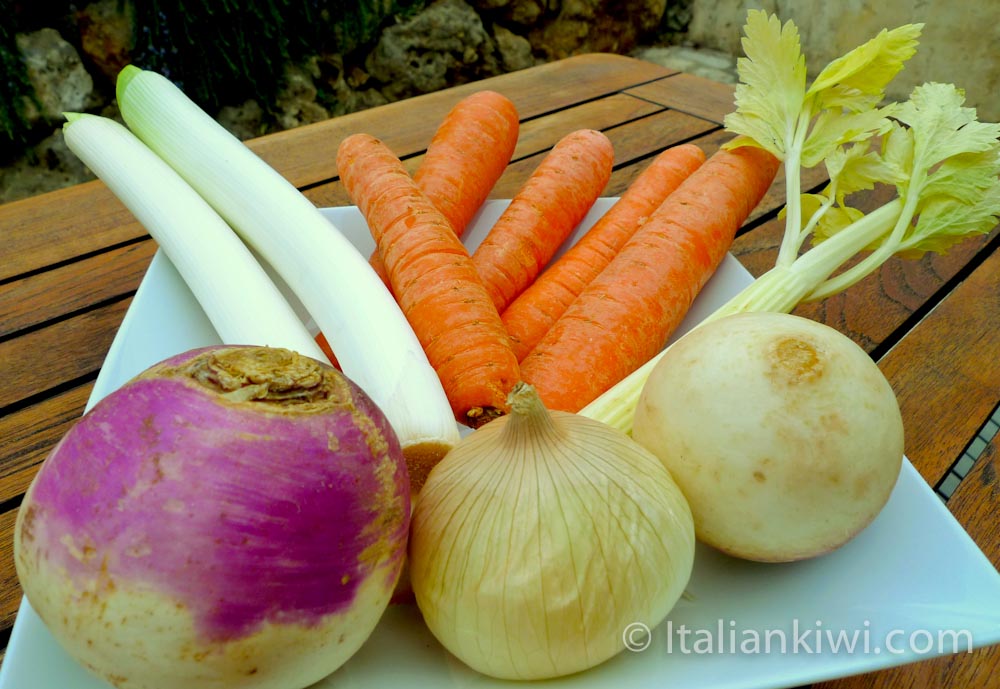 The magic Italian soup that makes everything better
Anyway, the only thing kiddo would eat happily while he was sick was "minestrina", so I thought that it would be a good recipe to share.  It's basically a meat broth which you then cook tiny pasta in.  The good thing about making minestrina is, that although it takes a few hours to cook the broth, after it's done you can freeze it and use it at your leisure for other goodies, such as risotto or soups. I always feel virtuous when I see my boys gobbling minestrina up, as it's full of all the minerals and vitamins from the vegetables that go into it, and they don't even realize that they're eating something healthy (ha ha!!). It's also a great way to use the bones of that roast chicken that you would otherwise throw out: it makes your money go a little further AND you feel as if you're saving something from the giant landfill.  Now, how can you beat that?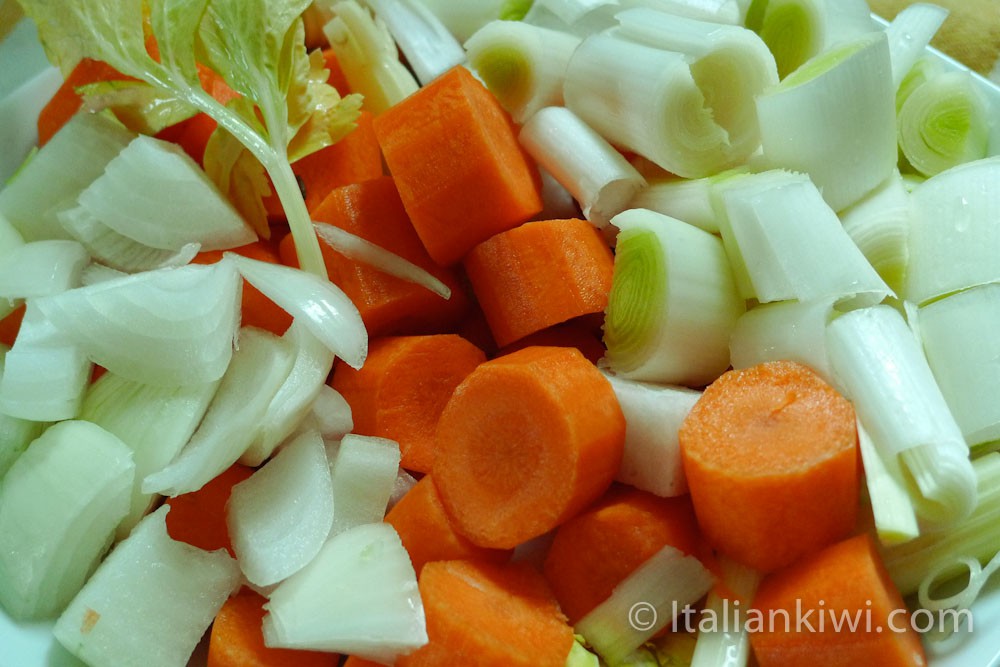 By Lisa Watson
Print Recipe
Chicken Broth with Pasta (Minestrina)
How to make the magic Italian broth that makes everything better
Ingredients
6

medium-sized Carrots

1

Onion

2

Leeks

2

Turnips

1

Celery stalk

1

kg

beef with bone in, or the bones of 1 left-over chicken

2.2lbs
Instructions
Peel the carrots, then chop all the vegetables into large chunks.

Put in large pot or pressure cooker.  I use a 7 litre pressure cooker, which gets the job done in half the time!.

Add water to just cover the meat of your choice and the prepared vegetables.  In this case I added 2L (8 cups) of water.

If you are using a pressure cooker, close the lid and when it starts to whistle, let it boil for 1 1/2 hours.  For a normal pot, put the lid on and simmer gently for 3 hours.  Check the water level every now and then and add more water if it gets low.

When the broth is done you can remove the vegetables and meat, then pour it into plastic containers.  Leave in the fridge overnight and skim off the fat before you use it.  My Italian in-laws love to eat the vegetables in a cold salad with salt, red-wine vinegar and olive oil sprinkled over the top.

To make the minestrina:

Boil 500ml (2 cups) of broth.  When it is boiling, throw in 90 – 100g (3.5oz) of tiny pasta, such as alphabet pasta or tiny stars.  Follow the packet instructions for cooking times.  If the pasta absorbs too much of the broth add a little more broth during the cooking time. Pour it into the bowl and grate parmasean cheese over the top if desired.
Notes
The broth is great to make risotto with or as a base for any kind of soup.
Watch those kids get suckered in to eating something that's good for them (insert evil genius laugh here!).