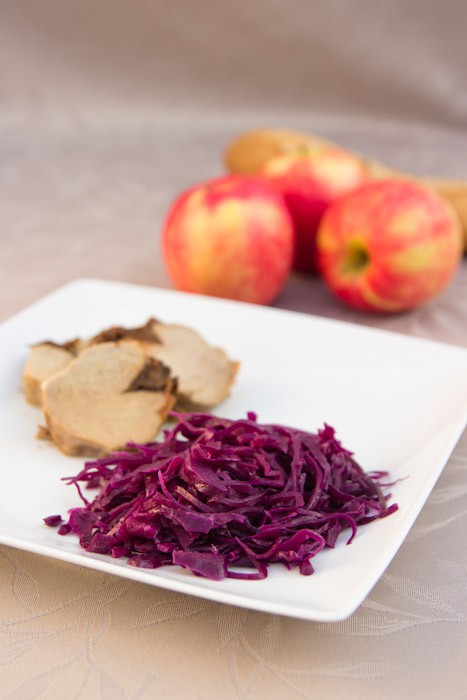 Enjoying the food in Munich, Germany
Recently, we were lucky to be able to visit the beautiful city of Munich, Germany and took in a visit to Legoland. The Munich part was for the adults in the family and the Legoland part was to convince the younger members of the family to wander around a city for a couple of days. Nothing like a good old-fashioned bribe of a near-future visit to a fun place to get the kids to not whine about their tired legs and about how we've already seen two churches and why do we have to see another one! Aside from the architecture, one of the great things to do in Munich is eat (you thought I was going to say "Go to the Oktoberfest and drink like a fish, didn't you!). Well, the Oktoberfest wasn't on, and with a couple of kids in tow, fish-drinking is not the done thing, so we went to eat.  One of the delicious sides that you can get everywhere is red cabbage stewed with apples; a dish that brought back many good memories from when I used to live in Heidelberg many years ago. To make sure that I hadn't forgotten anything, I also made myself eat large helpings of fabulous cakes and pastries.  Of course, it was only in the name of research and something I would never normally do…..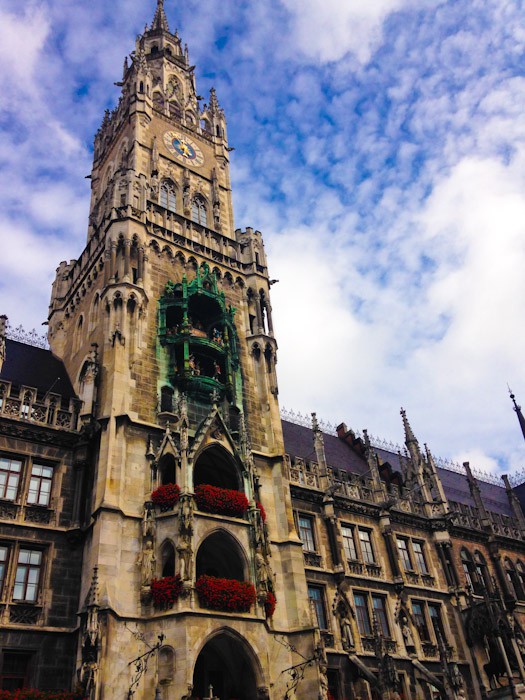 Red cabbage everywhere!
While wiping pretzel crumbs off our faces, before moving onto a beer hall to eat large amounts of meat with sides of red cabbage, potatoes and sauerkraut, we stopped to watch the show of the Glockenspiel in the tower of the town-hall on Marianplatz.  At certain times of the day a whole procession of figures cavort around to the tune of the chiming bells: knights, dancers and wedding guests all take a turn to spin in and out of sight of the crowds watching below. The different scenes show events that marked Munich's history.  It's worth reading about before you see it (um, which I didn't do) so that you can really appreciate the show.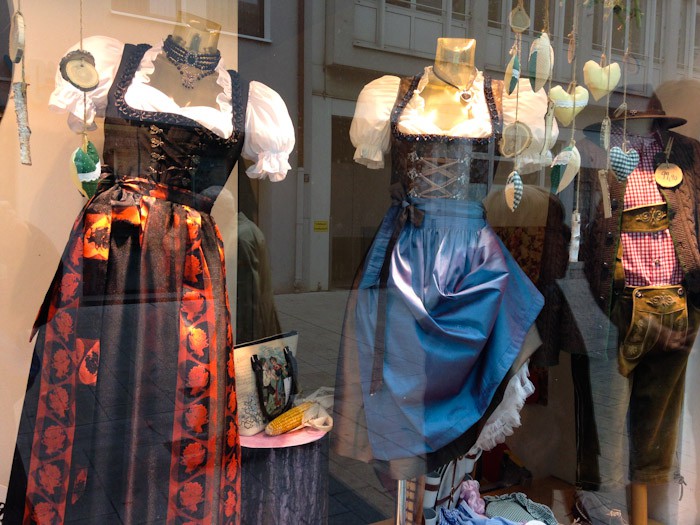 Must-buys when you go to Munich
After stuffing ourselves, we went window-shopping and decided that maybe the traditional dirndls and lederhosen weren't quite for us.  Though it would certainly make us into talking-points if we wore them back in the French village where we live.  It maybe better just to stick to recreating the red cabbage and apple side dish and leave the dirndl wearing to the Bavarian experts.
Just a note for slicing the red cabbage: if you have a mandoline slicer, it's actually very quick to shred.  Chopping it by hand will take quite a long time, unless you are an expert knife-wielder.
This cabbage goes exceptional well with brined turkey!
By Lisa Watson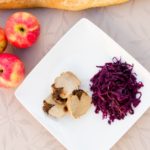 Print Recipe
Stewed red cabbage with apple
Stewed red cabbage and apple is a typical South German side dish. It's good enough to eat by itself!
Ingredients
1

Red Cabbage

50

g

Butter

2 Tbsp

1

Onion

2

Apples

1/2

lemon

juice

2

Tbsp

Red Wine Vinegar

150

ml

Red Wine

1 cup

150

ml

Vegetable Broth

1 cup

1

tsp

Sugar

2

Bay leaves

4

Cloves

3

Juniper Berries

1

Tbsp

Flour

1

Tbsp

Redcurrant Jam

optional

Salt and pepper

to taste
Instructions
Slice the cabbage into thin strips. I used a mandoline slicer for this.

Chop the onion finely. Peel, core and chop the apples.

Melt the butter in a large heavy-bottomed pot. Sauté and onions and apple until the onion becomes translucent.

Add the cabbage and lemon juice. Stir.

Sprinkle with 1 – 2 tsp salt, then add the vinegar, wine, broth, bay leaves, cloves, juniper berries and sugar.

Cover and simmer on a low heat for 1 1/2 – 2 hours, stirring every 10 -15 minutes.

Mix the flour with a little water in a cup to make a runny paste. Add this mixture to the cabbage and stir in to thicken the sauce.

Add the redcurrant jam, if using.

Taste and season with more salt if needed.

The cabbage can be made a few days in advance and kept refrigerated until needed.