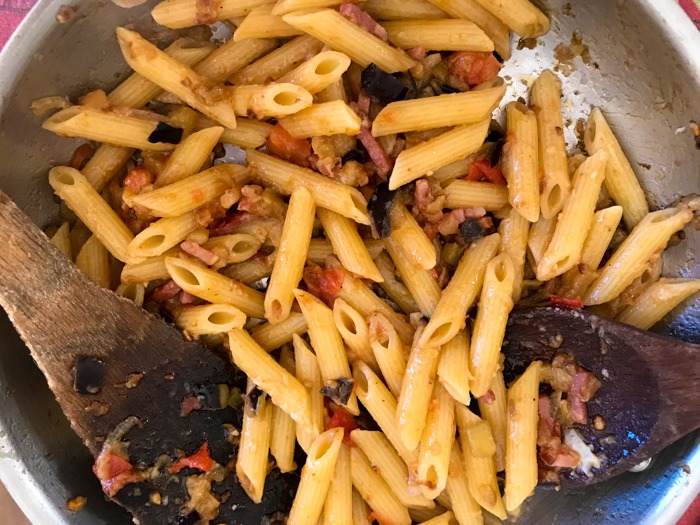 Finding recipes in Mantova
A few years ago, we drove over to Mantova to catch up with some friends of ours from there. Mantova is a beautiful city surrounded by a lake in the North-East of Italy.  The buildings and art are amazing, and the food is awesomely good!  Just one bite of their pumpkin ravioli or the crumbly, almond-studded, biscuit-cake (it's half-way between the two) they make called  sbrisolona and you may be trapped into staying there forever, a little like that Greek myth about the woman going to Hades, but I imagine Mantova is a much nicer place than Hades, so it wouldn't be so bad.
It's amazing how much you can eat when there's good food everywhere
The parents of our friend, Ale, invited us to lunch at their house. We agreed with a speed that would put the Road-runner to shame. Ale's mother made pasta with a divine sauce! Thank goodness in Italy asking for seconds is a positive thing!  And here I was thinking that I couldn't fit in even one more bite after all the brioche, cappuccini and gelato I'd been wolfing down all morning.  Well, for the record, I made a discovery that I have an extra stomach in my leg.  I've been making the sauce regularly ever since and never tire of it.  Even my kids eat it, and that's some kind of miracle since it's got greenish stuff in it (you know that stuff that adults say is healthy, but that kids know kills them slowly, so try to avoid at all costs).
So here's the recipe for pasta with speck and zucchini.  Each time you take a mouthful, you'll be just that much closer to Mantova. 🙂
Find out all about how to cook your dried pasta like an Italian does here.
By Lisa Watson
Print Recipe
Short pasta with speck, zucchini, and tomato
A delicious and easy recipe for short pasta with courgettes (zucchini), speck or bacon and tomato.
Ingredients
400

g

– penne rigate

cellentani, fusilli Pasta

2

Zucchini

small

1

Shallot

100

g

Speck

250

ml

Tomato puree

or 250 g halved cherry tomatoes

40

g

Parmesan cheese

4 Tbsp

Zucchini flowers

optional
Instructions
Boil the water and cook the pasta as according to the packet instructions.  For this recipe I like to use fusilli, cellentani, or penne rigate as they hold the sauce well.

While waiting for the water to boil, finely chop the shallot, dice the zucchini and the speck (if it is in one piece).

Sauté the shallot for 2-3 minutes on a medium-high heat until it becomes translucent.

Add the zucchini and sauté for five minutes, stirring occasionally.

Add the speck and continue to cook until the ingredients start to brown.

Turn the heat down to medium, then add the tomato puree or the halved cherry tomatoes. Cook for another 5 minutes.

If using zucchini flowers, slice them and add them in the last 2 minutes of cooking.

When the pasta is drained, add it immediately to the sauce.  Add the grated parmesan and stir.