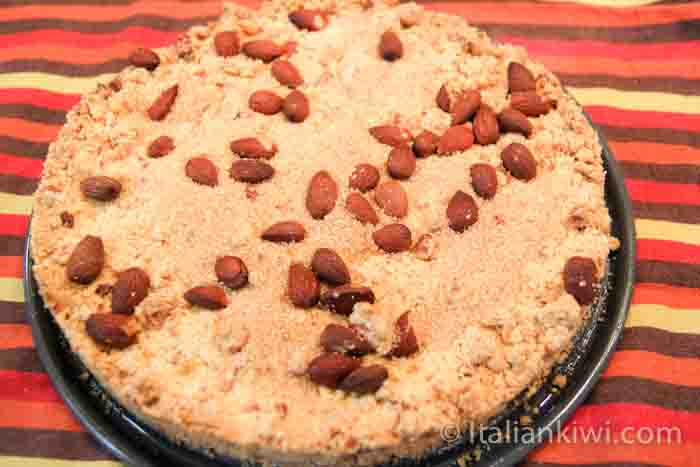 Sbrisolona: the cakey-biscuit from Romeo's Mantova in Italy
Is it a cake? Or is it a biscuit? Or shall we just not care about the semantics and gobble it all up?!! This is a delicious cake/giant biscuit called sbrisolona, which is a specialty from the beautiful city of Mantova, which I have written about once before.  You can buy it from gastronomie (kind of like delicatessens) and souvenir shops all over the city. Unfortunately, it is not so easy to get there on the spur of the moment for most people. So, to get a taste of Mantova, you can make it at home very quickly.  If you then wrap it in clear cellophane, put a ribbon around it and stick a little card on it with the word Mantova written on it in fancy writing, you could even impress your friends and pretend you HAVE been there and just thought you'd bring them back a souvenir. Just read a guidebook first about the area so you can drop some place names from around there into the conversation to sound more authentic. Say things like, "Oh the Palazzo del Té was beyond description!", and say, "you must try tortelli di zucca when you go there!", but never, NEVER say, "the views from our hotel of the Colosseum were stunning!"……then, I'm afraid, you may be exposed.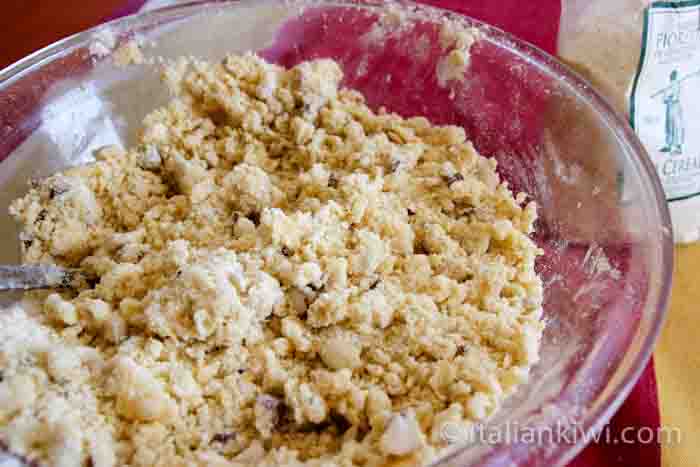 How did Sbrisolona get its name?
The name sbrisolona comes from the fact that  it is an incredibly crumbly cake.  In Italian "sbriciolare" means "to crumble". In fact, sbrisolona should not be cut to serve it, but pieces of it should be broken off.  If you do decide to make this, you will very quickly discover that you don't actually have a choice in the way you serve it.  Anyway, part of the joy of eating it is scraping up all the crumbs that are left behind, because as we all know very well, broken bits of biscuit have no calories!
In the past, this recipe traditionally used strutto, or lard in English, which is rendered fat from under the skin of pigs (OK, that does sound disgusting, but it tastes really good). I used only butter in this recipe, and from what my mouth remembers from the real thing that I ate in Mantova, the difference in taste is negligible. Sbrisolona is extremely easy to make as you throw all the ingredients in a bowl together, mix them a little and then throw the crumbly mess into the oven.  The finished product somehow manages to look as though you've spent hours making it. I firmly believe that  if people want to believe it, I'm not going to enlighten them! It never hurts to make everyone think you've been working in the kitchen longer than you really have. Then they feel too intimidated to try the recipe you just made….because if they did, they would realize that it's no big deal to make and your cooking prowess would drop a few notches.
Other almond recipes for you to try
When I made this recipe, I ended up having enough to make two cakes.  They both seem to have disappeared very quickly, and it keeps really well for several weeks, so don't hesitate to make it!  If you're looking for other almond cookie recipes, check out my good friend, Azlin Blloor's blog called Lin's Food.  She has the most delicious recipe for Moroccan Almond Cookies there.  I can say that from experience because I made them.!
Travel photo of the week
This photo below is not actually Mantova, but it is taken nearby.  This is the stunning Lake Maggiore, about 30 minutes from Mantova, where I'm sure they also eat plenty of Torta Sbrisolona.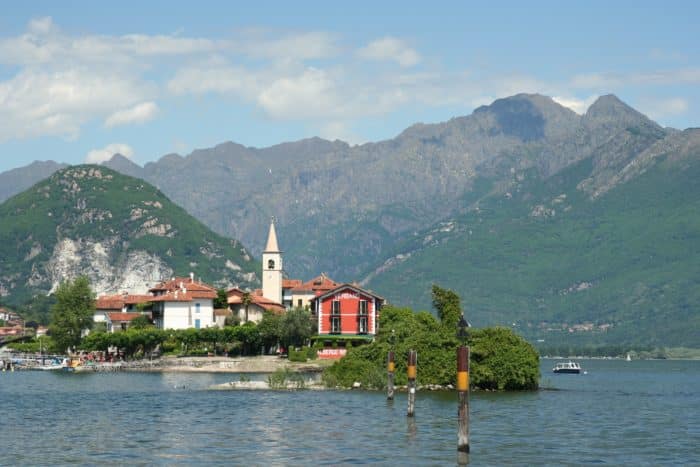 By Lisa Watson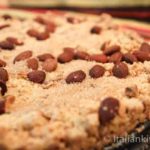 Print Recipe
Torta Sbrisolona
A Fabulous way to finish a meal along-side a glass of sweet dessert wine, or as a treat with a cup of tea for afternoon tea! Torta Sbrisolona comes from the beautiful town of Mantova in Italy.
Ingredients
200

g

Butter

3/4 cup (or 100 g butter and 100g lard) – at room temperature

150

g

Sugar

3/4 cup

250

g

White flour

1 2/3 cup

200

g

Cornmeal

1 1/3 cup -that's fine meal used to make polenta….NOT cornstarch/cornflour

Lemon zest

from 1 lemon

2

Egg yolks

50

g

Non-peeled almonds

1/3 cup

150

g

Peeled almonds

1 cup

1

sachet

Vanilla sugar

or add 1 tsp of vanilla essence
Instructions
Just a note about the cornmeal before starting the recipe.  I used extremely finely ground cornmeal to make it (which I so far haven't seen outside of Italy), but I'm sure it would turn out well with more coarsely ground cornmeal that is used for making polenta.  Just try to find the finest you can.

Heat the oven to 180 degrees C (350F).

Chop both lots of almonds into coarse chunks.  Leave a few unpeeled ones whole to scatter on the top at the end.

Put all the ingredients in a bowl and mix them carefully until they are just combined. DO NOT OVER-MIX.

Sprinkle the mixture, as shown in the photo above, into a greased tart pan that is at least 25cm in diameter. I used a cake-tin with removable sides, and for the extra dough, a pie dish.

Pat it down just slightly and VERY GENTLY.  DO NOT press down hard.  It should be a quite loose mixture and not pressed together.

Sprinkle the whole almonds over the top.

Sprinkle a tablespoon of sugar over the top. I used brown cassonade sugar, but white sugar is fine.

Bake for 35 – 40 minutes, or until golden brown.

Leave in the pan to cool and then carefully extract it from the pan.
Notes
To eat torta sbrisolona, break it into pieces.