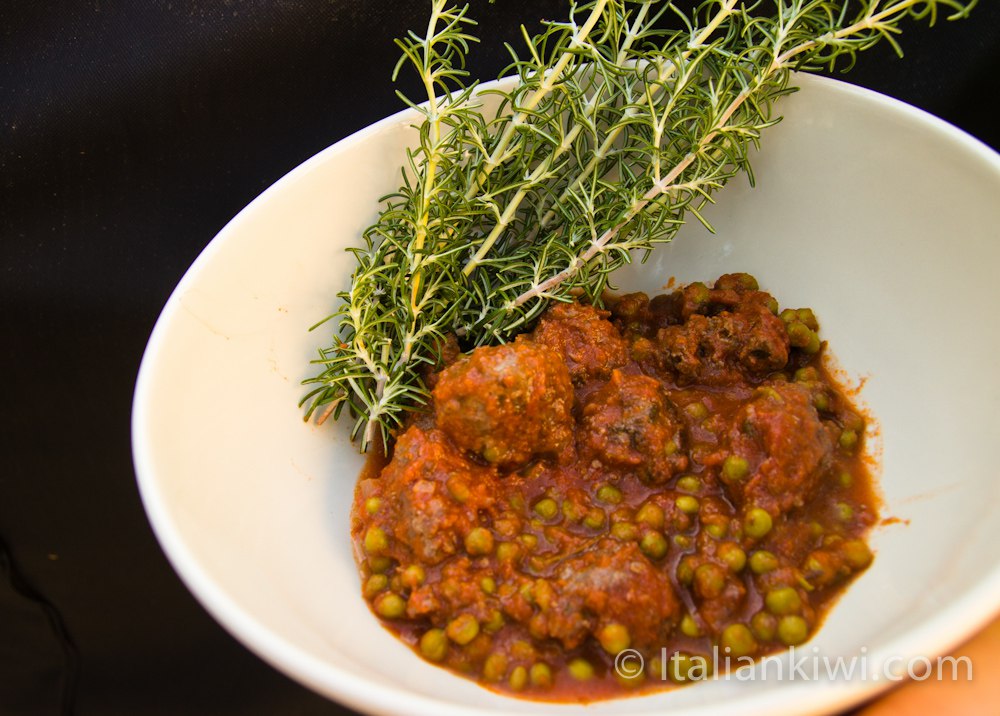 This recipe for polpette con piselli (meatballs with peas) is another great classic from my mother-in-law, Bianca.  Friends of my husband who grew up eating these often at his parents' place in Turin  have been bugging me to put up this recipe for a while, so here it is!  Polpette con piselli a wonderful "make in advance" dish that also freezes well, and so far, I've never met anyone who didn't like it (vegetarians excluded of course….please don't make it for vegetarian friends).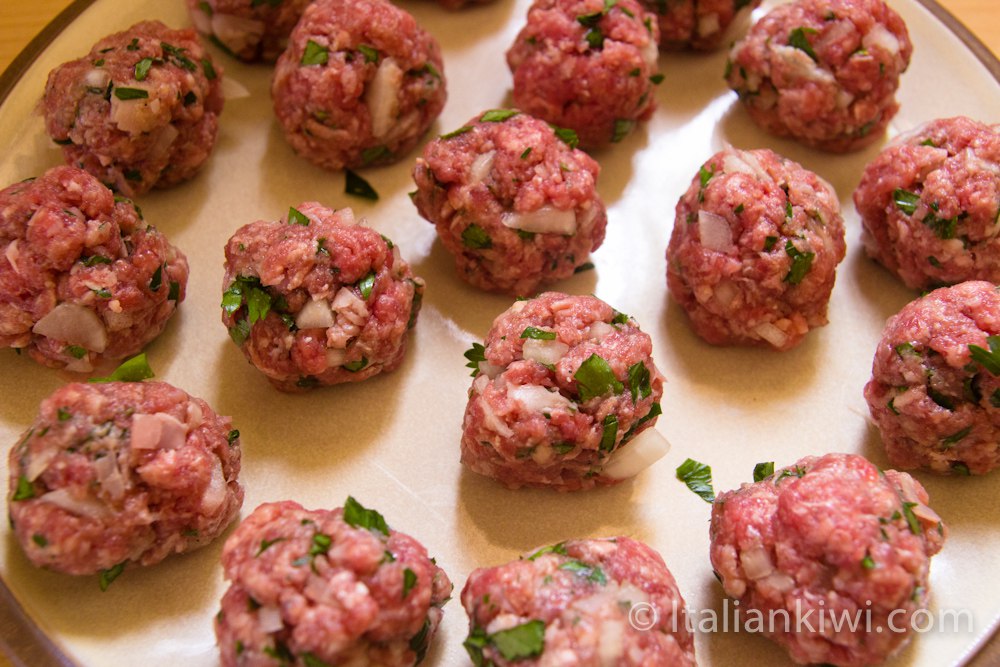 The recipe I've given you makes quite a few polpette, but as it takes a little effort to make them, it's better to make more than you think you will need and then freeze the leftovers (if there are any!).  They make a wonderful near-instant meal on one of those days that you don't know what to make/can't be bothered cooking and are too lazy even to get take-out.  You can just pull the polpette out of the freezer and heat them up!  I like eating them with mashed potato…I think that's the Kiwi part of me coming through: "potato with everything!" should be some kind of slogan.  Maybe I should change the name of my blog…hmmmm……
In Italy, I've always had these as a second course after a first course of pasta……now pay attention to the bit that said "after a first course of pasta".  Let it go on the record that I didn't say "with" pasta (like, on the same plate).  They'd take my Italian passport away for that one! So, you do whatever you want with that, but just don't tell me so that I can't confess anything and get you into trouble with the Italian Food Police.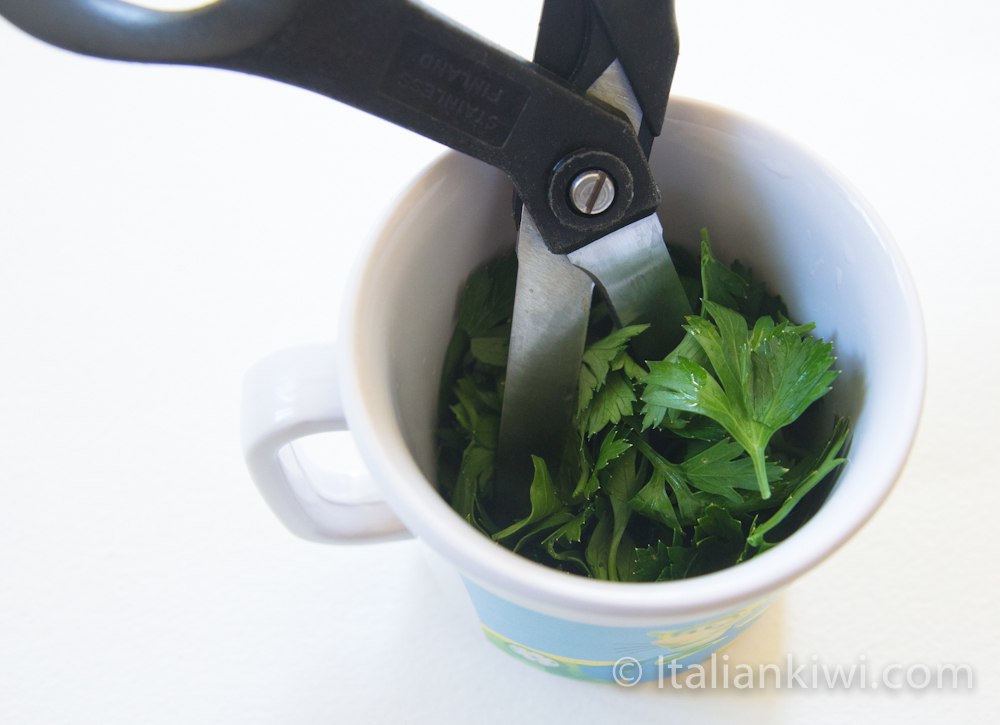 And, just a tip before I leave you with the recipe: I just discovered recently that the best way to chop herbs into small bits is to stick the leaves in a cup (as you can see in the photo above), and cut them in the cup with scissors.  It works amazingly well, and I can't believe that I never thought of doing this.  Instead for years I've been laboriously mincing herbs on a chopping board with a knife, which takes me forever since I'm terribly impatient at doing that sort of thing.  Incredibly, I haven't lost any fingers yet, but I have sometimes added extra protein to the meal that wasn't supposed to be there.  😉
By Lisa Watson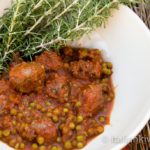 Print Recipe
Ingredients
500

g

1lb Beef mince (ground beef)

1/2

Chopped onion

optional

50

g

2oz Ham (chopped)

20

g

1/4 cup Parmesan cheese

1

Egg

5 – 10

g

1/4 cup: to your taste, really Parsley

1/2

tsp

Salt

to taste Pepper

1

sprig Rosemary

1

whole clove Garlic

400

ml

1 3/4 cups Tomato passata

1

Beef boullion cube

250

ml

1 cup Red wine

500

g

2 cups Peas
Instructions
Mix the mince, finely chopped onion (if using), parmesan, parsley, ham, salt, pepper and egg together in a bowl. If the mixture is too "wet" and doesn't stick together, add some breadcrumbs: 2 Tbsp at a time until it becomes more firm.

If you have time, place the mixture in the fridge for 30 minutes.  This step is not strictly necessary, but it helps the balls stay together while they are being browned.

Make balls about the size of a walnut with your hands.

Heat olive oil in a frying pan (with high sides if possible) with a large sprig of rosemary and a whole clove of garlic.

Brown the meatballs.  Do not crowd them together.  If the pan is too small, put them in a few at a time. Gently turn them until they are browned on all sides.

Add the red wine and let it boil off.

If you do not have a pan with high sides, transfer the meatballs to a larger pot.  Add the tomato passata, the boullion cube and the peas. Top up with a little water if the sauce is too thick.  Add salt to taste.

Simmer gently for 15 -20 minutes, stirring occasionally.

If the sauce is too runny, turn the heat up briefly to let the sauce thicken.

These are great to freeze!  Just make sure the sauce is quite runny and covers the meatballs entirely before putting them in the freezer.