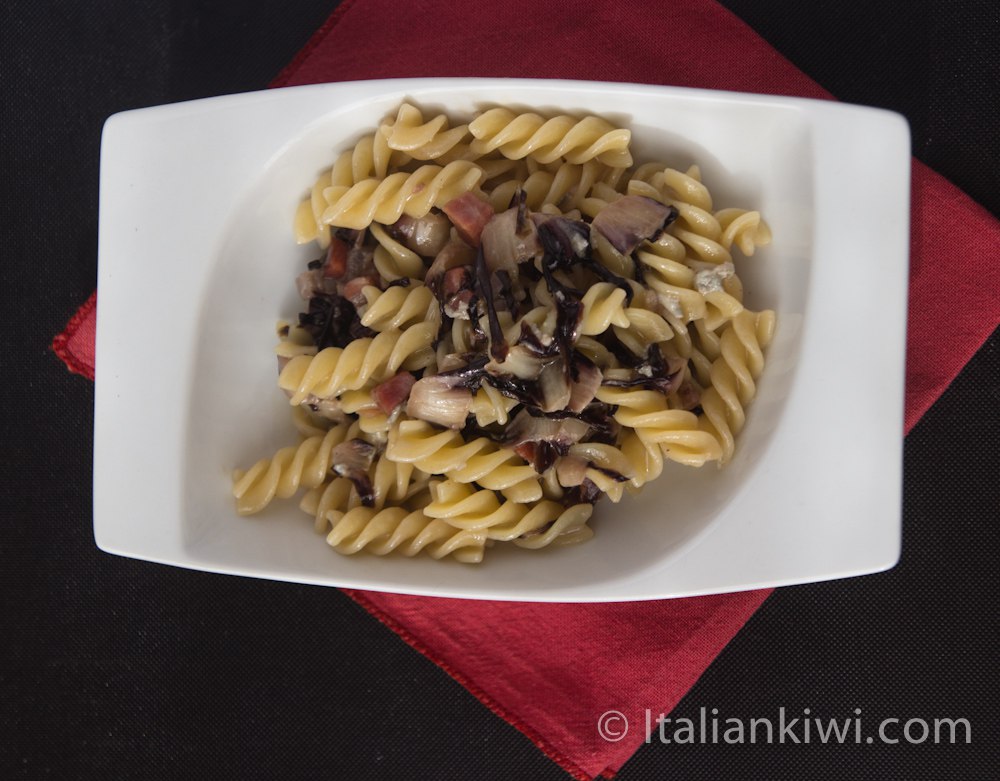 I was first introduced to radicchio when I was living in California.  I have an Italian friend who comes from the mountainous area in the North-East of Italy where radicchio is grown and used extensively.  At the time she was living in a to-die-for apartment on the way up to Coit Tower in San Francisco.  One evening she invited us over for a wonderful dinner of fusilli with radicchio, gorgonzola and walnuts, and that was when I fell in love with this vermillion-hued vegetable!  It was the thing I'd always picked out of salads before.  It was a revelation to discover that it could be cooked, and that cooking changed it into something entirely more interesting altogether. Here's a photo of Coit Tower in San Francisco, just to give this whole post a little travel flavour, and so that you know where I'm talking about!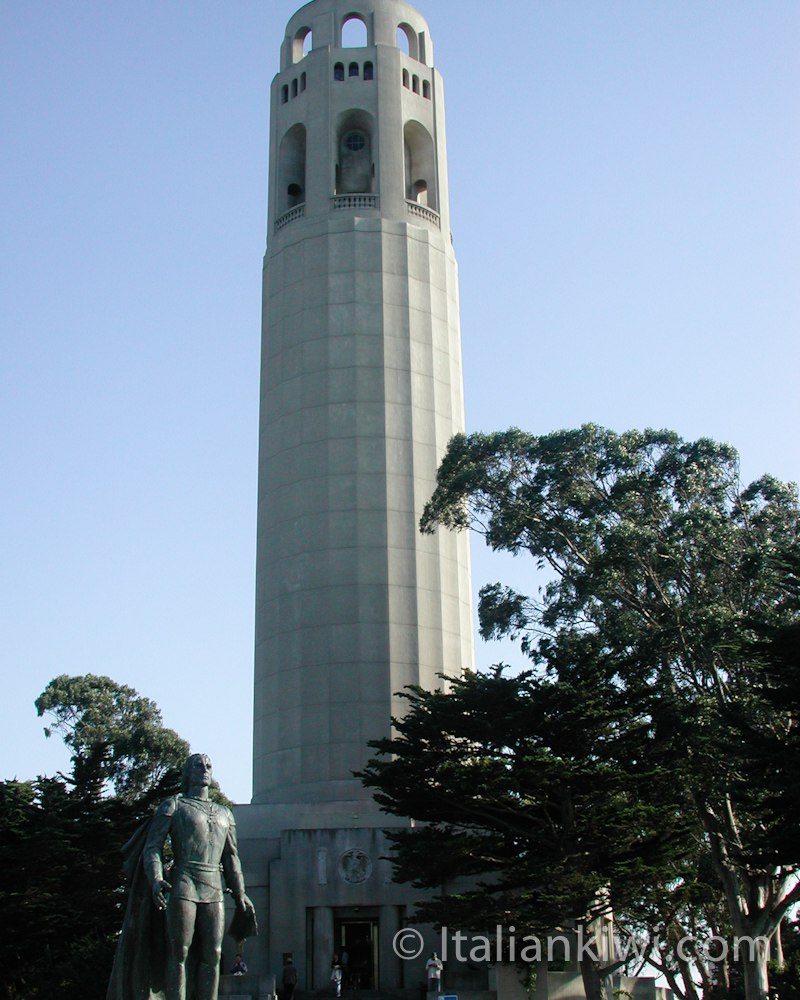 You may know radicchio by it's other aliases (aliai???!!!)  as treviso salad, or simply red lettuce.  This guy has enough names to be a C.I.A. spy. And just like a good spy, it comes in a couple of different disguises: round, like lettuce, or long and thin like you see in the photo below.  The taste is the same, which-ever one you find; well at least it is as far as I can tell.  If anyone thinks differently, please let me know! The white parts can be a little bitter, so sometimes don't add too much of them.  It really depends a lot on your tastebuds.  I read somewhere that the ability to taster bitterness in vegetables like this, and broccoli is a genetic throwback to caveman days, when eating bitter-tasting plants could kill you, since they are often poisonous (now don't try to throw in that one in in order not to eat broccoli: it's NOT poisonous!).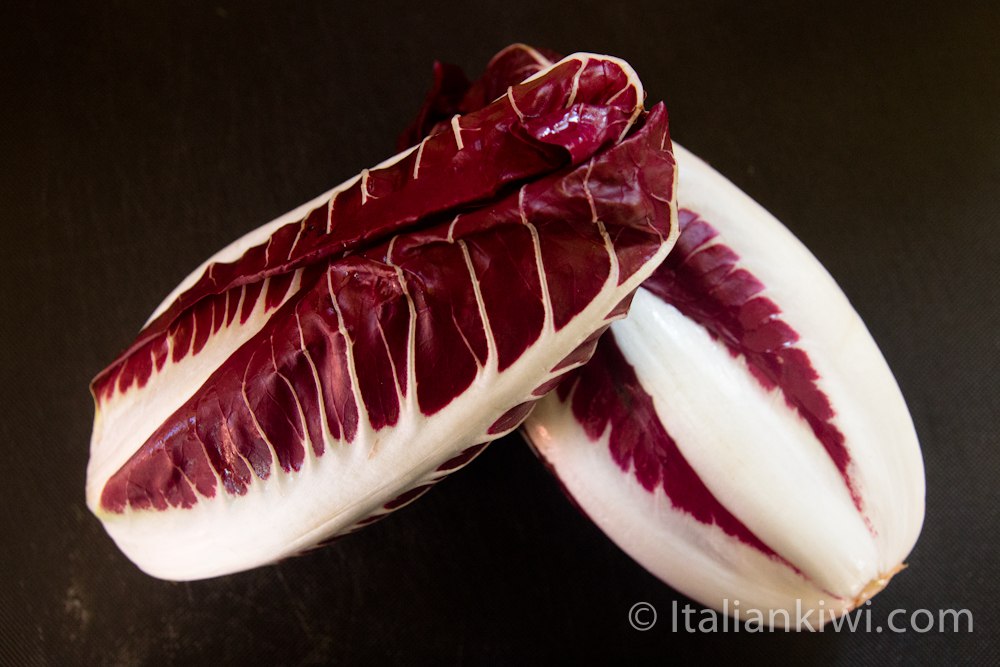 To make this sauce, I used milk rather than cream.  It makes for a much lighter sauce.  It you want a richer sauce, use cream.  As long as you have something to melt the gorgonzola in, it doesn't really matter which one you decide to use (or that you use because that's all you have in the fridge). Radicchio pairs incredibly well with gorgonzola, with walnuts and with speck, pancetta or bacon.  The original recipe that Helga (the friend in San Francisco) made for me had radicchio, gorgonzola and coarsely chopped walnuts in it.  It was truly divine, but as I didn't have any walnuts at home, I used speck instead.  It's a very flexible recipe, as you can see!  Oh, just for general knowledge: you may have picked up that I said my friend is Italian, and yet her name is Helga.  This is because the area she comes from is quite close to the Austrian border.  When she was growing up, her first language was actually German and she learnt Italian when she went to school, like many other Italians who live there.  If you look at a map of that area you can see that many of the towns have an Italian and a German name.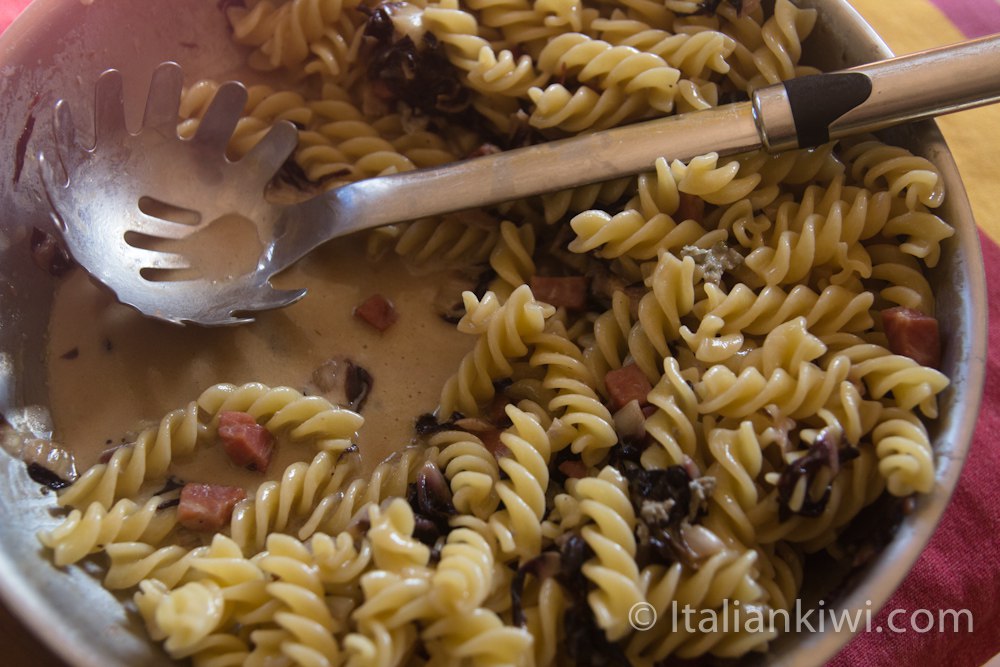 To find out how to cook pasta like an Italian does, check out my handy guide.
By Lisa Watson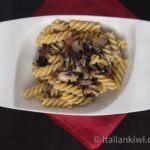 Print Recipe
Ingredients
200

g

7oz – or other short, grooved pasta Fusilli

70

g

2.5oz Speck, pancetta or bacon

2

long

or 1 round Radicchio

100

ml

1/2 cup Milk or Cream

80 – 100

g

2.5 – 3.5oz Gorgonzola

to taste Parmesan Cheese

to taste Salt and pepper
Instructions
Boil the pasta as per the packet instructions.

While the pasta is cooking, heat 3 – 4 Tbsp of olive oil in a frying pan.

Cut the speck into small cubes and add it to the oil. Let it start to brown, stirring often.

Slice the radicchio into strips and add it to the pan.

When the speck and radicchio are cooked through, lower the heat to medium-low.

Add the milk or cream.  Don't let it boil!!!

Cut the gorgonzola into pieces and add it to the pasta sauce.  Stir until it has melted.

Drain the pasta, then add it to the sauce.

Sprinkle with parmesan cheese.