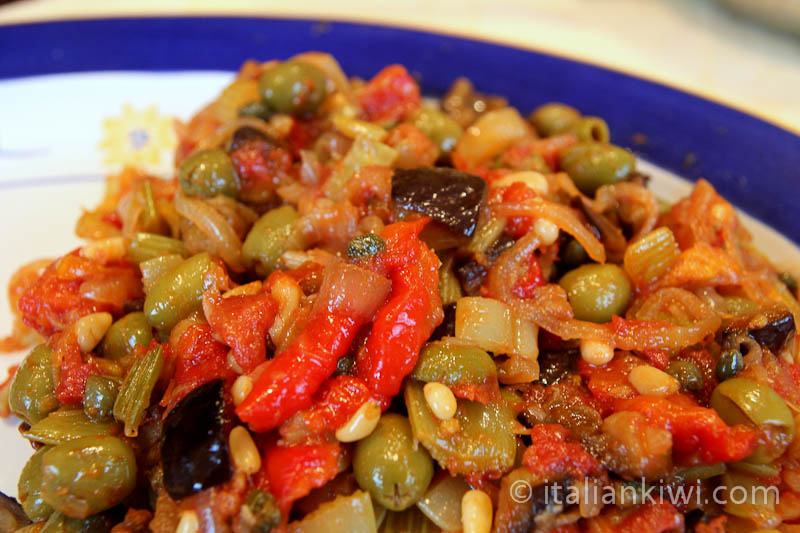 All the good foods in Sicily
Ahhhhhh…..Sicily, I miss you already, and I've only been home a day.  The food, the people, the food, the scenery, the food……..oh, and did I mention that the food was good?! I was amazed to find all sorts of specialties that I'd never even heard of, and couldn't get enough of.  I came back with my hand-luggage crammed with wild oregano, giant cheeses, dried chilies (peperoncini), pistachios, and capers until my poor bag groaned and puffed itself up so much that I was worried that it might explode in protest in a cloud of peperoncino powder while I was going through security at the airport. (And you can imagine the chaos that would've caused if you've ever put your finger on your tongue or eye after touching chilies…..)
Discover delicious and versatile Caponata
While I was there, I found the super-hero of dishes: is it an aperitif? Is it a main dish? Is it a side?  Or, is it a pasta sauce? It's everything!  You can't beat that….maybe if you add enough sugar, or some whipped cream, it could also become a strange nouvelle cusine dessert. This plate-of-all-trades is called Caponata. It's a fabulous mixture of aubergine (eggplant), capsicum, onions, olives, and capers that can be nearly any part of a menu you want it to be. You can eat caponata hot, tepid or cold. You can add more of one ingredient and less of others, depending on your tastes.  Caponata's so forgiving that it sounds like the perfect partner to spend your life with!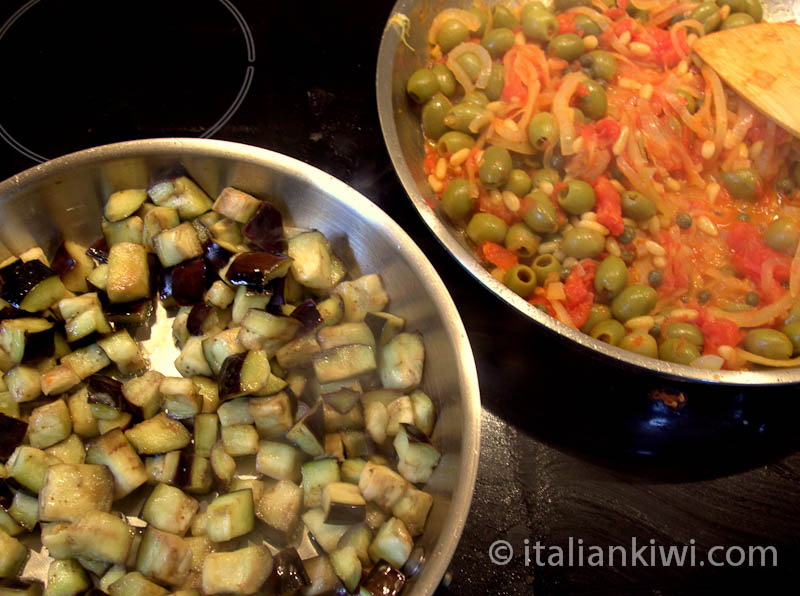 Everything else you need to know about making Caponata
While staying in a wonderful agriturismo called Sant'Elia near Siracusa, Maria, the mother of the owner, Cristina told us how to make caponata.  As soon as we arrived home I feverishly rushed to the supermarket and bought everything I needed.  She vows and declares that you should only make it with Sicilian olives, but unfortunately, they're hard to come by here, so I threw in some local green olives.  I can attest that it still tasted marvelous!
The only downside with making caponata is that you need to cook everything separately, so it takes a little time, but it's worth it in the end.  So, here are the quantities I used for the recipe. You can vary the ingredients, depending on what you have in the fridge, or if you hate celery. 🙂  The constants are aubergines, olives, pine-nuts, capers and red-wine vinegar.  The rest is up to you!
Travel photo of the week
This photo was taken in Aci Trezza, on the east coast of Sicily.  This small coastal town is famous for the three pointed sea-stacks sitting just offshore from the beach. These rocks were meant to have been thrown by the cyclops, Polythemus, when he was trying sink the boats of Ulysses as he was sailing away.  Why did the giant do this?  Well, he was in a rage as Ulysses had purposefully blinded him in his single eye after getting him drunk.  All for a good reason though.  Ulysses was meant to be Polythemus's dinner. Ulysses and his boats got away, but the rocks still stand there as a testament to the bad aim of Polythemus.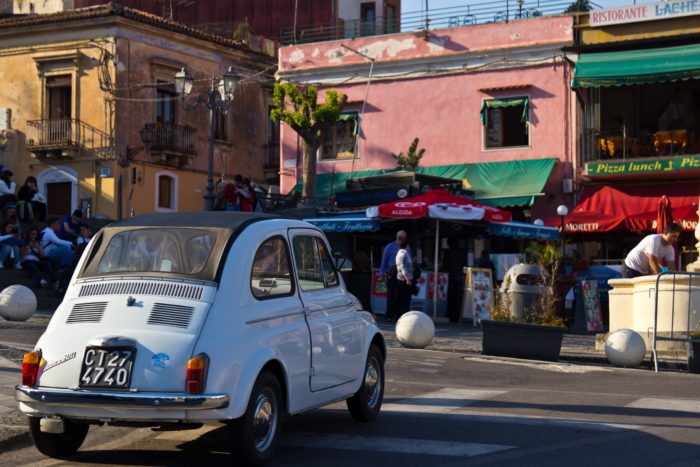 By Lisa Watson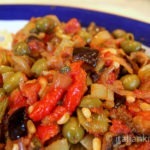 Print Recipe
Caponata from Sicily
Ingredients
800

g

Aubergines

approximately 3 large

3

Capsicum

red and/or yellow

3

Tbsp

Capers

500

g

Tomatoes

approximately 3 large

2

Onions

60

g

Pinenuts

1/3 cup

200

g

Black or Green pitted olives

1 1/3 cups – good quality a must!

250

g

Celery

1 bunch

250

ml

Red wine vinegar

1 cup

50

g

Sugar

3 Tbsp

Large grained salt
Instructions
Chop the aubergine into medium-size cubes, then sprinkle it with 3-4 Tbsp of large salt,  Mix together, then place in a sieve.  Place the sieve in a bowl or in the sink.  Put a plate on top of the aubergine chunks and then something heavy on top of the plate.  Leave it to release its water for about 2 hours.  This allows the aubergines to brown well and not suck up as much oil.

Roast the capsicums in the oven for 40 minutes at 180 degrees C (350F).  Take them out and put them in a paper bag to allow the skins to be peeled off easily.  Now, this is what I did as I like them very cooked, but you can also cut them into slices raw and cook them with the aubergines in one of the later steps if you prefer.

Peel the tomatoes and chop them into chunks. If the capers are packed in salt, rinse them.

Boil the celery for 3 minutes, then saute it in olive oil for 5 minutes.  Pour it into a sieve and let the oil drain off while cooking everything else to make the caponata a little lighter.

Slice the onions into medium/fine slices, then saute them in a separate pan at a low heat from 15 minutes, stirring often. Then should become translucent, but not browned.

Add the capers, pine-nuts and olives and stir.

Add the tomatoes, and cook uncovered on a low heat for 20 minutes, stirring occasionally.

Rinse the aubergine chunks and pat them dry.  Fry them in another pan until they are browned. (If using raw capsicum, this is the time to cook them).

Add everything together and mix.

Dissolve the sugar in the vinegar and pour it over the mixture.  Stir then leave it on the heat for 3 or 4 minutes until the vinegar smell has gone.
Notes
If you have some fresh basil, sprinkle some leaves over the top.  The dish generally doesn't need salting because of the capers and aubergines that have been sitting in salt.
Caponata will keep in the fridge for at least 5 days.
It is best eaten at room temperature.