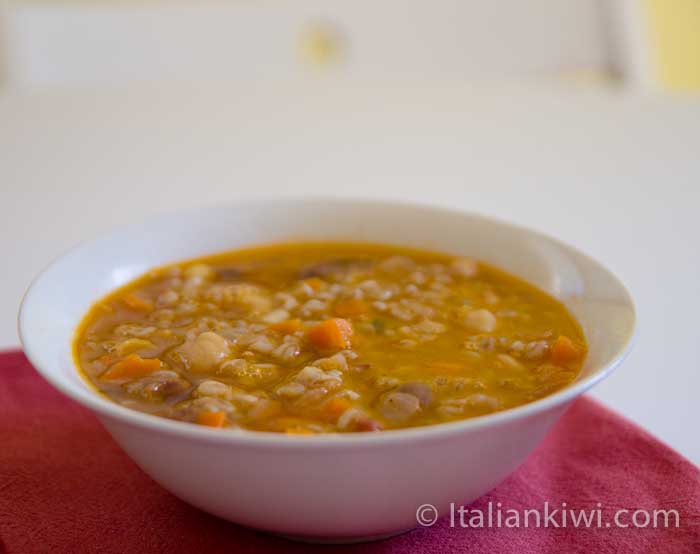 When the cold weather hits, it's time for soup
I think we've been picked up by Dorothy's tornado and transported somewhere not half as interesting as Oz. We live in a place where it hardly ever rains, until a couple of weeks ago.  It started and pretty much hasn't stopped since.  My husband and I were out in the torrential rain last week trying to stop water from flooding into our back door and over our lovely new floor tiles and freshly painted walls (we succeeded!).  Every day there are photos in the paper of people sitting on top of their cars with water lapping up around the driver's door, mudslides and flooded shops.  What is going on??!!  Well, we all know what is going on, even if some people don't like to admit that it's true.  Since this isn't a political blog, or even a scientific one, I'm not going to start raving about climate change here, except to say, how can people not see what's happening?! Deep breath…..  Anyway……since we've been having all this rainy weather, I decided we needed a good dose of farro and chickpea soup to warm ourselves up.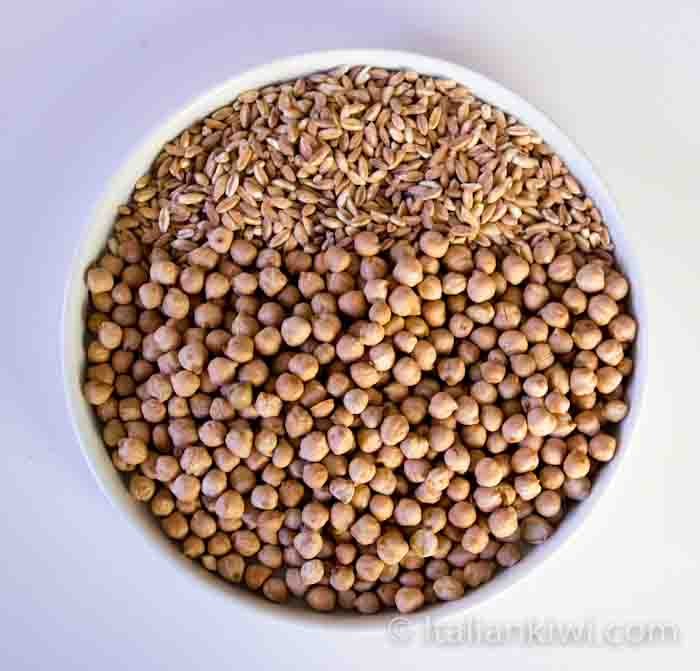 What is farro?
Farro? Chickpeas? What are they? Farro is an ancient grain, used often in Italy, that goes by many names. You quite probably have heard of it under one of it's other aliases, such as wheat-berries or spelt.  It's one of those super-good-for-you grains that have come back into fashion lately. If you can't find farro, barley makes a pretty good substitute. The other name for chickpeas is garbanzo beans.  There is contention as to whether these names signify two different legumes of the same species, or whether it's just an American thing to call them garbanzo (I love that name!  Makes me think of Gonzo from the Muppets). Feel free to call them what you will.  They will taste the same!
How to cheat at making soup
Now, you can go all out and make this soup from "real" scratch if you want (or you can just catch a plan to Lucca in Tuscany and have some of their farro soup.  It's fabulous!). It is honestly worth it, but I don't do that very often either as it takes lots of pre-planning.  Who ever remembers to soak beans and chickpeas the night before, or have a container of chicken broth ready to go?  It is already incredibly good if you use canned borlotti or cannelini beans and chickpeas.  The chicken broth can be made with water and a boullion cube. The farro, you have to cook, but it only takes about 20 minutes if you get the right variety, or the pre-cooked kind. Oh, and of course, you can make it vegetarian by using vegetable brother and omitting the bacon.  It's that kind of guy: super flexible and still will taste great!
Travel photo of the week
So, I think at this time of the year, the travel photo for this week should be something snowy, right?  Or, how about an Autumn scene? Ooohhh, here's one of my favourite photos from when were in Quebec a few years ago. I love the colours of the maple leaves.  If you ever get a chance, try to get there in the Fall. It's stunning!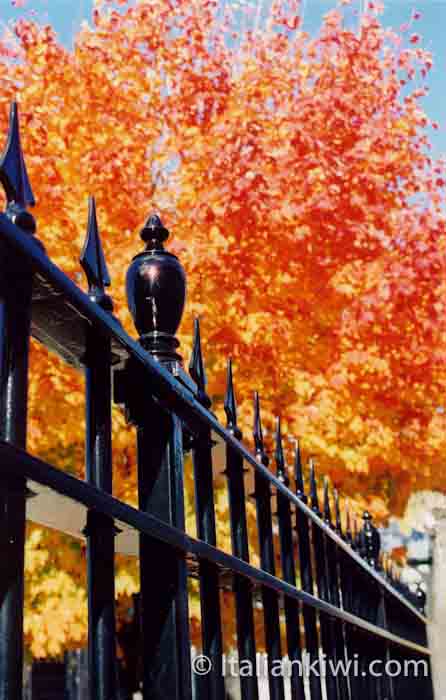 By Lisa Watson
Print Recipe
Chickpea and farro soup
How to make Spelt and Chickpea Soup, with a special cheat's way included. Nobody will know the difference!
Ingredients
1

medium

Carrot

1

medium

Onion

2

leaves

Sage

50

g

Bacon

4

Tbsp

Tomato puree

to cover

Chicken broth

or bouillion cube with water

100

g

Farro (Wheatberries)

200

g

Cooked Chickpeas

1 cup

125

g

Cooked Borlotti Beans (or other dried beans)

4.4 oz

Salt and Pepper

to taste
Instructions
If you are using dried chickpeas and beans, soak them for 12 hours, then boil them in unsalted water for 20 minutes  to 1 hour depending on the type of legume.

Finely slice the onion and chop the carrot into small cubes. Slice the bacon into small strips or squares. Mince the sage leaves.

Heat 2 -3 tbsp of olive oil in a large pot. Sauté the onion, sage, carrots and bacon until the onion becomes translucent.

Add the tomato puree.

Add the farro and pour in broth or water with a dissolved bouillion cube in it into the pot until the farro is covered. Let it simmer until the farro is nearly cooked.  This depends on the type of farro. Add more water if needed.

Add the precooked (or canned) chickpeas and beans.  Let the soup simmer for 5 minutes more then season with salt and pepper.