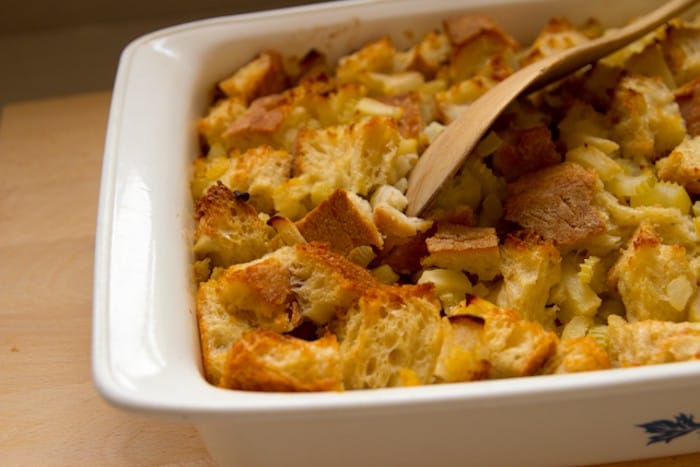 The perfect stuffing for Thanksgiving
Thanksgiving has crept up on us with the stealth of a lion stalking its prey.  Where does the time rush off to in such a hurry?   Sometimes I with I had a brake-pedal so I could slow everything down just a little. If Thanksgiving is launching itself at us, that means that Christmas is not far behind it with its jaws gaping, ready to bite. It's now time to push down the mild panic creeping over me and start getting a little organised!  One of the recipes I have been making regularly over the last few years for our Thanksgiving meal is this bread and apple stuffing.  Yes, I know that I'm not an American, but I do have a very good American friend living nearby who we celebrate with.  I'm very willing to sacrifice myself to taking on a festival from another country that's all about eating!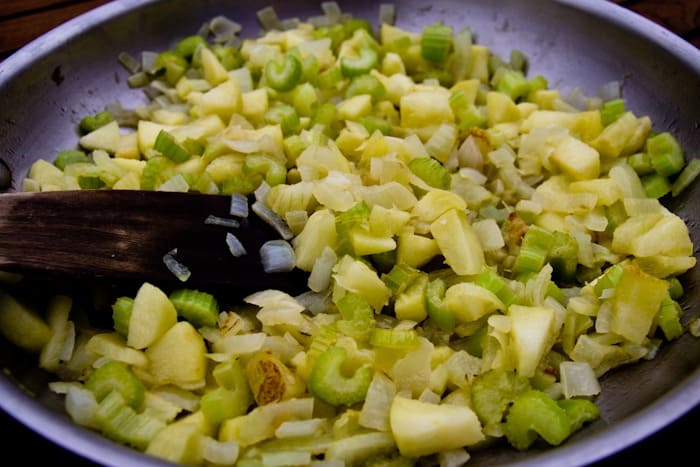 How to control the cooking panic at Thanksgiving
The stuffing is cooked outside of the bird so that the top of it gets nice and crunchy. It's perfect to make for Thanksgiving or Christmas too, as you can prepare it the day before up to the last step where you uncover it and put it in the oven to crisp up. While the turkey is resting after its roasting, you can throw the stuffing in the oven for about 20 minutes to finish cooking it. Well, don't literally "throw" it in the oven, as you may end up with a bigger cleaning job than you already have….just slide it in nice and calmly with none of that last minute panic you may be sliding into because the gravy's burning, the dog is trying to get at the turkey, half the guests haven't turned up yet, and all your family keeps barging into the kitchen, one after the other, to ask for random unnecessary things.
Some other dishes to go with the stuffing
To get a full Thanksgiving or Christmas meal, look no further than Italian Kiwi! You could serve this stuffing alongside brined turkey, perfect roast potatoes, Bianca's Slow-cooked Carrots, and for some extra colour: Stewed Red Cabbage with Apple! Then for a light dessert, you could make ahead some panna cotta.  There you go: a whole menu for you so now you don't have to think about anything except for the grocery list!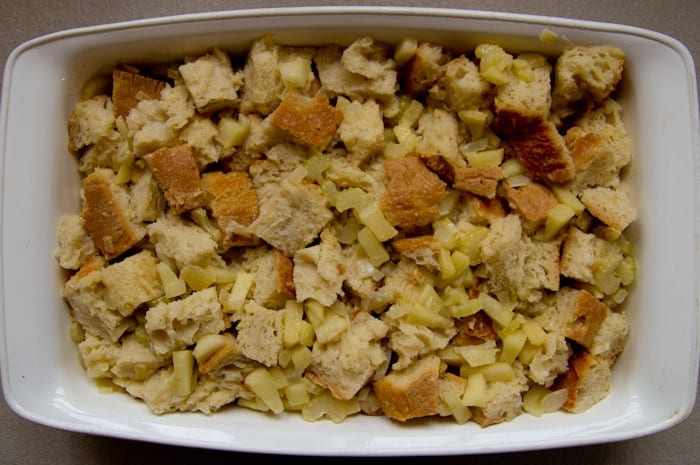 Cookbook of the week
This week, instead of a travel photo of the week, I would like to tell you about a very important collaboration I worked on this year.  I am a moderator on a large community on Google+ called Foodies+, and we have been working to put out a book full of recipes from our members in time for the holiday season.  We're very proud of the final result! This bread and apple stuffing is one of the many recipes that are in the book. The recipe book can be bought from any Amazon store and put on your Kindle or other device.  The best thing is, that all the proceeds will go to the charity Action Against Hunger: a world-wide organisation supporting those in need. So, get yourself a gift for Christmas and help hungry people at the same time!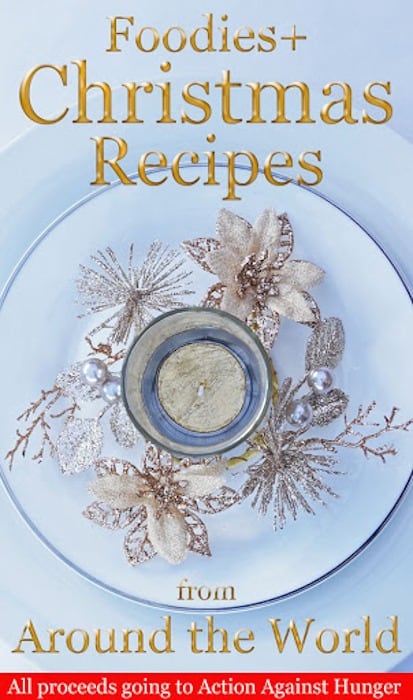 By Lisa Watson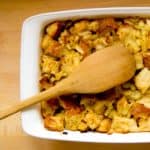 Print Recipe
Bread and apple stuffing
This stuffing is perfect to make for Thanksgiving or Christmas too, as you can prepare it the day before up to the last step where you uncover it and put it in the oven to crisp up.
Ingredients
300

g

Rustic bread

10.5 oz

1

medium

Onion

150

g

Celery

2 stalks

250

g

Granny Smith apples

2 medium

50

g

Butter

1.7 oz./3½Tbsp

250

ml

Apple cider

1 cup

350

ml

Water

1½ cups

2

Eggs

1

Chicken Bouillon Cube

1

tsp

Salt
Instructions
Heat the oven to 180 C/350 F.

Chop the celery and onion. Peel and dice the apple into rough cubes.

Cut the bred into cubes, approximately 2cm/1 in square, and put in a large bowl.

Melt the butter in a large frying pan. Sauté the celery, apple and onion for 10 minutes on a medium heat.  Stir frequently. Take off the heat.

Mix the cider, water, eggs, salt and bouillon cube together, then pour over the bread and stir well.

Add the celery mixture to the bread and stir.

Scrape the prepared mixture into a baking pan that is at least 20 x 30 cm/ 8 x 12 inch. Cover the pan tightly with aluminium foil.

Cook in the oven for 35 minutes.

Uncover the pan and bake for a further 15 minutes.

The first cooking step can be done a few hours in advance.  When you are almost ready to serve your meal, put the stuffing in the oven for the last baking step and bake for 20 minutes.

Make this stuffing vegetarian by adding vegetable stock instead of chicken stock.