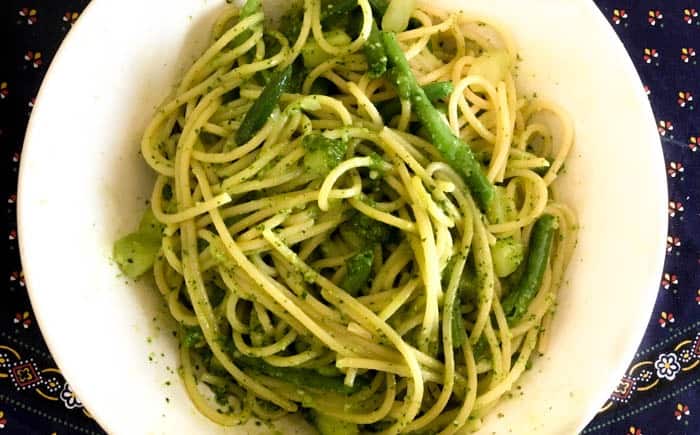 Making fresh pesto takes no time at all!
Pasta with pesto is the fall-back meal in our household for when I can't figure out what to make for a meal, or don't have much motivation to cook.  It's easy (especially if you get it out of a jar!), and nobody complains about it when it's put in front of them.  Fresh pesto is astonishingly delicious, and is worth the effort to make it.  I already posted a recipe for it a while ago.  Actually, even making pesto fresh doesn't take much effort if you have a little blender.  You just throw all the ingredients into the blender and whizz them into a mush. You can almost do that in the time it takes to yell, "DINNER'S READY!" and actually have everyone sitting at the table.  That can take a while, at least at our place, by the time each person says, "I'm JUST finishing…blahblah".  Now I know why starting a sentence that way used to drive my Dad crazy (Belated sorry, Dad!!).
This pasta dish is a one pot meal
This pesto-smothered pasta recipe ups the ante a little, but is still very quick to make as you cook the vegetables with the pasta in the same pot. The added advantage is that you only have to wash ONE pot! The only little bit of work is cutting up the green beans and potatoes.  You should definitely make this pesto dish with spaghetti and not short pasta.  Don't ask me why.  It just tastes better that way!  Make sure you chop the potato into quite small chunks so that the cubes almost fall to pieces to coat the spaghetti when they're cooked.
If you don't have time/the inclination to make fresh pesto, just use a good quality jarred one.  It'll still taste good! The amount of pesto you add to the pasta depends a lot on how "pesto-y" you like your pasta with pesto.
And Now For Something Completely Different:
I'm very excited to share a link to a great blog on Italy and all things Italian written by a friend Margie Milkas, who is very passionate about Italy.  She recently compiled a group of photos from some of her favourite blogs on Italy and posted them on a great site all about Italy that she helps to edit called Italian Talks.  Go have a look.  If you ever had any dreams of visiting Italy, after looking at these photos from all around the country, you'll be packing your suitcases immediately!
This week's Travel Photo is from a town called Ragusa in Sicily.  It is the setting for one of Italy's best TV series (in my opinion!) called Montalbano. Ragusa is an ornate town full of Baroque architecture.  It's absolutely worth a visit if you ever make it to Sicily!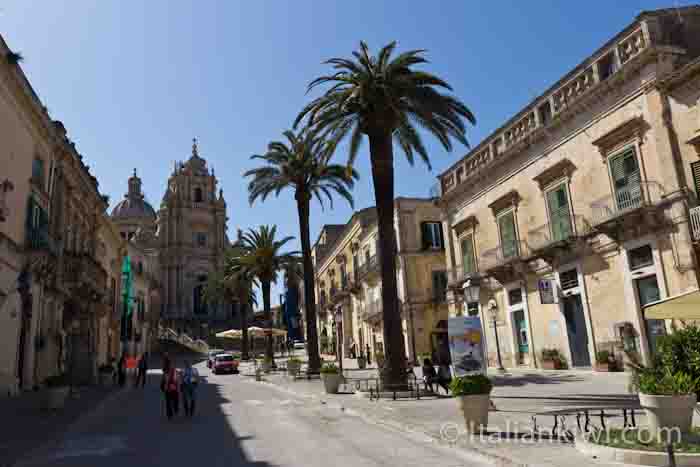 To find out how to cook pasta like an Italian does, check out my handy guide.
By Lisa Watson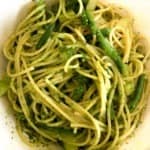 Print Recipe
Spaghetti with pesto, potatoes, and green beans
How to make Spaghetti With Pesto, Potatoes and Green Beans: a specialty from Liguria, Italy.
Ingredients
380

g

Spaghetti

13.4 oz

1

medium potato

approximately 100 g

100

g

Green Beans (fresh or frozen)

3.5 oz

1/2

cup

Pesto

approximately 150 g
Instructions
Make the pesto with fresh basil using

this recipe

, or use a good quality store-bought pesto.

Boil water in a large pot.

While you are waiting for the water to boil, peel the potatoes, wash them and chop them into cubes about 2 cm (1 inch) big. Chop the beans into segments about 5 cm (2 inches) long.

When the water is boiling, add a small handful of large-grained salt, and add the spaghetti, potato chunks and beans. Cook the pasta, stirring frequently, as per the instructions on the packet.

When the pasta is al dente, drain it, put it in a large bowl and add the pesto.  Stir it well so that the potato chunks break up slightly.
Notes
Serve while hot.  You can sprinkle grated Parmesan cheese over the top if you like.