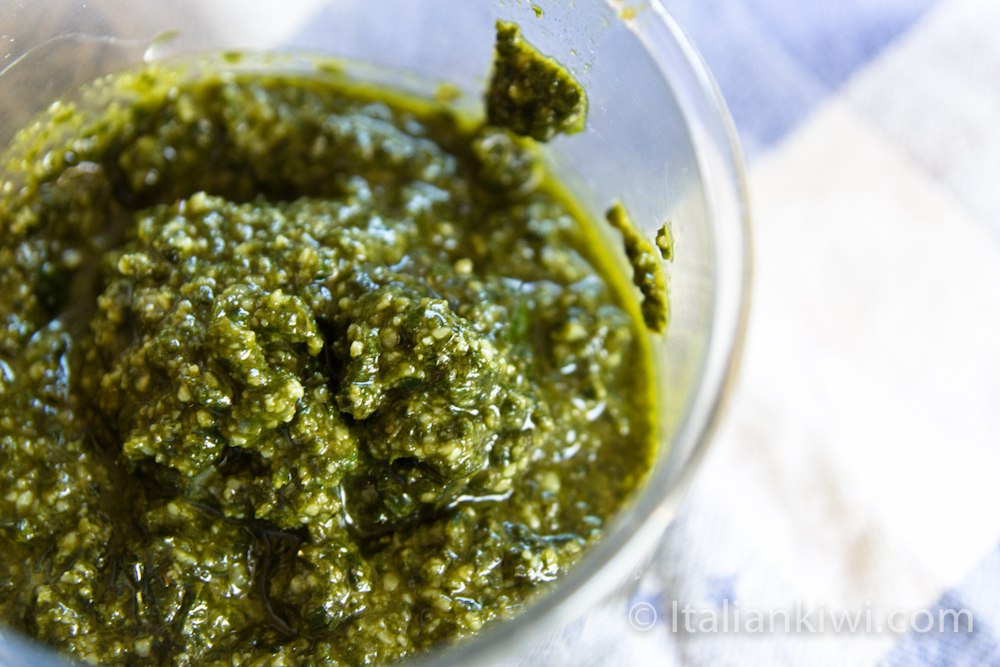 How to make pesto alla genovese at home
I just realized the Summer is fast coming to a close (though with the temperatures over 30 degrees here, it's hard to imagine that Autumn is on its way), and before all the wonderful basil is gone for the year, I should write about how to make pesto. One of my go-to dishes when I want to make dinner in a hurry is pasta with pesto, as everyone loves it.  I figure it must be very good for you to thanks to all that bright green basil!  You can make fresh pesto faster than the time it takes to boil the water for the pasta, which gives it another boost as far as I'm concerned. I used to just use the jarred stuff until one day an Italian friend showed me how easy it was to make.  Freshly-made pesto and the glop from a jar are almost two different things.  Be warned, once you've made it once, there's no going back to anything that is bottled and calls itself pesto!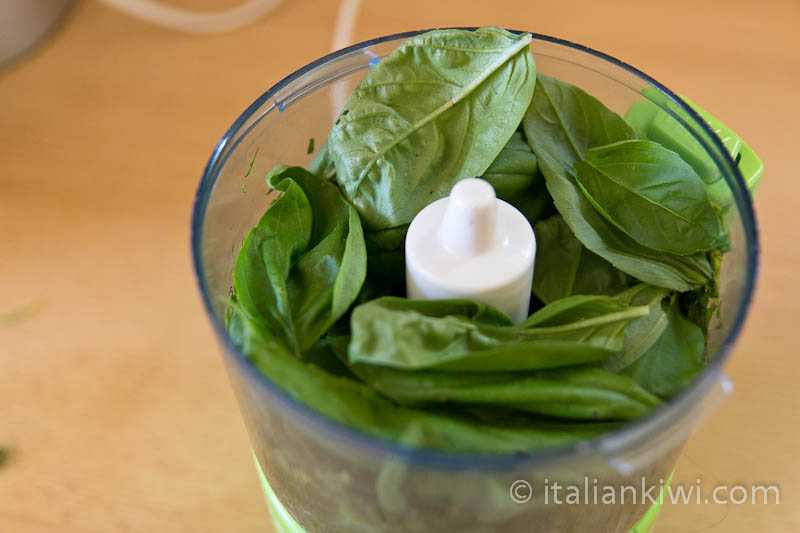 What the word pesto really means
The word pesto actually comes from the dialect word "pesta" in Genova, Italy, which means "to crush".  This actually means that pesto can be theoretically made of any ingredients that are crushed and blended together in to a paste.  this is why I am specifying that this recipe is for pesto alla genovese, which is traditionally full of basil.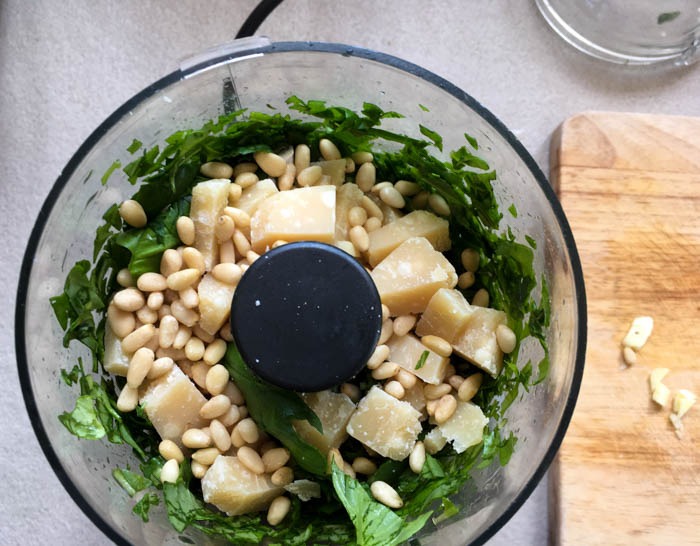 Something you have to do when driving on the Italian motorways, and a specialty from Liguria
After making this pesto, I added it as a sauce to a very curious specialty called Testaroli.  It's a thing that's kind of like pasta, in that it has pretty much the same ingredients as pasta, and is used in the same way, but has a very different texture.  It was first introduced to us by Julia, a friend who lives in Marina di Carrara in Tuscany, on the border of Liguria, where testaroli originate from.  It's shaped like a huge pancake and you can cut it into strips, boil it for 1 minute and then add pesto, or we've also eaten it in Carrara rolled up like a crepe with pesto or ragu inside it.  We bought it recently in an autogrill that I think is one of the best-kept secrets in Italy. The autogrill are the rest-stops with restaurants alongside the motorway.  They generally have to-die-for sandwiches, great coffee and sometimes also restaurants in them. If you ever get a chance, there's a fabulous one in Ceriale, between Ventimiglia and Genova.  They have a restaurant there that serves better food than I've eaten in "real" restaurants, and a great range of Tuscan and Ligurian food specialties at good prices.  Amazing! And, as an added bonus, if you have kids (let me rephrase that: if you have BOYS), they have huge windows in the restaurant that look out on to the motorway and car-park, so that the kids can do a spot of car/truck drooling…..our part of the windows are pretty disgusting after we leave thanks to that, so don't go sit at our table after us.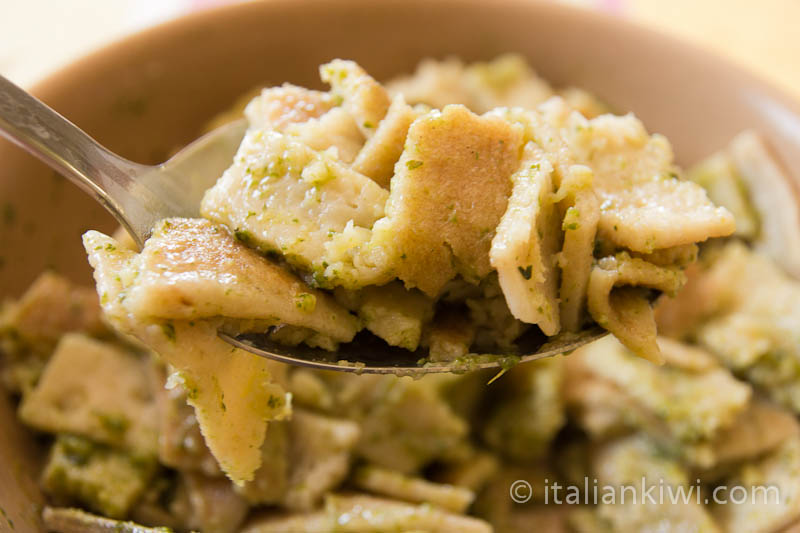 What to do with the pesto once you have made it
Here are a few ideas to use the pesto you have made:
I often make spaghetti with pesto, green beans and potatoes.  All you have to do is throw the diced potatoes and cut up beans in to boil with the pasta,
halve cherry tomatoes, and add them with the pesto at the end.
If you don't want to make pasta, add a dollop of pesto to a vegetable soup,
or spread a little on rustic bread for a delicious snack,
spoon it onto balls of mozzarella,
or onto halved vine-ripe tomatoes,
spread it over chicken breasts after they have been cooked in the oven.
The possibilities are endless!
Go out into your garden now and grab that basil before the cooler weather kills it!
To find out how to cook pasta like an Italian does, check out my handy guide.
By Lisa Watson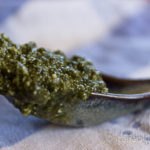 Print Recipe
Make pesto at home
Incredibly versatile to use with everything from pasta, to soups, to bruschetta, to a topping for fish or chicken.  You are only limited by your imagination!
Ingredients
1

big bunch

basil

preferably the Genovese type with big roundish leaves

40

g

Pine nuts

2 Tbsp

80 – 100

ml

Olive oil

1/4-1/3 cup. Depends on the amount of basil in the bunch

50

g

Parmesan cheese

1/2 cup

1

clove

Garlic

Salt

to taste
Instructions
Take the leaves off the basil, wash them, then blot them dry with a paper towel.

Chop the Parmesan cheese into small chunks.

Peel and roughly chop the garlic clove.

Put all the ingredients together in a blender, or in a mortar if you don't have a blender. Mush them together until you get a homogeneous mixture.  Add more olive oil if the mixture seems too dry.
Notes
 You can keep pesto in the fridge in an airtight container or under a layer of olive oil for up to a week.  It can also be frozen.
Once you have mastered the basic recipe you can play around with it according to your taste, by adding more of something, or less, or omitting the garlic altogether if you can't digest raw garlic well.