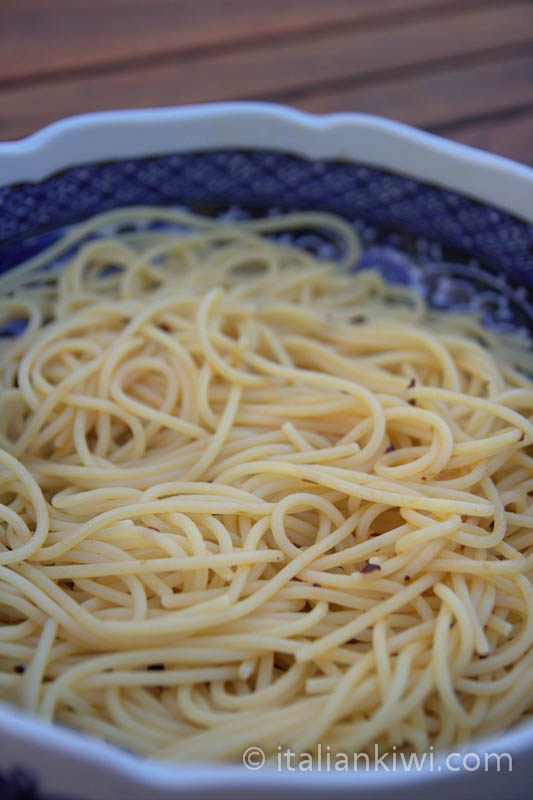 Yes, yes, I know….you're looking at the photo of this dish, saying, "So what??? It looks like a plate of white spaghetti…..what's the big deal, and why on earth are you putting this in front of me??" Well, that's what I thought years ago when my husband, made it for me in the earlier days of our relationship when he wanted to impress me and still cooked for me . 🙂 Anyway, those uncharitable thoughts flew out the window when I tasted this spaghetti con aglio, olio e peperoncino (garlic, olive oil and chilli flakes)  My taste-buds said, "WOW! So he's not being cheap after all!". It's a very simple, unassuming-looking plate of pasta, full of vibrant flavour that jumps out and slaps you in the face and says, " Take that!  You shouldn't judge a book by its cover!", just as my mother has always said to me (without the slap!)…..though sometimes I still do it…..with books at least. 🙂
There are 3 main ingredients in this pasta (aside from the pasta, of course!): olive oil, garlic and small red chillies. As I just brought a tonne of crushed peperoncini back from Sicily (ah, yes, I'm talking about that place again….sorry…I'll stop soon..ish…), I thought that this would be the perfect use for some of it. The flakes you see in the photo below come from a hot small chili that is used often in Italian cooking, particularly in the South of Italy.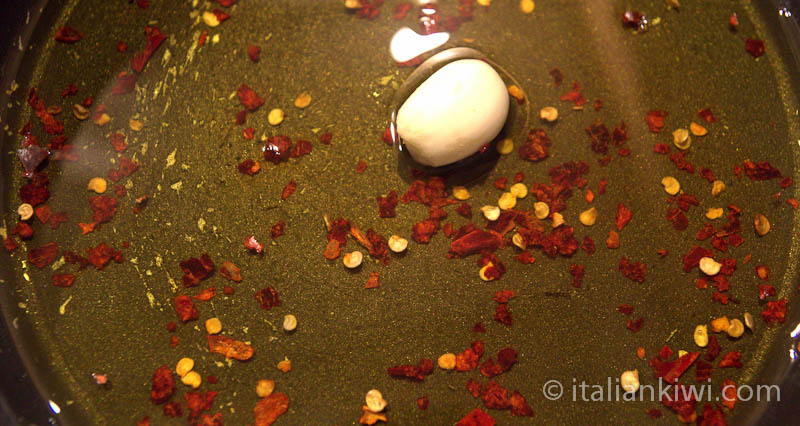 These chillis that I brought back from Sicily are not too spicy, but are full of flavour.  The intensity varies, so test yours out first before throwing half a packet of them into the sauce!  One big warning!!!!  Remember  NOT to touch your eyes or lips after mincing these before you have washed your hands as well as a surgeon about to operate would.  This advice comes to you from personal experience, and from the experience of a male friend of mine who needed to use the bathroom just after chopping these chillis……OWCH!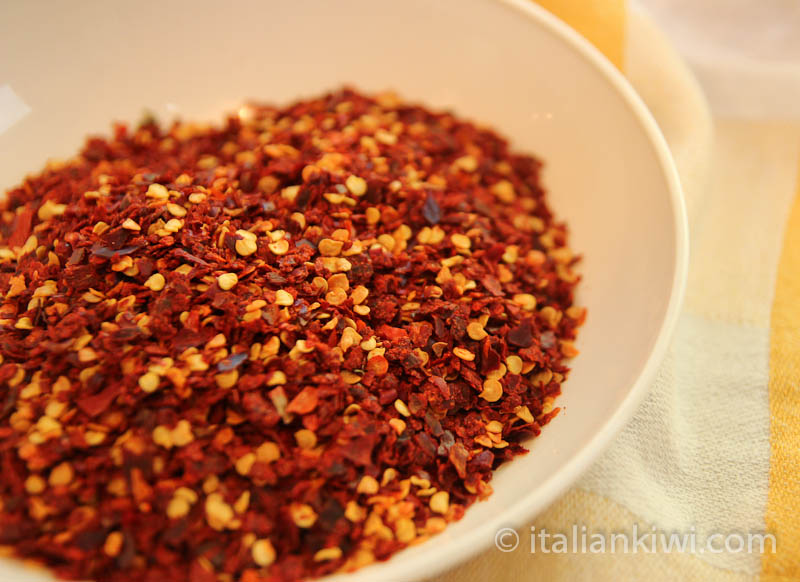 To jazz the recipe up a little more, you can also add halved cherry tomatoes with the seeds removed. Just add them to the oil (carefully!) while the garlic and the chillies are cooking.
To find out how to cook pasta like an Italian does, check out my handy guide.
By Lisa Watson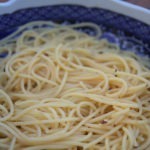 Print Recipe
Servings:
4
people for a first course
Ingredients
280

g

Spaghetti

1

whole clove Garlic

70 -100

ml

1/4 cup – good quality Olive oil

For the uninitated: 1/2 tsp flakes or 1 dried minced chilli. For heat lovers

as many as you can handle! Peperoncino
Instructions
Cook the spaghetti according the the instructions on the packet or according to my post on 

cooking pasta

.

While the pasta is cooking, heat the oil in a small pot on low heat with the garlic clove and peperoncino in it.

Lightly brown the garlic, but don't over-cook it.  The flakes of peperoncino should stay red and NOT turn dark brown or black!

Remove the garlic clove from the oil.

Once the pasta is cooked, drain it and mix it with the oil. Simple as that!