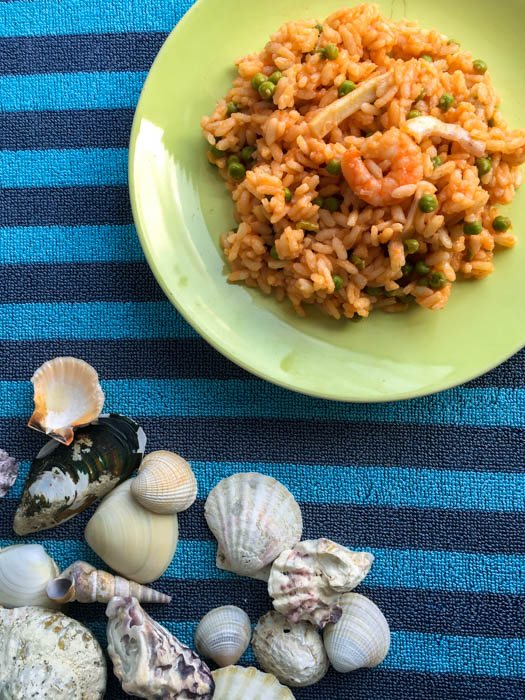 Bears, beer, and risotto
I know it's been a while.  I've been off in the semi-wilds of Canada for nearly a month, fighting off bears with my bare hands and riding moose.  Actually, the closest I came to bears was from a kayak while they were turning over enormous rocks on a Vancouver Island beach.  I was happy to have some water between them and my small fiberglass shell.  I didn't manage to spot one moose, even from afar.  I did eat lots of delicious ribs, hamburgers, poutine, all sorts of cakes, and drank lots of micro-brewed beer instead. That means there's a little more of me that's come back from Canada than when I left.  I promise that there will be more about Canada in later posts, but right now, I'm here to talk about risotto with seafood and peas.  Why?  Because that's what I made for dinner last night and I had some leftovers to take photos of.  As an extra added bonus, it also tastes good!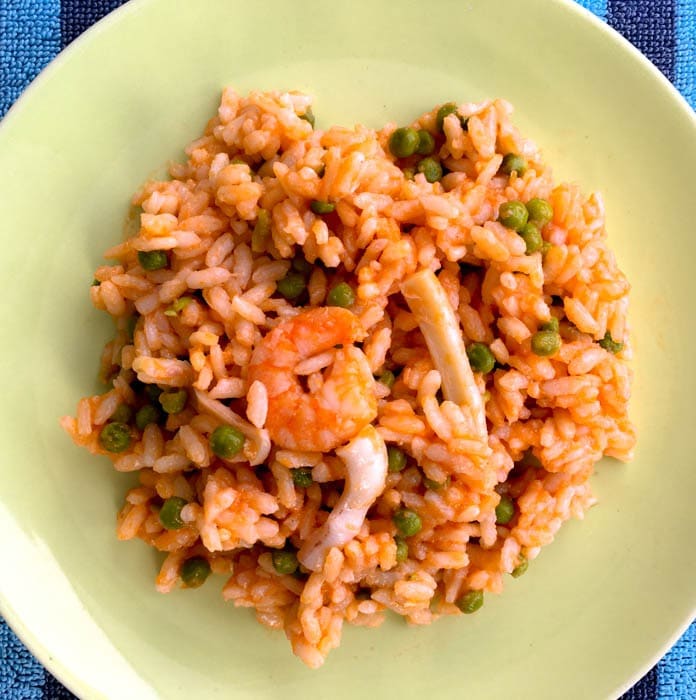 The long running joke
I happened to have a bag of frozen squid rings, shrimps and mussels at the ready, so that was what I used in this risotto along with the peas.  If you have hankerings for other kinds of shellfish, or prefer to just use squid rings or shrimps, go right ahead.  The dish is very forgiving. I suggest cutting the squid rings into strips and peeling and de-veining the shrimp before you cook them in the risotto.  My frozen seafood was precooked, so they only needed to be added to the risotto for a couple of minutes to heat through.
Oh, the shells are all from a beach called Matapouri in New Zealand, if you're wondering.  I plan to put some of them in the garden here in France as a very long-term joke on archaeologists who may excavate this area in about 500 years.  Can you imagine how confused they will be to find shell particles from the other end of the world?
This is similar to a risotto I posted on Italian Kiwi a couple of years ago for shrimp and pea risotto, which I had completely forgotten about until I started writing this post.
Travel Photo Of The Week
As this post has a marine feel, here's a photo I took yesterday on the beach.  The hoards of tourists have finally hung up their jandals (flip-flops to you none Kiwis) and snorkels and headed north again, so we can find a bit of sand on the beaches along the Cote d'Azur.  This one is on the east side of Cannes.  Just so you know, if you want to come the the South-East of France to do a bit of beach-going and sight-seeing, now is the perfect time as the french and Italian kids are just about to go back to school, the water is still warm, and the outside temperature is pleasant and not too hot, so it's actually fun to go sight-seeing.  Don't tell the locals that I told you, as this is the time we all cherish: when we have the place to ourselves!

By Lisa Watson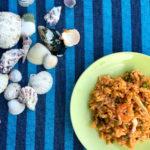 Print Recipe
Risotto with seafood and peas
Seafood risotto is very flexible as you can add the seafood you like most and it will taste great every time!
Ingredients
400

g

Arborio or Carnaroli rice

2 cups

4

Tbsp

Olive Oil

1/2

Onion

1

clove

Garlic

250

g

Prawns, mussels, squid rings

1/2 lb

80

ml

White Wine

1/3 cup

80

g

Peas

1/2 cup

5

Tbsp

Tomato Puree

Boiling water or Stock

1

Vegetable or Fish Bouillon Cube

if using water

1

tsp

Salt

to taste White Pepper
Instructions
Heat the stock, or the stock cube in water in a large pot on the stove until it is simmering.

While the stock is heating, finely chop the onion, and mince the garlic. If the seafood is frozen, thaw it by placing it in a colander and running cold water over it.

Heat the olive oil in a different large, heavy-based pot.  Saute the onion and garlic until the onion becomes translucent.

Add the rice and stir until it browns slightly.

Add the white wine and let it boil off.

Pour in enough heated stock to cover the rice mixture,  and put the timer on for 13 minutes.

Add  the salt and stir in.

As the rice is cooking, watch the level of the water.  As it goes down, add stock from the simmering pot, one ladle-full (or cupful) at a time. Stir the rice often.

After 6 minutes of cooking, add the peas, and tomato puree and seafood (if it is uncooked).

As the time gets to around 10 minutes, add precooked seafood. Start tasting the rice to see how done it is. The type of rice you have may vary the cooking times. If it's close to being cooked, don't add any more stock and let the water in the rice boil off, stirring frequently.

Serve while hot with optional white pepper.