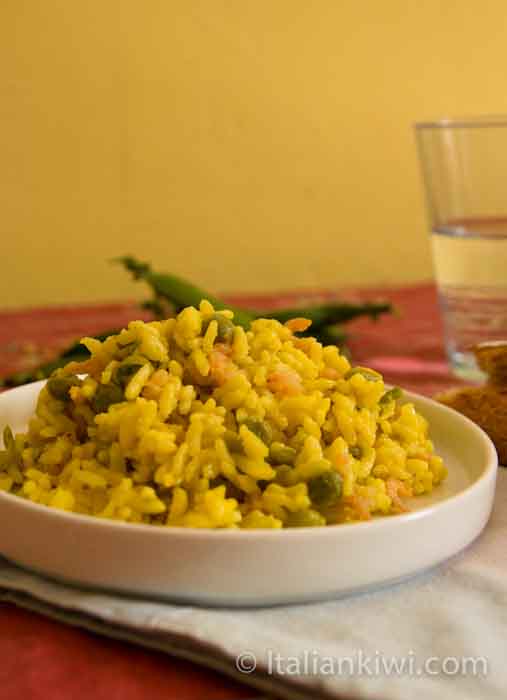 I found some fresh peas in the supermarket the other day and decided that I needed to eat them immediately, if not sooner……but how to have them?  My mind worked furiously….hmmm…I suddenly remembered the kids were at the canteen at school this lunchtime, so they wouldn't be home to complain about eating shrimps (don't ask me why they do, but they always do!)……peas and shrimps together go perfectly, and also SAFFRON!  (Another "weird yellow thing" that my kids don't like to eat much), so it was decided: I made risotto with shrimps, fresh peas and saffron, and it was so amazingly good that I wanted to tell you all about it!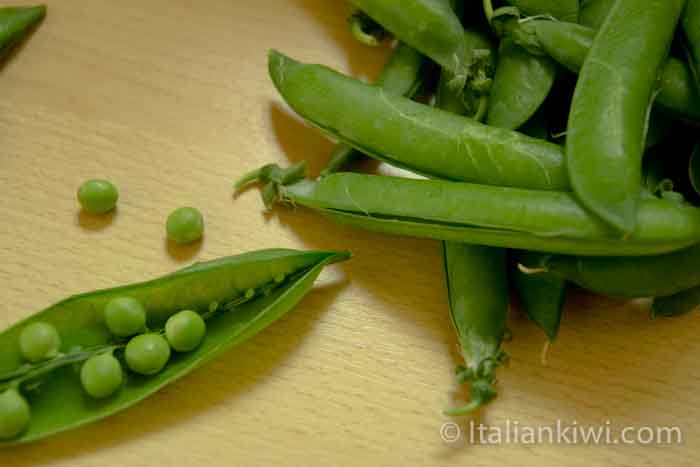 I actually love eating raw peas straight out of the pod.  They're so crunchy and sweet!  So, there were a few less peas in the risotto  with shrimps than there were meant to be.  You can always add more that the quantity I've written down if you manage not to eat them before you throw them in with the risotto!
I remember eating risotto with saffron for the first time in Milan.  At the time I was ….as they say in the UK…."fresh off the boat".  I'd just arrived in England a couple of months before, and was traveling haphazardly around Europe with almost no money, cutting my hair with a Swiss Army Knife and eating mainly bread and marmite.  We were puddling around in Greece, when a friend wrote to us using the Poste Restante system. For those who grew up in the age of cell phones and internet, this is a service where you can send letters to a post office , say in Athens, and they will hold those letters for a few months until the person they're addressed to passes by and picks them up. Yes, I know….it's archaic! Anyway, this friend wrote that he was actually traveling for BUSINESS, and so had a business account for eating. He was going to be in Milan the next week!  We needed a good meal so we immediately high-tailed it on the next ferry out to Italy.  He took us to one of the poshest restaurants in Milan, which tried to seat us in the most discreet place possible thanks to our torn jeans, hiking boots and backpacks.  We ate risotto al zafferano and drank way too much wine. The waiter kept coming to ask us if we wanted the check, but much to his snobby horror, we kept saying , "No, not yet!" and ordering more wine and making lots of noise. The poor waiter must have been SO relieved when we showed that we could actually afford to pay for the meal, and when we finally weaved our way out of the restaurant. Since then, saffron has always held a special memory for me. Unfortunately, I also remember the Youth Hostel we stayed in was a nightmare of screaming Italian children on a school trip who ran up and down the halls until 3am. Great memories! I'm afraid I have no photos of Milan to put up as that time was "pre-digital", so instead I'll leave you with a photo of the "Langhe", which is a beautiful, not terribly well known wine region just south of Turin and South-West of Milan.  Ok, this has nothing to do with saffron, or risotto, but isn't it nice?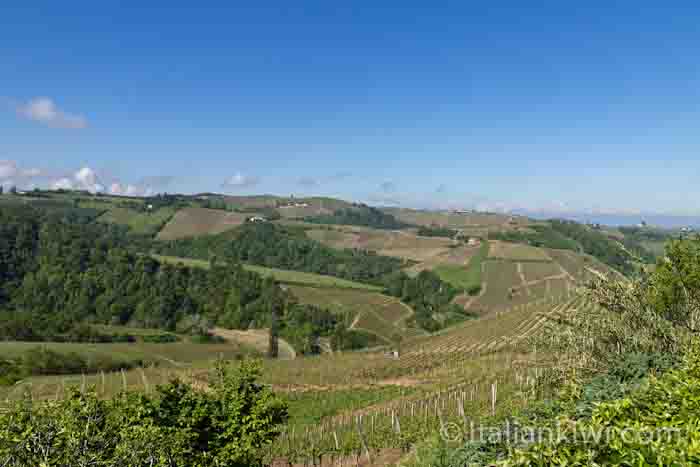 You can use the pressure cooker method to make the risotto ai gamberetti if you have one, which is what I've written into the instructions below.  If you don't own one of these kitchen wonders, follow this link to make risotto the regular way. Follow the basic instructions for adding the broth, and use wine instead of beer, peas instead of spinach, shrimp instead of sausage, and saffron instead of, well….nothing…..it is very good without too!
By Lisa Watson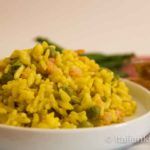 Print Recipe
Ingredients
1

cup

Arborio or Carnaroli rice

125

ml

1/2 cup White wine

1

Vegetable boullion cube

150

g

5oz Small precooked shrimps

250

g

peas in their shells

approx 100g/1/3 cup of shelled peas Peas

one packet of powder or a few strands Saffron

2

cups

Water or broth

1

tsp

Salt

to taste Pepper
Instructions
Heat 2 -3 tablespoons of olive oil in the pressure cooker. Add the rice and saute, stirring frequently, until it starts to brown a little.

Pour in the wine and let it boil off.

Add the water or broth, the bouillon cube if using, and the saffron. Then add the salt.

Add the shelled peas.

Stir everything, then close the lid of the pressure cooker.

When it starts to whistle, put a timer on for 6 minutes.

In the mean time, if the shrimps are uncooked, sautee them in a little olive oil until they turn pink.

When the timer goes off, run the cooker under cold water, then open it.  Depending on what rice you have used, it may be already of perfect consistency, or it may be still a little liquid.  If there is too much water, put the pot back on the heat and let some more of the water boil off for a few minutes.

Put in the shrimps and stir.

You could serve the risotto with finely chopped parsley sprinkled over the top of it.