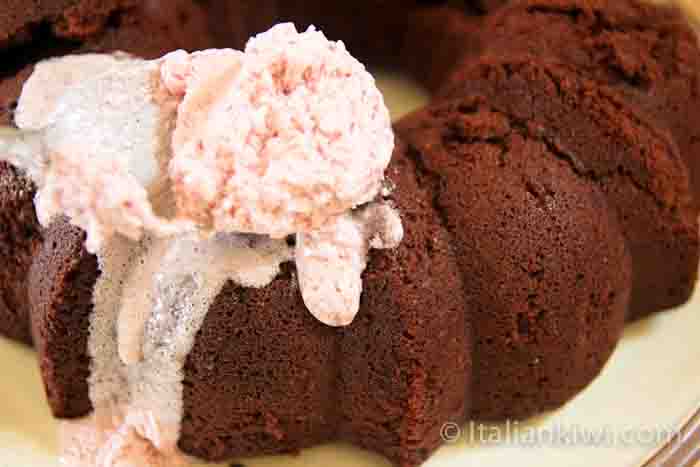 Why you should stay in an agriturismo in Italy.  It's not just for the chocolate cake!
Before I tell you all about this luscious Sicilian chocolate cake (Torta al Cioccolato di San'Elia), I want to tell you all about a type of holiday in Italy that is a recent newcomer, but has become the very best way to see the country (as far as I'm concerned!). Whenever we go traveling in Italy (as opposed to going to Turin to see my husband's family), we try to stay in agriturismi.  These places are kind of like a Bed and Breakfast, and kind of like an independent apartment rental, but not quite either of those.  They're generally set in the middle of working farms (hence the "agri" part of the name) Depending on how the owner has developed them, they can have breakfast included, or have a restaurant on the premises for dinner.  We stayed at one in Tuscany a few years ago which was in an olive grove.  The owner gave us samples of his olive oil, and tastings of wine that his brother just up the road was making (YUM! Never turn down a wine tasting!!). Another place near Genova had a restaurant right next door to our apartment and a big playground for the kids……you can imagine how many hours we spent at the restaurant!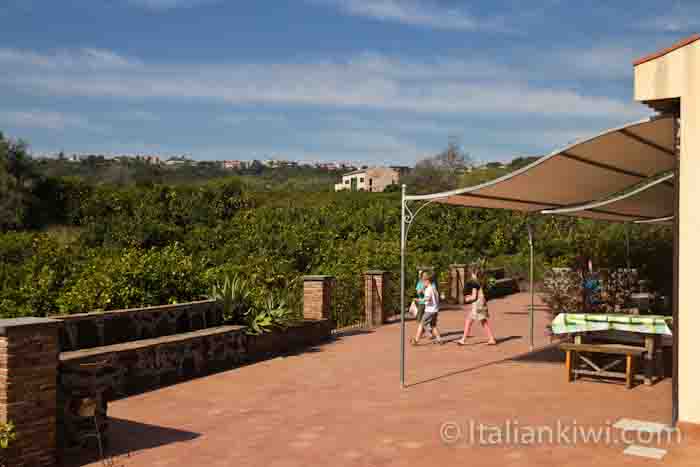 Two great agriturismi in Sicily
We stayed at two different ones while we were in Sicily: one called Il Limoneto, near Acireali, in the middle of a fragrant lemon grove.  The kids had great delight in walking outside the door each morning to pick lemons to make juice.  Sweetest I've ever tasted!  The second one we stayed in: Sant'Elia near Siracusa won us over completely.  Cristina, the owner, helped by her mother, Maria made us feel as though we were family (in a good way….not that kind of way where you turn up for Christmas lunch and get into a big fight with everyone there). Oh, and now they have a pool too!  I would go back here in a second!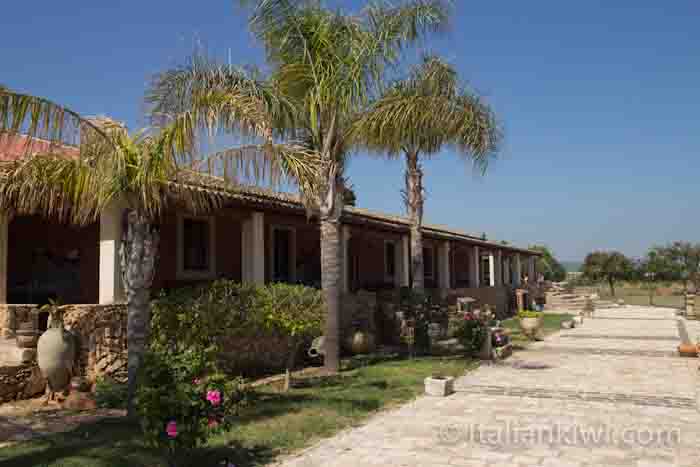 What is the secret ingredient that makes this cake so luscious?
Cristina served a wonderful breakfast every morning with homemade cakes and jam, fresh bread,  and strawberries from the neighbouring farm.  As soon as I took a (gigantic) mouthful of her chocolate cake I immediately….well, as soon as I'd downed my second slice….asked her for the recipe.  She very kindly shared it with my older son in Italian, and he duly wrote it down in French for me, so now, I'll give it to you in English.  Hope nothing's lost in the translation! The secret ingredient of this melt-in-the-mouth chocolate cake is red wine!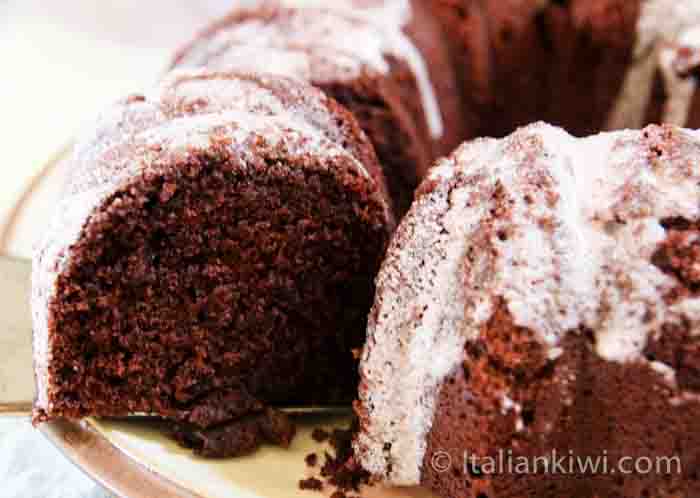 By Lisa Watson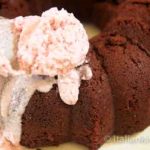 Print Recipe
Sicilian red wine chocolate cake
How to make luscious Sicilian Red Wine Chocolate Cake
Ingredients
300

g

1 1/3 cups Sugar

200

g

7oz, 1 2/3 sticks at room temperature Butter

100

ml

1/2 cup – chose a light red, under 13% alc vol. Red wine

4

at room temperature Eggs

60

g

1/2 cup Unsweetened cocoa powder

180

g

1 1/2 cups Flour

1 1/2

tsp

Baking powder
Instructions
Heat oven to 180 degrees C (350F).

Cream butter and sugar until white and fluffy.

After creaming the butter and sugar together well, add wine slowly while beating. (Tip 1: the first time I tried this, I put the wine in with the butter and sugar before mixing, and got a lumpy mess.)

Before going any further, take about 1/2 a cup of the mixture out and set it to the side.  You will be using this for the glaze once the cake is cooked.

Add the eggs one by one, beating after each addition. (Tip 2: the second time around, my 5 year old was cracking the eggs and managed to drop all the white of one of the eggs on the floor, while amazingly saving the yolk in the shell. The cake still turned out perfectly!).

Add the cocoa powder, flour and baking powder and mix together.

Put in a well-greased cake ring tin.  I use a 10-cup Bundt pan that my lovely husband lugged back from the States for me on one of his work visits (he even had to buy another carry-on because of the weight issue….).

Bake for about 25 minutes until a tester comes out clean.

Take the cake out of the oven and after 5 minutes, tip it out of the pan onto a plate.  Decide which side you want to be the "up-side" and flip it that way.  Make a few incisions in the top with a knife and smear the 1/2 cup of reserved mixture on the cake.  Don't wait to do this otherwise it won't glaze properly unless the cake is still hot.