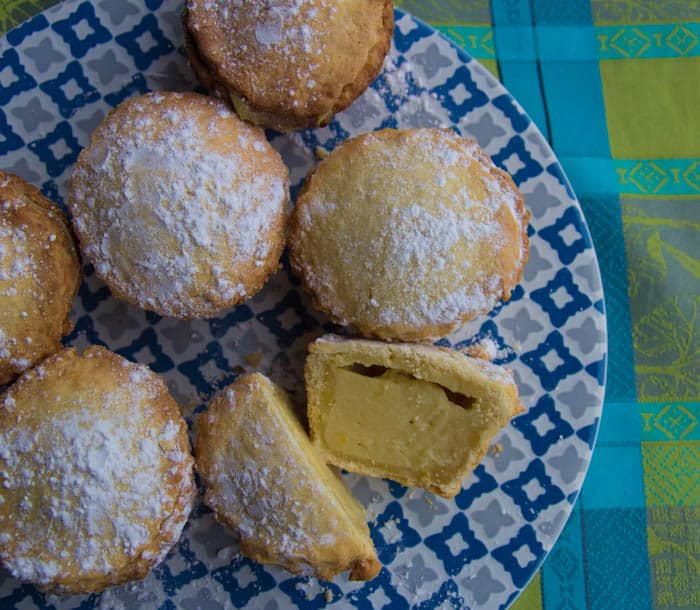 Where you can find pasticciotti custard pies
I first came across pasticciotti a few years ago, when we spent a long weekend  in the Salento region, way down in the "heel" of Italy. These custard-filled pies are typically eaten for breakfast there with a frothy cappuccino.  Of course, there's nothing stopping you eating pasticciotti at other times of the day! There are a few stories floating around about the origins of this pie.  The thing they have in common is that it was cooked up for the first time in the 1700's, and that it comes from the region of Puglia.  For the rest, various versions say that the pasticciotti were invented by one chef or the other, all for different reasons.  I'm not sure who to believe, so I'm happy just to eat them and thank that chef who had the great idea to make them back then.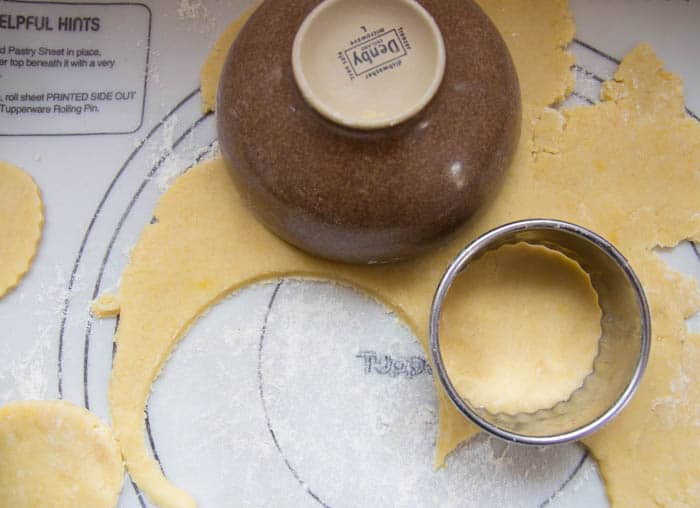 A little name explanation
The word "pasticcio" in Italian means "a mess", which doesn't really do the filled pie justice, except for the fact that it can be messy to eat if the crema filling isn't thick enough. Try wiping up mess of custard filling off your shirt and jeans in a cafe with a small number of flimsy serviettes and no water and you'll see what I mean (yes, that happened to me). The original dough is made from lard.  I used a butter pastry as I find the lard too heavy for my taste.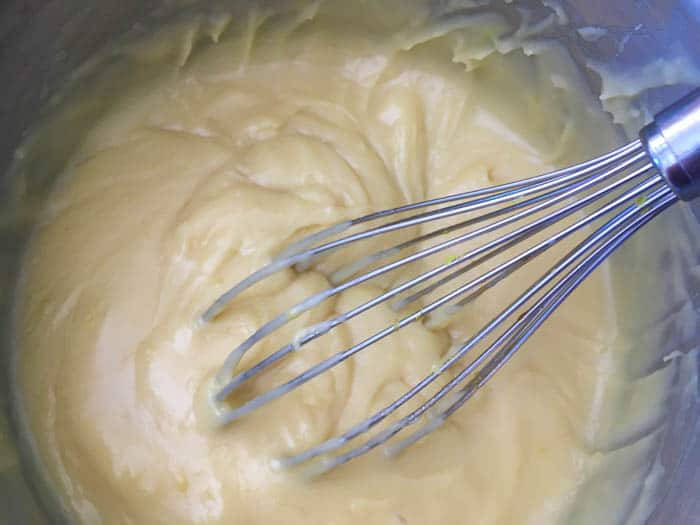 Some hints on making pasticciotti
For this recipe, I have given no quantities for the number of pasticciotti it makes as it really depends on the size you end up making them.  they are very rich, so I suggest that you make them no larger than a muffin-tin size, unless you decide to go for a large pie to be cut in pieces. You can make the crema and the dough the day before and keep it in the fridge until you are ready to bake the pies.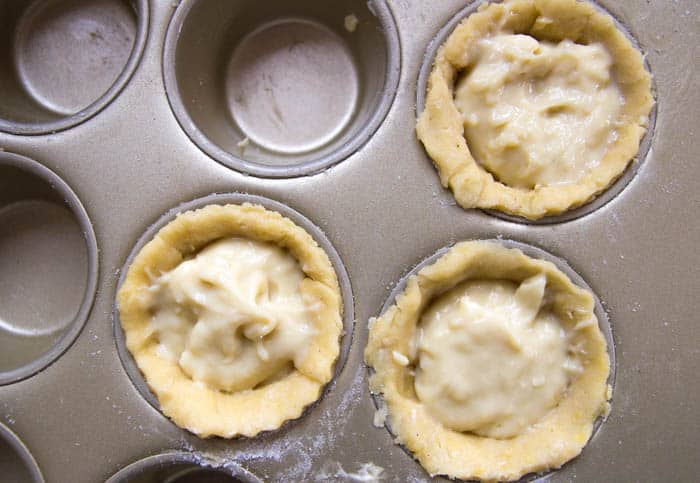 Three recipes in one
The most fabulous bit of this recipe for pasticciotti, at least for me, is that I don't need to write out a lengthy post on how to make the dough or the crema.  The two recipes are already on Italian Kiwi!  The jam tart  I posted as one of the first recipes on this blog uses the pastry dough, and a Summery strawberry tart  I posted a couple of years ago  is filled with the crema pasticciera! So, really, this post is three recipes for the price of one! As you get it for free, I guess that doesn't mean too much.  This way though, if you have leftover pastry or crema after making the pasticciotti, you have a couple of ideas to use them up by making some other delicious desserts.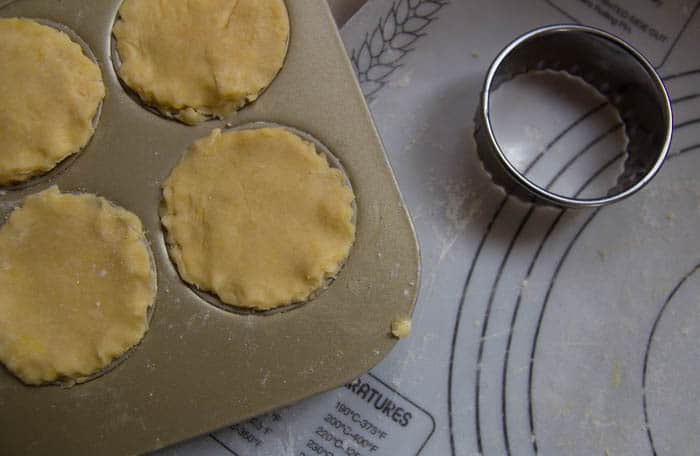 It's the end of the month, which means you get an added bonus of delicious recipes from the group at Cucina Conversations! This month, we're talking about typical Italian afternoon tea snacks.  I wish every meal could be afternoon tea, or merenda, as it is called in Italy!
Marialuisa from Marmellata di Cipolli baked very interesting Vegetal Charcoal Bread to make sandwiches with,
Rosemarie from Turin Mamma baked some Amaretti Morbidi,
Carmen from The Heirloom Chronicles offered some Pizzette Montanare
Francesca from Pancakes And Biscotti made delicious Pizza Bianca,
Flavia from Flavia's Flavors put together some little sandwiches typically found all over Italy in cafes called Tramezzini da bar,
Daniela from Le Dani Gourmet will be making Pan Meino
Travel Photo Of The Week
The two photos I have for you this week come from Puglia, where I stuffed my face, I mean first discovered, pasticciotti. These falling-down towers are strung along the coast of Puglia like beads on a necklace.  Once upon a time, they were manned constantly to watch out for attackers approaching from the sea.  Each tower is in sight of one other, so that when the alarm was raised, wither smoke signals, or fires could be used to signal the next tower down the line that danger was imminent. Now-a-days, they make wonderful sites to view the Puglia coastline from.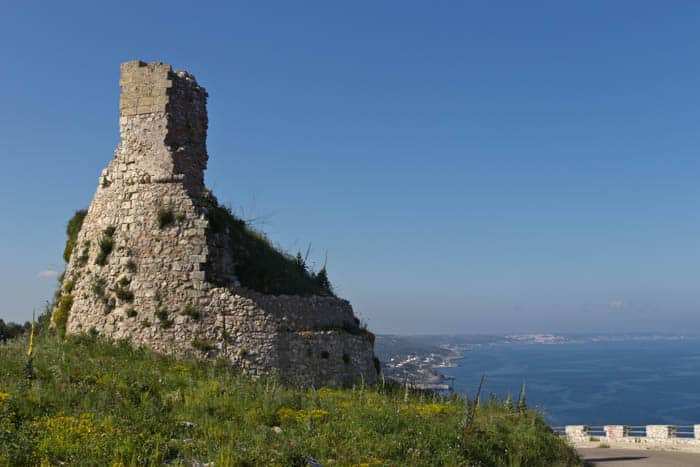 The stunning white town below, which lies a little bit North of Brindisi, is called Ostuni. I had some incredible orecchiette pasta with turnip greens for lunch here! The architecture is very typical for the Puglia region. You can see the strong influence of past cultures that inhabited the region at different times during its history.  The whitewashing and flat roofs bring back memories of buildings in Northern Africa and on the Greek Islands.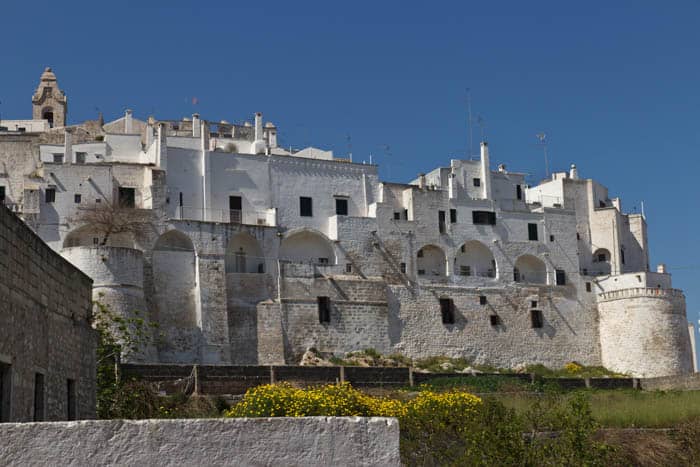 By Lisa Watson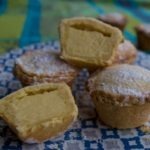 Print Recipe
Pasticciotti: custard-filled pies from Southern Italy
Custrd-filled pies from Puglia in southern Italy can be eaten for breakfast or as a dessert or decadent afternoon tea snack. Find the recipe here!
Ingredients
Pasta Frolla

Crema Pasticciera
Instructions
Heat the oven to 180ºC (350ºF).

Choose your pie pans.  You can use muffin pans, like I did, or opt of a larger shape.  The form should have high sides. Grease the pan before using.

Roll out the dough until it is about  a 1/4 cm thick. Cut out a round for the base and a smaller round for the top.  As you can see in the photo in the above post, I used a bowl for the base and a cookie cutter shape for the top.

Carefully place the larger round in the form and gently press it down.

Add spoonfuls of the crema until you nearly fill it to the top of the pastry round.

Put the top on, and squeeze the edges together with your fingers.

If you like, you can brush the top with beaten egg to make it shine when it is cooked (I didn't do this step).

Bake for 20 – 25 minutes until the pies have become golden-brown.