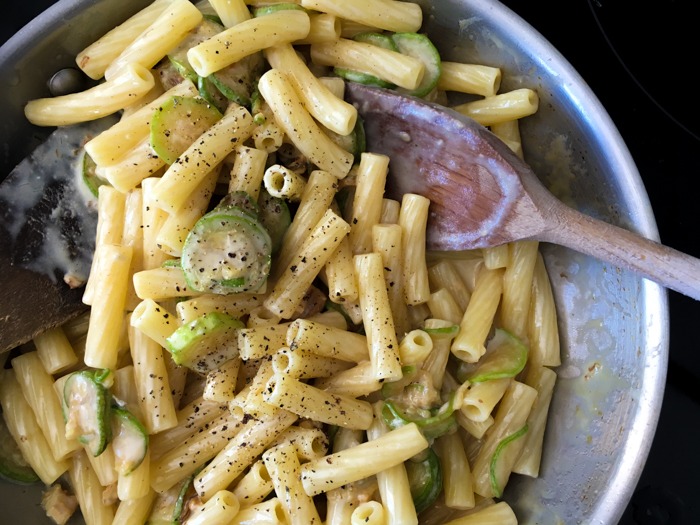 How to learn to like blue cheese
This recipe comes from the mother of a good friend of ours who originates from Florence in Tuscany.  When we all lived in California, Simone used to make us Pasta with zucchini and Gorgonzola cheese whenever we went to dinner at his place, which I was always very happy about!  I am a big fan of Gorgonzola.  Well, it wasn't always this way.  Once, way back in the mists of time, when I had just left the familiarity of the country I grew up in, and when the only cheese I really knew about was mild Cheddar, I tasted Gorgonzola and thought it was horrible.   Over the years, mainly thinks to the pasta sauce, I have become almost addicted to this blue cheese and devour it scooped onto hunks of baguette without even hesitating.  Actually, I think I was initially scared of the whole blue cheese family by a story my mother told me when I was little. She used to tell us that when she was young, her uncle would often tell them the story about how he'd seen a cheese crawl off the table when he visited Europe because it was so blue.  I actually remember believing this story when I was a kid, which must've delighted my Great-Uncle as he LOVED to play jokes on people.  Now you can see how myths are created from one piece of fake news……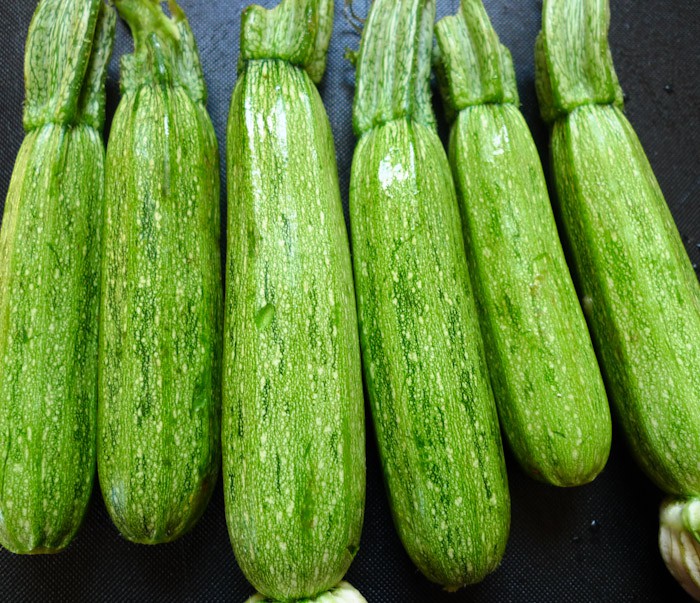 Where is Gorgonzola Cheese made?
Gorgonzola cheese, made of pasteurized milk from cows, can be almost hard and crumbly in consistency to soft and gooey. My favourite kind is the meltingly-soft and squishy Gorgonzola dolce, but if I'm presented with it's aged cousin, the harder, crumbly Gorgonzola piccante, I won't say no. It comes from a town to the North-East of Milan in the North of Italy called, you guessed it: Gorgonzola. I haven't been there yet, but given what good cheese they make there, I figure that it must be a lovely place! The town of Gorgonzola is just a bit east of Milan, so if you are in the city of fashion, you can take a trip to the epicentre of where it is said that Gorgonzola cheese was first produced back in 879.  There are other towns in the area that dispute that claim, but since this town got the cheese named after it, I think they have won the battle of ownership without much of a fight.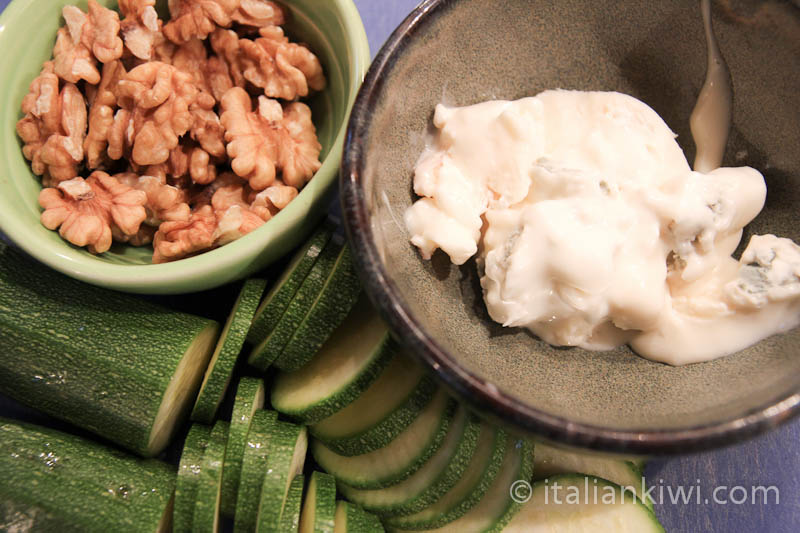 Travel photo of the week
Ok, so the travel photo of the week has nothing to do with Gorgonzola or the area around it.  It is only about 100 km away though, so it almost counts. The photo you see below is of The Langhe in Piedmont, Italy, just south of Turin.  It is a fabulous wine region where they make some of the best wines in the world (in my humble opinion).  The vineyard-clad hills roll this way at that, and at the top of many of the highest hills are small villages with views that are out of this world.  The one you can see on the top of the hill here is called La Morra.  If the panorama and good wine is not enough for you, The Langhe is also very well-known for its food.  This is the kind of place that lunch takes at least 2 to 3 hours.  It's not just a meal, it's an experience!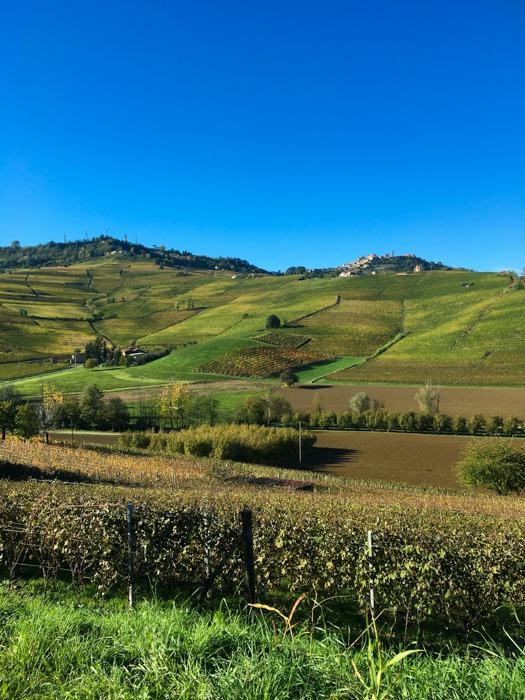 To find out how to cook pasta like an Italian does, check out my handy guide.
By Lisa Watson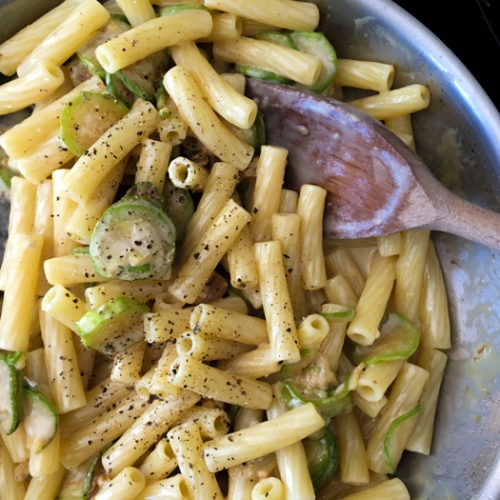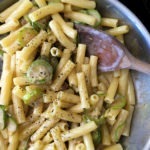 Print Recipe
Pasta with zucchini and Gorgonzola Cheese
How to make pasta with zucchini (courgette) and Gorgonzola cheese
Ingredients
400

g

Fusilli

2

Zucchini

medium sized

200

g

Gorgonzola

7 oz – or more or less depending on how much you like it!

½

cube

Beef bouillon cube

or ½ a vegetable bouillon cube

80 -100

ml

Cream

approximately ⅓ cup

40

g

Walnuts

1 ½oz

Parmesan cheese

to taste
Instructions
Cook at the pasta as per the packet instructions.

While the pasta is cooking, slice the zucchini thinly and saute it in olive oil until it's cooked through and browned a little.

Take the pan off the heat.  Add the cream, the bouillion cube and the Gorgonzola.  Stir until the cheese is melted.  If you have very soft gorgonzola dolce, you can mix it in a bowl with the cream until it becomes a uniform mixture, and then add it to the zucchini .

Chop the walnuts and add them in to the sauce.

Drain the pasta then add to the sauce.

Grate Parmesan cheese over the finished dish.

Sprinkle with cracked black pepper