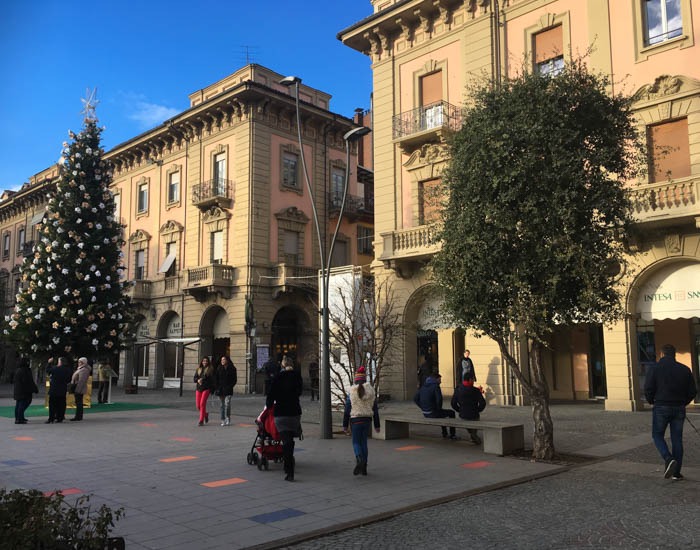 Eating out in Alba
Over Christmas we had a reunion with some old friends in Alba, a beautiful town in the middle of the Langhe wine growing region just below Turin in Italy. With all our kids safely parked with one set of very accommodating grandparents, we headed off to Alba and to a restaurant right in the middle of town called the Osteria dell'Arco.  It was a little tricky to find as it is hidden in a courtyard away from the main street.  If you get to go, look for an unassuming door in the colourful facade below.  Let's hope that they don't change the colour of the building! It was very difficult to choose what to eat there as everything looked so enticing.  The food we ordered was absolutely fantastic.  I can personally recommend the artichoke gratin with Robiola cream and the  Fonduta tortelli with Jerusalem artichoke cream (yes, I have a thing for melted cheese).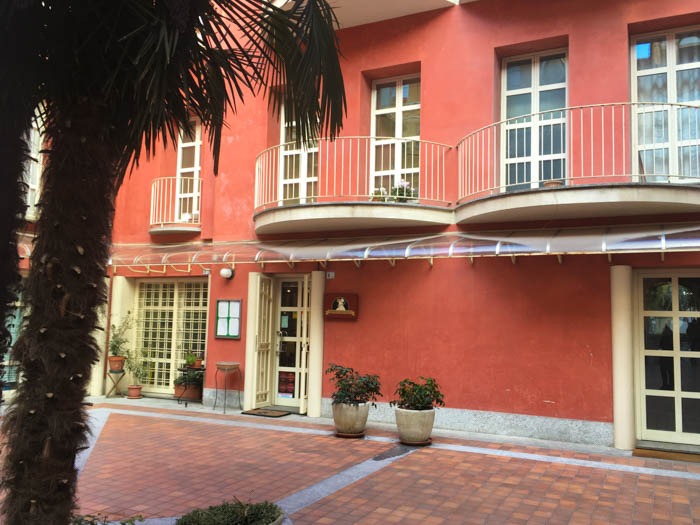 It's all about Slow Food in the Langhe
The restaurant is part of the Slow Food movement that was born in the Langhe region.  Its founder, Carlo Petrini, began the organization with the help of a group of activists to promote fresh, locally-grown food .  The movement has gained momentum and spread all around the world.  The University of  Gastronomic Sciences is not far from Alba in a small town called Bra.  You can go there to learn pretty much everything about ethical production, marketing and distribution of food and wine, so you can afterwards go out and make the world a better place to live in.  I'm all for that!  If you're not quite ready to go (back) to University, you can simply choose to eat at a restaurant which displays the sign of a red snail on its door and menu.  Then you know you're in the right place to eat a fantastic meal and that all the ingredients have been locally sourced from small producers using agricultural methods that do not harm the environment.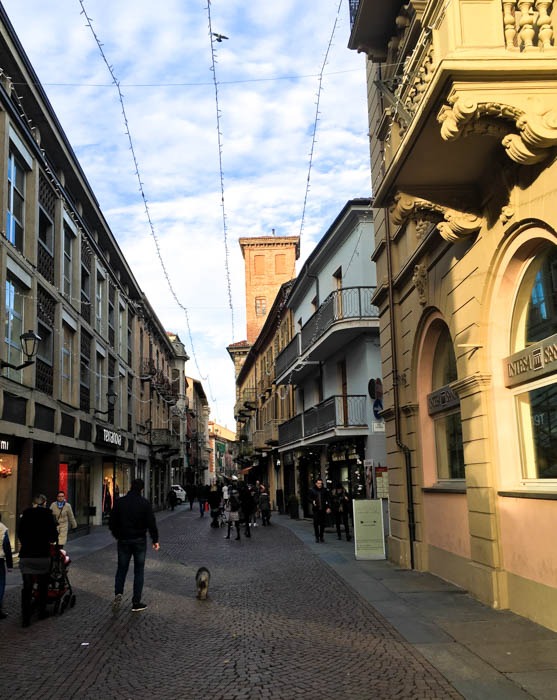 Nothing like a stroll after a big lunch
After a filling lunch, we waddled down the long, cobblestone pedestrian street looking at shops crammed with food and wine; not that we really needed to eat or drink anything else.  Actually, I do suggest that you eat something before going walking there otherwise you'll buy far more than you should.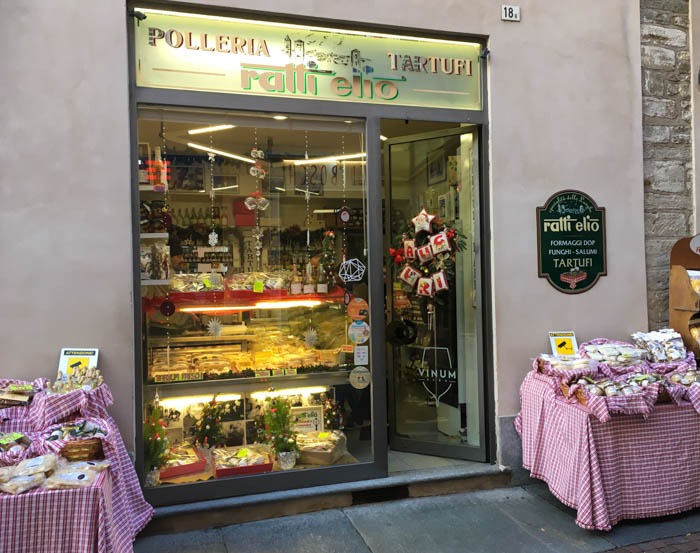 It's truffle season in the late Fall, so there were truffles for sale everywhere: starting from the black ones at relatively affordable prices, to the white truffles that you need to check your bank balance before handing over your bank-card.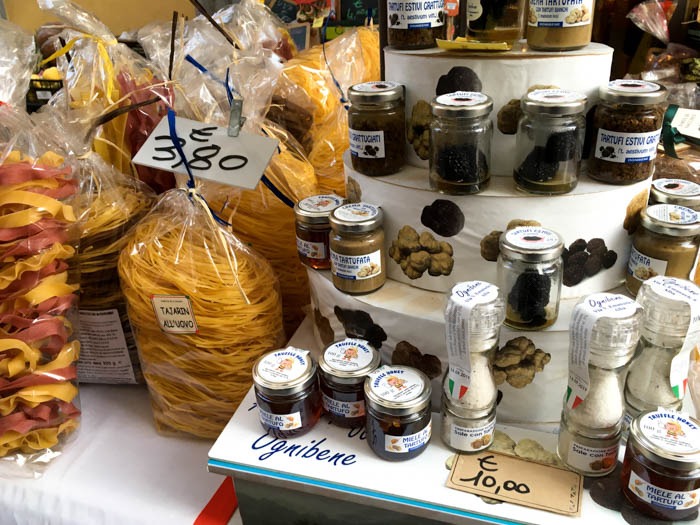 Truffle capital of Italy
The town of Alba is world-renown for its white truffles.  Truffles must be eaten fresh, so if you want to get the true truffle taste, you need to come to the main place in the world where they grow.  Alba hosts a truffle fair every year around October/November where you can eat EVERYTHING truffle. The truffles you see below under the glass case are the highly prestigious white ones and they have prices to match their rareness. The white truffles cannot be farmed, appear only for about two months a year, specifically in Piemonte, Italy, and  truffle dogs have to be especially trained to find them. Global warming is causing the temperatures to rise enough so that there are less and less of the white truffles every year, so go and try one while you still can! Another interesting fact I discovered is that female pigs used to be used to sniff out truffles as the smell is the same as that of a testosterone-oozing male pig, but the problem was that they often gobbled the truffles or broke them up before their owners could get to them.  When you have a fungus that can be worth thousands of dollars per ounce, there's no way you want your pig to eat them!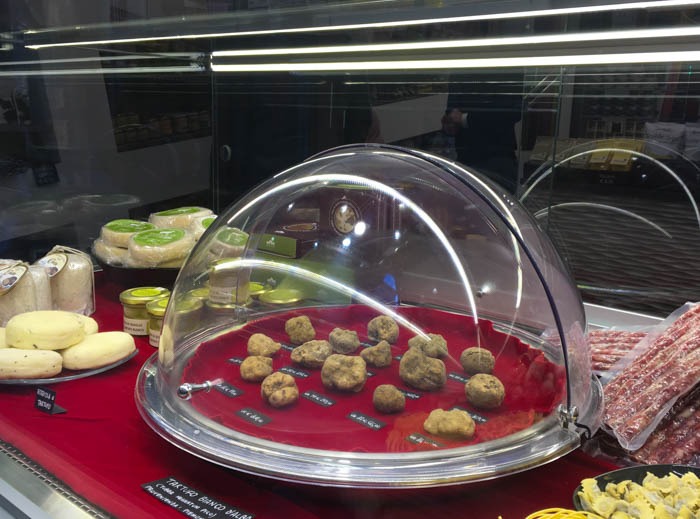 A little tipple to wash down those truffles
If you are not so much into expensive fungus, you can always head into one of the many enotecas and taste a little wine.  Again, you're in the right part of the world as the Langhe area makes some of the best wines in Italy.  You may have heard the names of some of them already: Barolo, Barbaresco, Nebbiolo, Barbera d'Alba, Dolcetto.  Often these wines are named after the beautiful villages that they are grown around.  There's something very special about being able to, for example, go to the tiny village of Barolo and drink a Barolo wine. Both Barolo and Barbaresco are made with nebbiolo grapes, but as they are grown in slightly different soils in different parts of the Langhe region, and are stored for different periods of time, they taste different.  You can also buy Nebbiolo wines which are wines grown with the same grapes as the first two, but are grown outside the designated growing areas for Barolo and Barbaresco wines.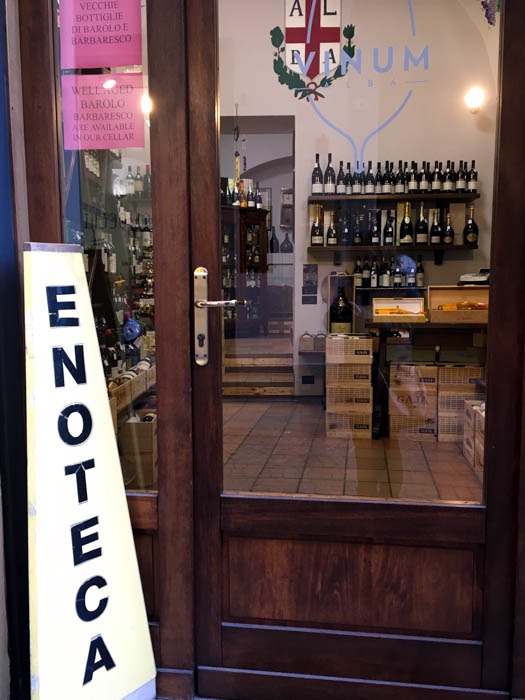 Go nuts for the local nuts
Another special product that comes from the Langhe area is hazelnuts.  If you buy some, check that they have the official IGP label (Indicazione Geografica Protetta) certifying that they are from Piedmont.  The Tonda Gentile variety are grown in the Langhe area, and I can attest after eating bucket-loads of them over the years, that they are exceptionally good.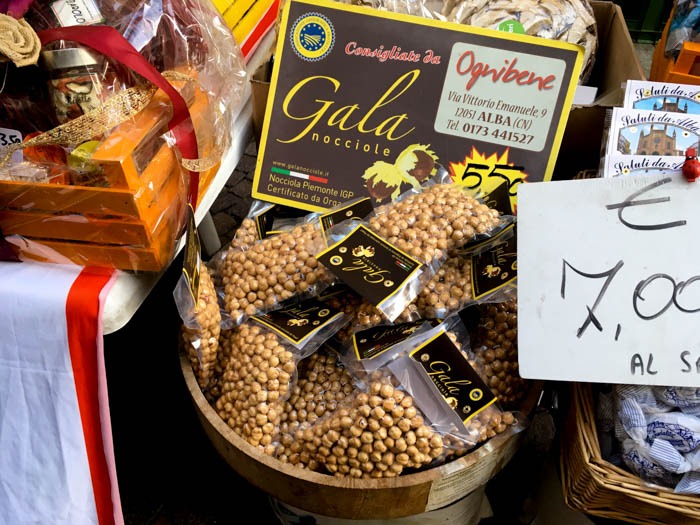 If you're not into restaurants, truffles, hazelnuts, or wine, never fear!  Just taking a stroll down the long pedestrian street in Alba and window-shopping is enough to make you glad that you came to this gem of a town!  The Langhe, with its perched villages and its steep vine-clad hills is the lesser-known twin of Tuscany: just as beautiful, but far less crowded!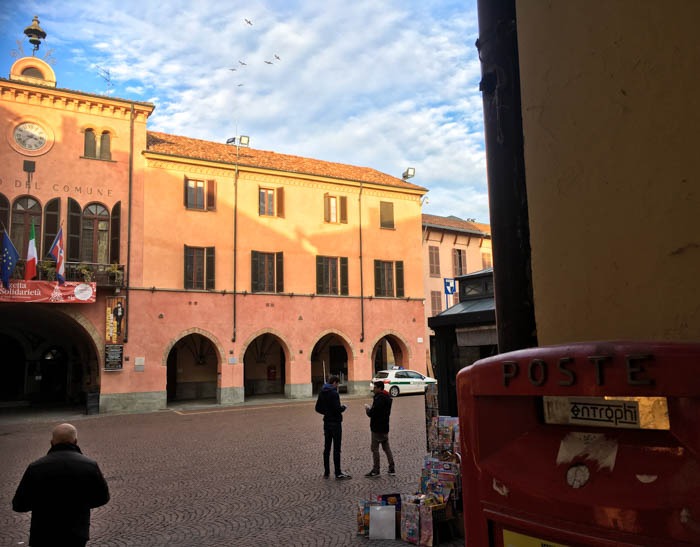 If you are in The Langhe area on a clear day, try to make it to Diano d'Alba around sunset.  This village is perched on a high hill, and from near the church at the top, The Langhe wine region stretches away below you in every direction. The line you can see on the horizon in the photo below are the snow-capped Italian Alps that form the border between France and Italy.
A perfect end to a perfect day!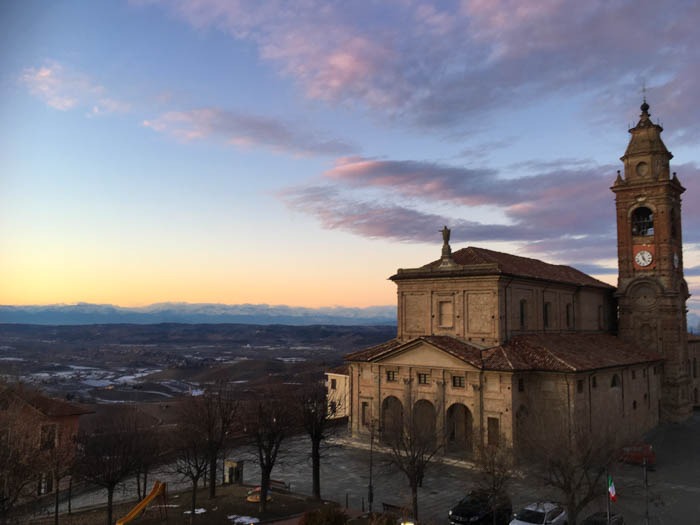 By Lisa Watson