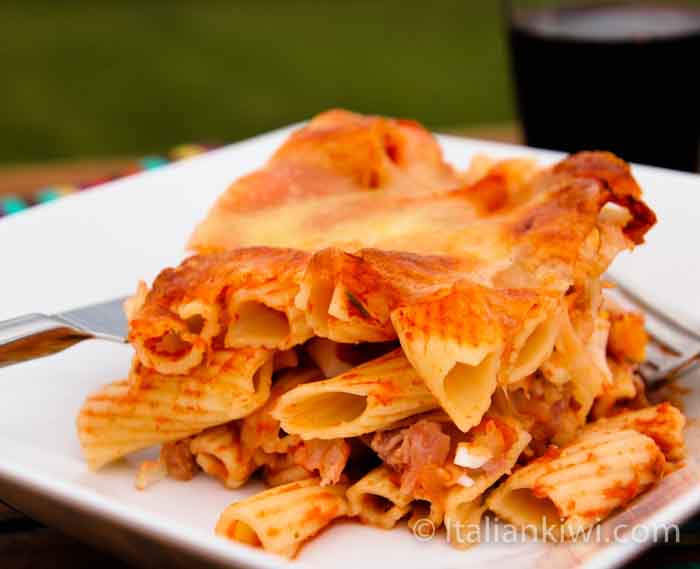 Oven-baked pasta that will have you coming back for more
This wonderful oven-baked pasta, stuffed with mozzarella, chewy morsels of salami, and slices of boiled egg comes from my Italian mother-in-law.  It's one of those recipes that is perfect to make in the weekend and then reheat during the week to have a ready-made delicious pasta dish to eat for dinner when you stagger in from work, or flop into a chair in the kitchen after dealing with young kids at home all day. If you don't go out to work, and don't have young kids, don't let that stop you from making it!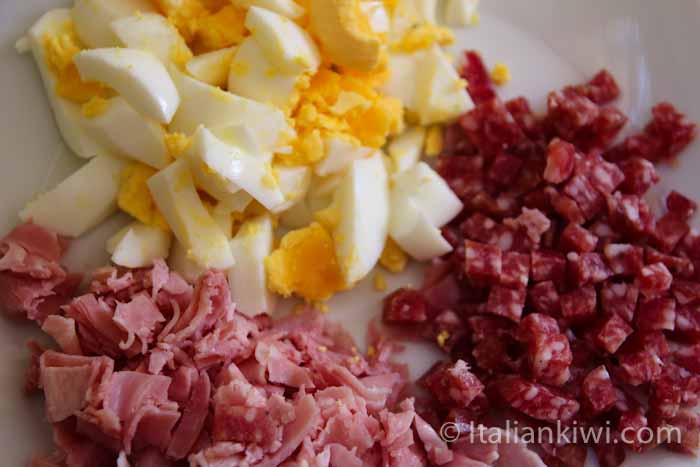 Memories of recipes that hide with the lost umbrellas
Oven-baked pasta is great to eat as the temperature starts dropping and the leaves start swirling off the trees.  It's one of those dishes that I made about once a week for a long time, but in the last couple of years, I haven't made it at all as somehow the memory of it got trapped in the back of the dusty, spiderweb-cloaked cupboard in my head that has a rusty lock.  I think it was the rainy weather we've been having that helped.  The recipe was stored underneath the memory of where the umbrellas may be kept (as you may be able to work out, it doesn't rain here too often).  When I shook that one out, low-and-behold, the recipe for pasta al forno fluttered out with it.  Still haven't found the umbrellas, but at least we ate a delicious dinner last night!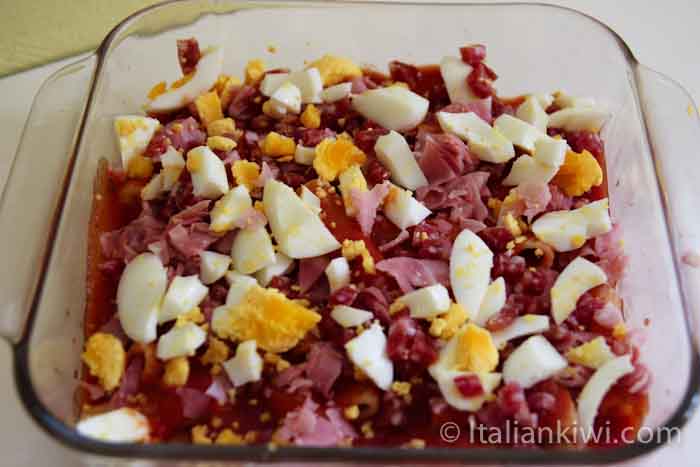 Tricks for making oven-baked pasta
It is a little time-consuming to make, but it can be made the day before you want to eat it.  In fact, it tastes almost better reheated the next day than it does fresh, straight out of the oven.  The most important trick with pasta that you then put in the oven (that's where the al forno bit comes in) is to under-cook the pasta when you boil it.  Once it's also been cooked in the oven, if it is already perfectly al dente before it goes in, it will come out all soggy and falling apart.  It needs to still be very chewy when you move onto the oven step, then it will come out beautifully cooked.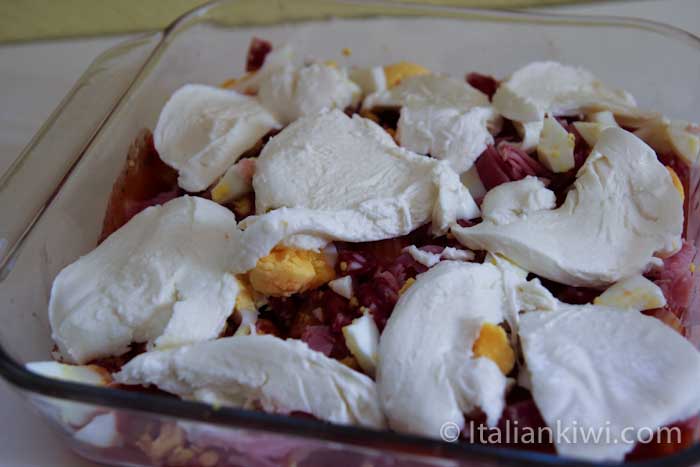 It takes time to make, but it's worth it
When I prepare this, I season the tomato puree with a secret, special mixture of herbs and garlic packed in salt that my husband's grandmother used to make (she passed away a few years ago, but I still have a couple of jars of this magic ingredient).  Now, I'd love to tell you how to make it, but the secret was locked away in her head, and she never shared it with anyone else……so, just add some salt, and if you're feeling adventurous, maybe some oregano. It's totally worth the time you take to make it when you break into the crunchy crust into the melted mozzarella underneath! The sagest bit of advice I can give you is: don't skimp on the cheese!
To find out how to cook pasta like an Italian does, check out my handy guide.
By Lisa Watson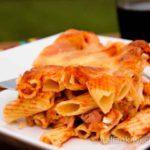 Print Recipe
Oven-baked pasta with eggs and salami
A great pasta dish to make in advance! This recipe for oven-baked pasta stuffed with salami and boiled eggs comes from my Italian mother-in-law.
Servings:
4
hungry people
Ingredients
320

g

Pasta

tortiglioni or rigatoni

750

ml

Tomato puree

3 cups

50

g

Salami

2oz

50

g

Ham

2oz

2

Eggs

375

g

Mozzarella

3 cups / approximately 3 balls
Instructions
Hard-boil the eggs.

Cook the pasta in boiling water until 2 minutes below the usual cooking time, then drain it.  It should be very al dente.

While the pasta is cooking, turn the oven on to 180 C (350 F).

Add 1 tsp of salt to the tomato puree and mix.  If you like you can add a little oregano. Chop the ham and salami into small pieces and thinly slice the mozzarella.

Drain the pasta.

Now you are ready to assemble the dish!

Put a little less than half the pasta on the bottom of an oven-proof dish.

Pour half the tomato puree on top of it and mix it a little.

Sprinkle the ham, salami and egg over the top, then cover with half the slices of mozzarella.

Add the rest of the pasta on top and pour the rest of the tomato puree evenly over it.

Finish off by covering the pasta with another layer of mozzarella slices.

Bake in the oven for 45 -50 minutes until the top is bubbling and crispy.
Notes
This is even better reheated the next day.