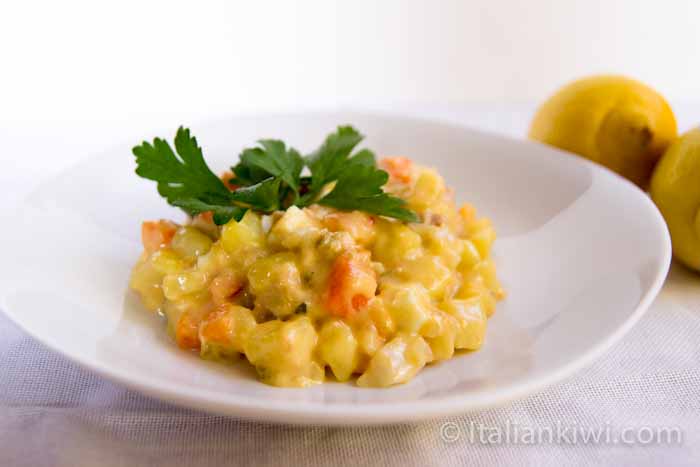 The secret ingredient to make Russian Salad special
This post on Insalata Russa is a very special one, as I am writing about it to honour a great woman who passed away this time last year. Pierina, my husband's grandmother was a powerhouse of food production. She would make a huge bowl of Insalata Russa every year for the family to eat as an appetizer for our Christmas lunch. I managed to wheedle the recipe out of her a few years ago when we were living in California and wanted to replicate the Italian Christmas meal.  I tried and I tried, but something was missing……finally after talking about it to her a few times, she said, "But why didn't you add the anchovies to the mayonnaise?" Um, because she never told me to……her recipes were all in her head, and since she'd been making them for 70 or 80 years, she had no set quantities, as certain things (like putting anchovies into the mayonnaise) didn't seem to need explaining. 🙂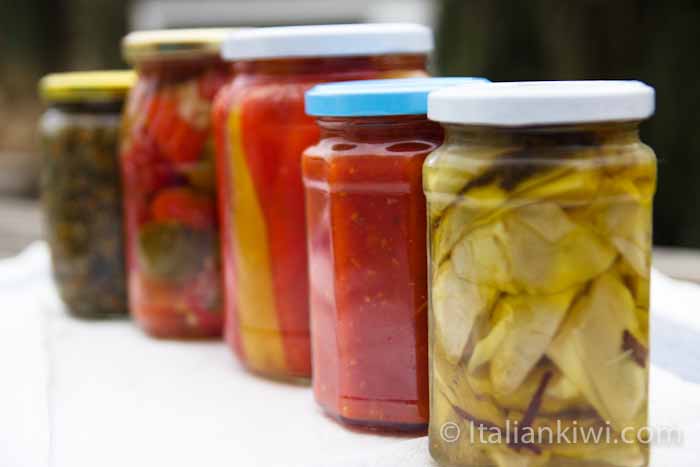 An ode to the work of a tireless Italian grandmother
She was constantly bottling produce for the whole family.  You can see a small sample of some of them in the photo above. In the days just before she died, she bottled ragu she had made out of 25kg of tomatoes.  We're still enjoying it now, though I have to admit that I'm loathe to open the last bottles.  When they're gone, she'll really be gone too.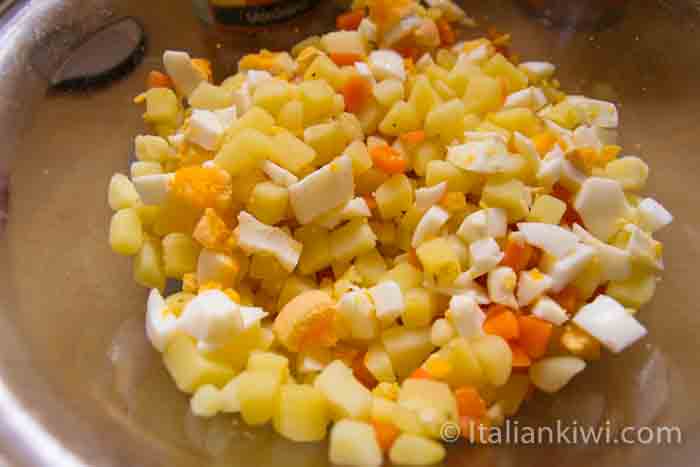 Don't be scared of anchovies
The exact recipe she gave me for Insalata Russa went like this: "Boil some potatoes and carrots. Add some tuna and egg.  Stir in the mayonnaise."  I've tried my best here to quantify the ingredients and expand on the instructions to make it easier for you. I have to thank my husband for this part as he was my official taster.   He's been eating it for so many years, he was able to tell me what was missing. Luckily, Insalata Russa is very forgiving, and it is really up to the taste of the person making it as to how much of each thing to add.  Just don't forget the anchovies in the mayonnaise!  That's the secret ingredient!!  Just for the record, I REALLY hate anchovies, but you can't taste them in this recipe if they're minced well.  It just adds a "zing" to the sauce.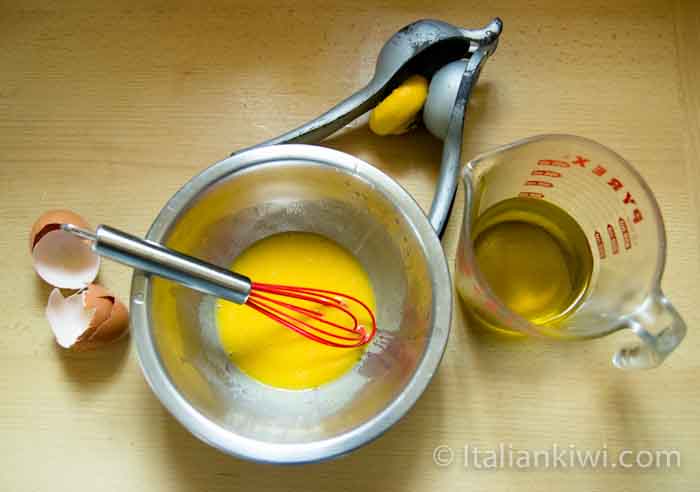 Tips for making fresh mayonnaise
Don't be scared of making the mayonnaise either….just stir it constantly.  If it starts to go "pazzo" (crazy) and separate out, break an egg yolk into a clean bowl with some lemon juice, whisk it, then start slowly adding the messed up mayonnaise while beating constantly.
If you can't get pickled vegetables, you can add some or all of these: boiled cauliflower florets, celery, red capsicum and fennel, all cut into small pieces.
This recipe uses raw eggs, so get the freshest eggs you can.  Check them by putting them in a glass of water.  If they sink, go ahead and use them.  If they float, forget it!
So here's to Nonna Pierina!  We miss her still, and think of her often.  I hope I have her energy when I am in my nineties.  She would be delighted to know that you are all making her Insalata Russa for others just like she used to for us. . 🙂
If you're wondering why this salad is called "Insalata Russa", i.e. Russian Salad, it's not because it originates from Russia.  Nobody seems to know exactly why it was given the name.  There are rumours that it was invented by a chef in Piedmont, Italy.  Perhaps he named it Russian Salad because of all the cold-weather loving vegetables in it!
By Lisa Watson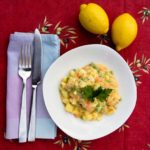 Print Recipe
Russian Salad (Insalata Russa)
Russian Salad is often served in the Piedmont region of Italy as a starter. It is a delicious mixture of mayonnaise-coated potatoes, eggs and vegetables. Find out how to make a special version of it taught to be by an Italian grandmother!

Ingredients
2 – 3

medium sized

Potatoes

approximately 200 – 300g

3

Carrots

medium sized

2

large Eggs

or 3 small

150 -200

g

Pickled vegetables

1 cup

100

g

Peas

1/3 – 1/2 cup

100

g

drained Tuna in olive oil

3.5oz
Mayonnaise
2

Egg yolks

Lemon juice

from 1/2 a lemon

250

ml

Olive oil

1 cup

2

Anchovies

1

Tbsp

Tuna

Salt

to taste
Instructions
Cut the potatoes and carrots into small dice-sized chunks. Boil them in salted water until soft but not fall apart, about 10 minutes.

Boil the peas.

Hardboil the eggs.

Let the eggs and vegetables cool to room temperature before continuing.

Chop the pickled vegetables roughly. Chop the boiled eggs into small pieces.

Add all the ingredients together in a bowl with the drained tuna (saving 1 Tbsp of tuna for the mayonnaise).
To Make the Mayonnaise:
Whisk the egg yolks, lemon juice and salt together in a bowl.

Steadily pour the oil in thin stream while whisking continually.

Mince the anchovies and tuna by hand, or with a small food processor , if you have one.

Stir into the mayonnaise.

Add the mayonnaise to the vegetables.  If you prefer it to be more "mayonnaisy", double the amount of mayonnaise you are making.
Notes
Store in the fridge and eat within three days.