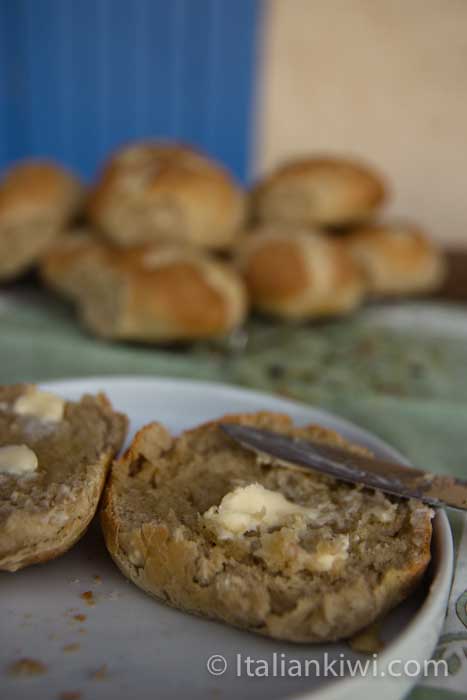 Hot cross buns, chocolate eating, and musings about the Easter Bunny
Easter is nearly here.  I can hear the hoppity-hop of little bunny paws as they stuff their baskets with Easter eggs…..well, there must be more than one Easter Bunny, right?  Otherwise how would he get the Easter eggs to all the kids on time?  You can't tell me that he does the Santa trick!  He doesn't have a sleigh, OR reindeer!  Anyway, aside from eating way too much chocolate, another thing I love to eat around the Easter holidays are hot cross buns. I'm not sure why hot cross buns and actually called "hot cross buns", as they don't have to be hot when they are eaten, though they do taste awfully good with butter melting into them when they're straight out of the oven.  The cross is obvious.  I'm sure it has religious (or pagan) significance, but I'm not going to get into that stuff here.  Just make the hot cross buns and enjoy them, and don't worry about the symbolism behind them!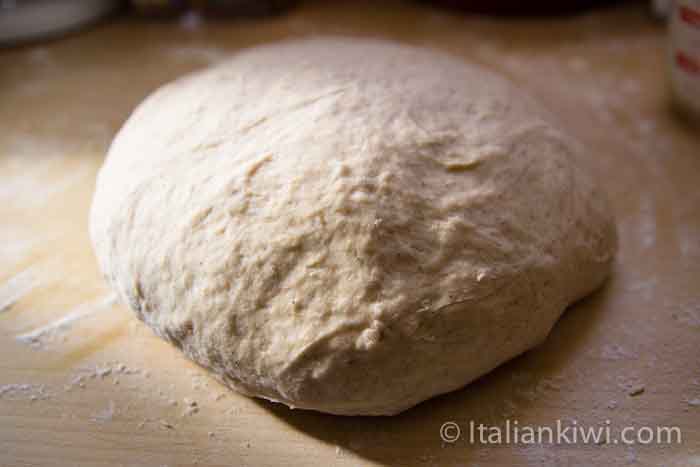 Multi-purpose rolls
This recipe comes from my mother.  When I was in New Zealand this time last year (yes, it's taken me an entire year to get this recipe up!), I made them without the spices and brushed the tops of the buns with milk before cooking them to give them a nice shiny top, and they came out fabulously as dinner rolls.  So, not only can this recipe be used for Easter, but you can make the rolls for Thanksgiving, or Christmas, or just for the heck of it, if you like.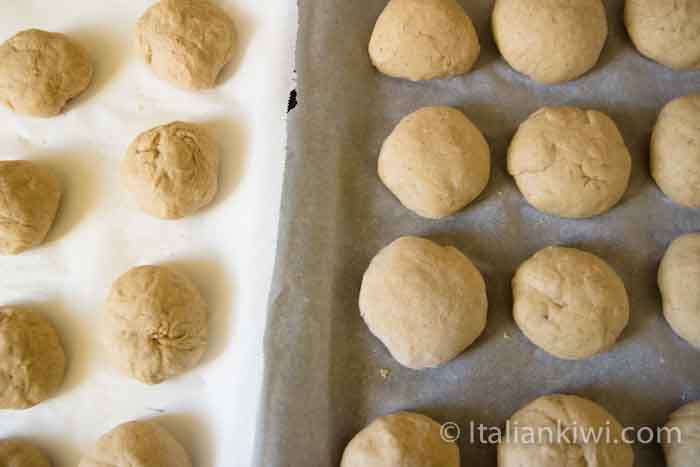 A quick recipe
The hot cross bun dough only goes through one rising, which also means that they're quick to make (well, quick in making-bread terms).  You can have them on the table in only 2 1/2 – 3 hours from when you weigh out the flour to when you take them out of the oven.  The photo above is before the rising, and the photo below is after, just to give you and idea of how much they should grow.
Hints and tricks from experience
I actually forgot to put the sultanas in when I made these as one of my sons ate the ones that I'd weighed out in anticipation of adding them to the dough, and I didn't notice.  So, I can tell you after scientific testing, that they taste good also without the sultanas, just not as sweet. The cross is an optional extra.  It doesn't add anything to the taste.  You can do it just to prove that the rolls are indeed hot cross buns.  I think next time I would just brush milk over them and forget about the cross.  As you can see in the photo below, unless you have a piping bag that you can use, making the cross with the edge of a teaspoon can be quite messy.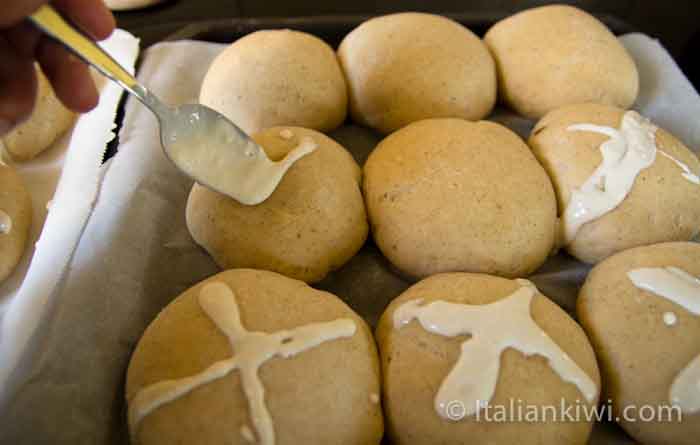 So, I wish you all a very happy, and non-rainy Easter full of good things to eat (we're having a leg of New Zealand lamb, of course!).
Travel Photo of the Week
This is Whangarei Heads, a small peninsula which juts out from the East coast of New Zealand near the town of Whangarei.  I spent a lot of time here when I was growing up, getting into all sorts of trouble with a friend whose parents owned a farm just across the peninsula from where this photo was taken on top of a monolith of craggy towers called Mount Manaia. It takes about an hour or so to wend your way up the slopes through the forest (where once I got lost with the aforementioned friend: a story for another time). The view from the top, as you can see, is spectacular!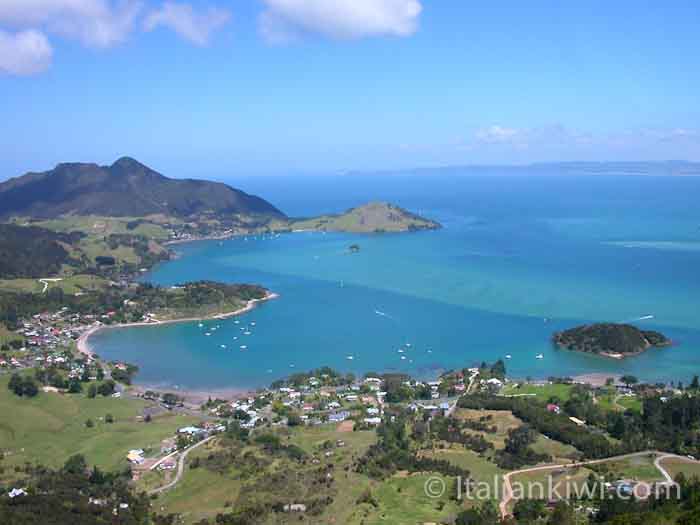 By Lisa Watson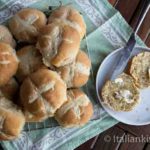 Print Recipe
Hot cross buns
An easy and quick recipe for home-made Hot Cross buns from New Zealand.
Ingredients
300

g

All-purpose flour

2 cups

10

g

Dry Yeast

2 Tbsp

50

g

Sugar

4 Tbsp

1

tsp

Salt

250

ml

cold water

1 cup

250

ml

boiling Water

1 cup

50

g

Butter

2 Tbsp

2

Eggs

2

tsp

Cinnamon

4

tsp

Mixed Spice

500

g

All-purpose flour

3 3/4 cups

50

g

Sultanas (or currants)

1/2 cup
Instructions
Mix the first lot of flour, yeast, sugar and salt in a bowl and mix.

Add the cold water, then the boiling water and mix until smooth. Leave for 2 – 3 minutes.

Add the second lot of flour, the cinnamon and mixed spice. Mix, then add the sultanas.

Knead for 5 minutes until the dough is smooth.  Keep sprinkling flour on the dough if it is sticky.

Put a clean tea-towel over the bowl and leave on the bench for 15 minutes.

Line two trays with baking paper, then break off pieces of dough approximately the size of an egg. Roll them into balls and place them on the trays, spacing them so that there is room for them to expand.

Leave to rise for 2 hours until they double in size.

Heat the oven to  200ºC (375ºF).  If you would like the buns to be shiney on top, brush them with milk. To make the crosses, put 2 tbsp of flour into a cup.  Dribble water in and stir until a thick paste forms.  Use a piping bag or the side of a teaspoon to draw the crosses on top of each bun.

Bake for 15 – 20 minutes until the tops of the buns are golden-brown.