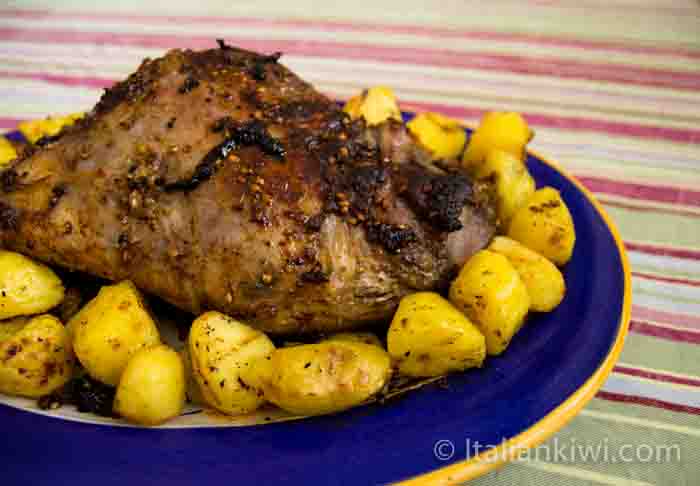 Time for a terrible confession
The flowers (and weeds) are popping up in the garden right before our very eyes, and hoards of German and Scandinavian tourists are arriving in the area, so that means it's Spring!  We had my husband's family over from Italy during the Easter weekend.  I decided to make them all a roasted leg of lamb, just like many french people do for their Easter lunch.  In fact when I went to the butcher (luckily for something else!) the day before Easter Sunday, the five people in front of me ordered lamb leg or shoulder for exactly that reason.  I have to admit I had bought a frozen leg of lamb a few days before, which (Shock! Horror! Close your eyes for this bit please any ecologically sensitive people out there) came from New Zealand. Well, it just tastes better, and I have to support my Dad, right?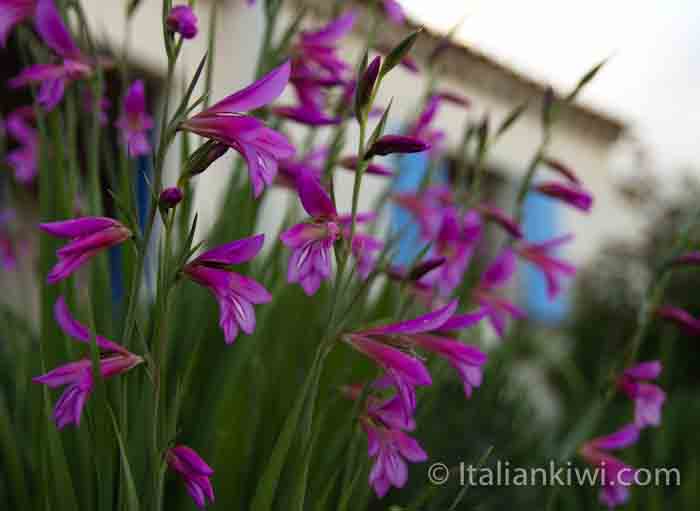 Lamb and Roald Dahl
Cooking a leg of lamb always brings to mind that excellent short story written by Roald Dahl called "Lamb to the Slaughter", in which a man gets murdered.  when the police get there, they talk to the distraught wife for a while.  They're there so long, she ends up offering them the leg of lamb that is cooking in the oven, which they all, of course, eat. (Spoiler alert! Skip to the the next paragraph if you don't want to know what happens!).  In the end, it's the wife who did it but she never gets caught, as the police eat the leg of lamb that was used as the murder weapon.  Clever, huh?!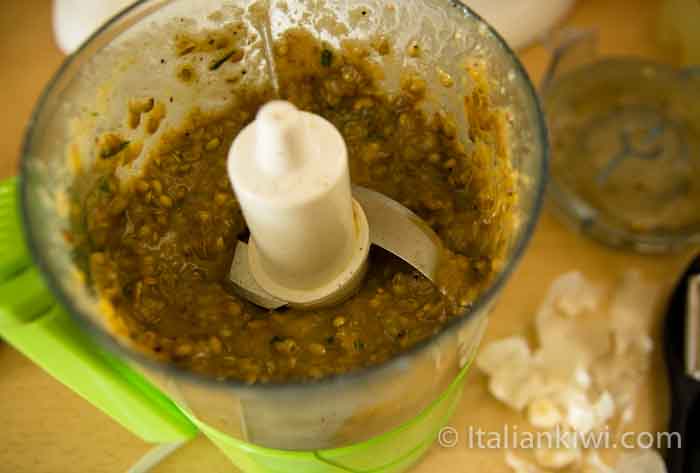 Use the anchovies!
This recipe calls for rubbing a marinade on the lamb before cooking it.  You can do it the night before, or up to 30 minutes before (it tastes the same).  I know this works, as I had to prepare everything in a hurry since we ended up having Easter Sunday lunch on Saturday instead of Sunday, thanks to the rainy weather forecast.  There are anchovies in the marinade, but for all you anchovy haters out there, please believe me that you cannot taste them at all.  I am the president and treasurer of the anchovy-hating club, and I really like this.  That comes from someone that will spit out a piece of pizza if there's even a touch of OIL from an anchovy on it!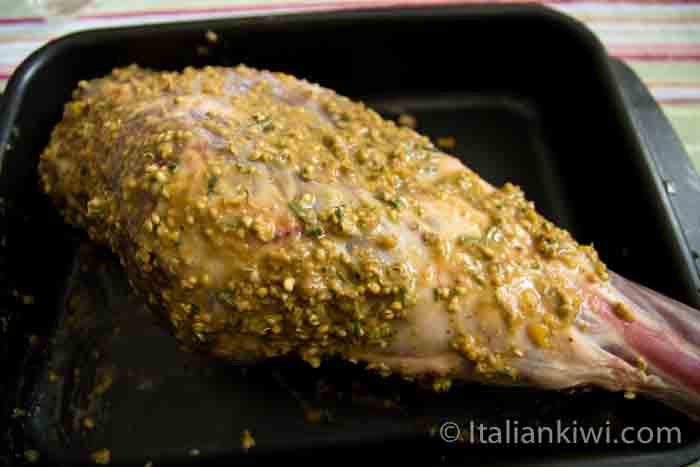 A hint for cooking lamb
Roasting a leg of lamb is a fabulous way to wow your guests.  You don't need to do that much and it turns out great every time.  The only thing you have to watch out for is not to over-cook it.  It should be pink, if not slightly bloody in the middle, otherwise it'll be as tough as old boots.
I've adapted this marinade for the roasted leg of lamb from one of my favourite blogs, Chocolate and Zucchini.  Clothilde has a bunch of wonderful recipes there, plus her cookbook is great.  I've used mine so much that it's got stuck-together pages, and is falling apart.  If you're worried about the anchovy bit (which you shouldn't be, try this recipe here instead for roast leg of lamb.)
By Lisa Watson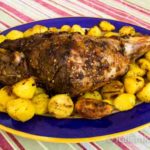 Print Recipe
Marinated and roasted leg of lamb
Marinated and roasted leg of lamb will wow your guests. this one has a secret ingredient!
Ingredients
1.5

kg

Leg of lamb

4

tsp

Coriander seeds

2

sprigs of fresh Rosemary

12

Anchovies

in oil

1/2

Tbsp

Balsamic Vinegar

from 1 lemon Lemon zest

2

cloves

Garlic

4 -5

Tbsp

Olive oil

1/2

tsp

Black pepper

1

tsp

Salt
Instructions
For the Marinade:
Put all the ingredients (except for the lamb obviously!) in a blender and whizz them together, or use a mortar and pestle to grind them up. If you have neither of those things in your kitchen, just chop everything as small as you can.

Rub the marinade over the lamb.  Wrap it in plastic wrap and leave it at room temperature for 30 minutes, or overnight in the fridge. Bring it out of the fridge at at least 30 minutes (and up to an hour) before putting it in the oven.
To Roast the Lamb Leg
Heat the oven to  220ºC (425ºF). Take the plastic wrap off the lamb and put it in a roasting dish.

Place the lamb in the oven and cook it for 30 minutes, then lower the temperature of the oven to 130ºC (260ºF).

Roast the lamb leg for another 2 to 2 1/2 hours, depending how cooked you want the lamb.  Baste the leg with the juices about every 20 – 30 minutes. If you have a cooking thermometer, push it into the thickest part of the lamb and wait until the temperature gets to 65ºC (150ºF).

Let the leg rest outside the oven for 5 – 10 minutes before carving it.
Notes
If you like, you can put tomatoes all around the underside of the lamb before it goes into the oven.
Leftover lamb is great on sandwiches with chutney, or can be minced up and used to make meatballs.  The bone can be used to make stock, so in the the end it becomes a very economical cut of meat to buy (even if it comes all the way from New Zealand!)