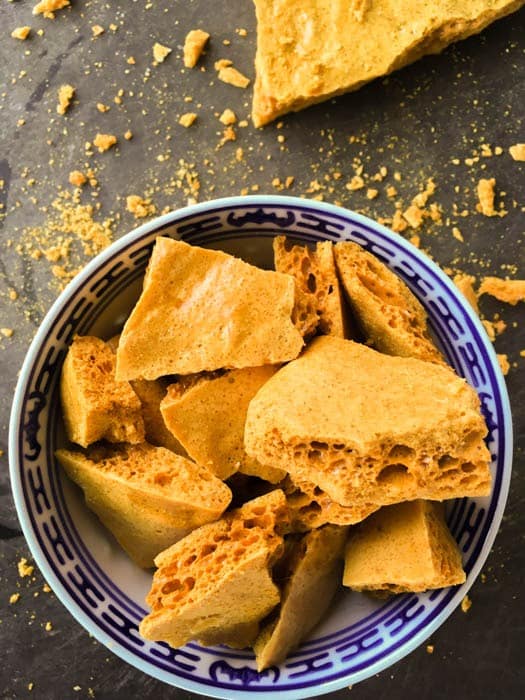 Candy surprise from Down-Under
I had forgotten all about hokey pokey until recently when we went down to visit my family in New Zealand.  Suddenly I saw it everywhere: in ice-cream, in biscuits, in chocolate and even by itself.  It's New Zealand's best kept secret (or maybe second best, after the fact that NZ has beaches to rival those in the Caribbean).  I have never seen it outside of the country. As far as I know, they don't even make it in Australia, which is astonishing as those Australians are always stealing our recipes (look at pavlova, marmite, anzac biscuits…….the list goes on).  Now, for any Australians reading this, don't worry….you still have your kangaroo meat pies and crocodile steaks all for you. 🙂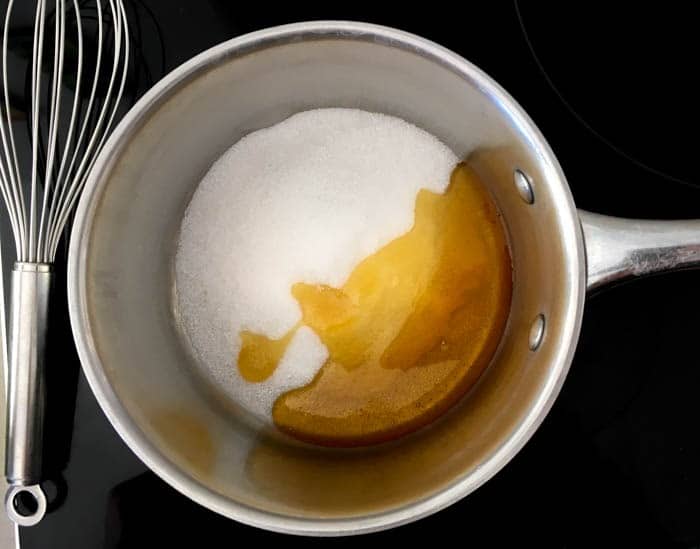 I have discovered in my travels that there is a kind of candy called honeycomb in the UK that is similar, but it doesn't seem to be as ubiquitous as in NZ. There, you find it everywhere : coated in chocolate, in ice-cream, and made at home and in school science labs all over the country.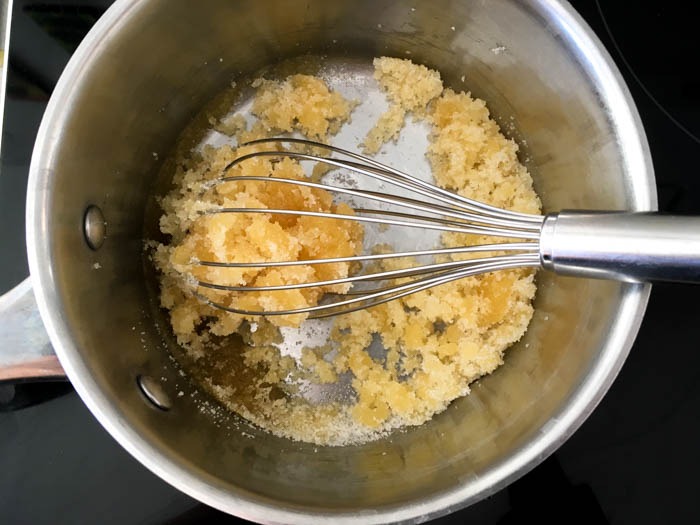 Fast and fun to make
Hokey pokey takes about five minutes to make and only has three ingredients.  It's lots of fun to make with kids as it has that "WOW!" factor when you add the baking soda to the sugar syrup.  If the baking soda is fresh, it'll foam up very impressively.  I remember making it in science class at high school to study the reaction.  Well, I mainly remember eating it, but not much about the explanation behind the reaction. The science lab bit is because of the fantastic foaming reaction between the hot caramel syrup and baking soda that you add at the end to make the holes in the candy.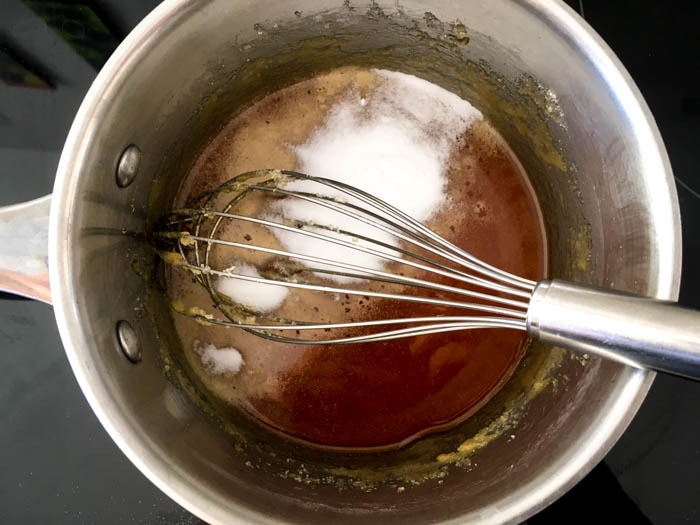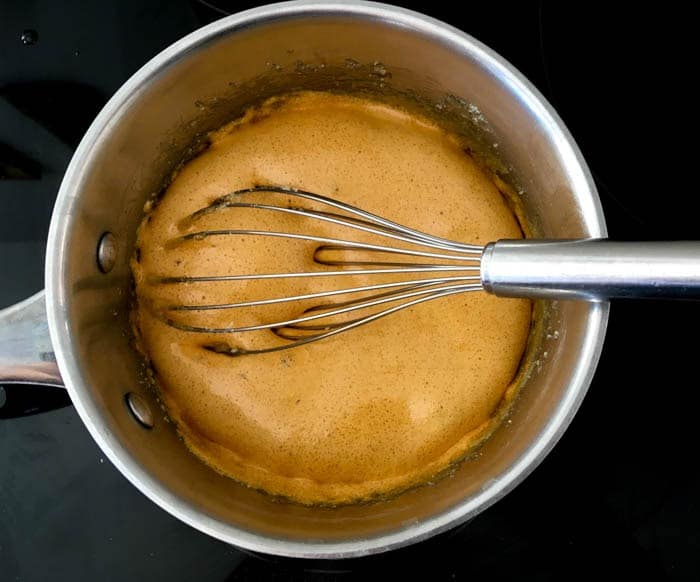 Let's do the Hokey Pokey
Hokey Pokey is also the name of a dance.  One that you probably did on camp, or when you were at school.  Some call it the Hokey Cokey, but I like to think that it's related to this sweet somehow. Maybe the original makers of hokey pokey, sang the accompanying song, "You put your right foot in. You put your right foot out. In, out, in ,out and wave it all about" while they were waiting for it to cool down.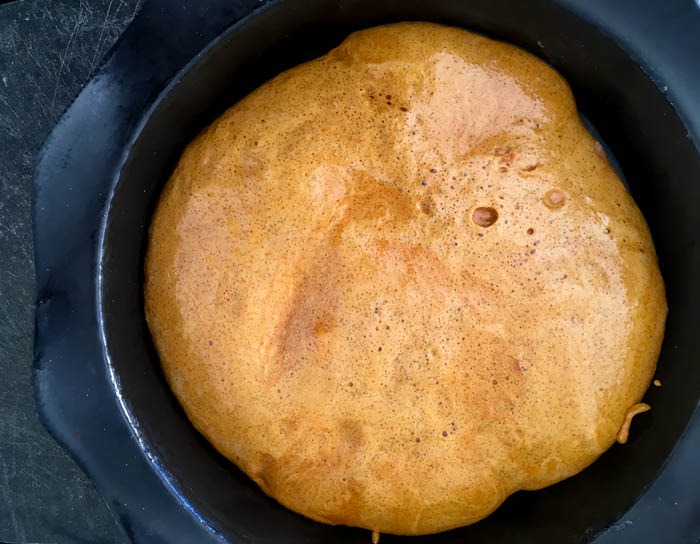 Very important tips to know
There are only a few important things to remember when making hokey pokey:
1. Stir the sugar when it's melting, otherwise it will burn.
2. After adding the baking soda, scrape it IMMEDIATELY onto a plate as it sets very quickly.
3. Don't touch it until it has cooled down, otherwise you will get burned.  It sticks to your skin very easily when its hot.
4. Wash all the tools you use to make it straight away as the caramel sticks to everything otherwise.
The last two points come from personal experience.  I tried it so you don't have to!
That's about it.  Once you've made it, it will keep for a few days in an airtight container.  You may find though that it will be already eaten after a few minutes!
If you're looking for other sweet treats from New Zealand don't hesitate to check out mothballs and russian fudge.
I'm happy to announce that my post for hokey pokey won 2nd prize in a contest on the site Instructables.  It's a fabulous site for learning how to make any sort of craft you can think of!
Contest Winner
Second Prize in the Sweet Treats Challenge
By Lisa Watson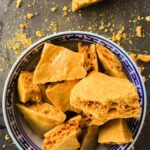 Print Recipe
Hokey Pokey Candy
A three ingredient candy and a fun science experiment, all rolled into one!
Ingredients
140

g

White Sugar

10 Tbsp

50

g

Golden Syrup

4 Tbsp

2

tsp

Baking soda
Instructions
Grease a plate or pie dish.

Heat the sugar and golden syrup in a medium-sized pot at a medium-low temperature.  Stir constantly with a wooden spoon or a whisk until the sugar has melted.

Simmer on a medium-low heat for 5 minutes, stirring continuously, until it turns a golden amber colour. If you have a cady thermometer, wait until the temperature gets to 145 – 150 degrees C (293 – 303 degrees F).

Take the pot off the heat and immediately add the baking soda.  Stir madly and watch it foam up (very exciting for the kids!).

Pour it STRAIGHT AWAY on to the greased plate/dish and leave it to become cold and set. DO NOT TOUCH IT WHEN IT'S HOT (it'll stick to your fingers and burn you).

When it has cooled, break it into pieces and eat it!