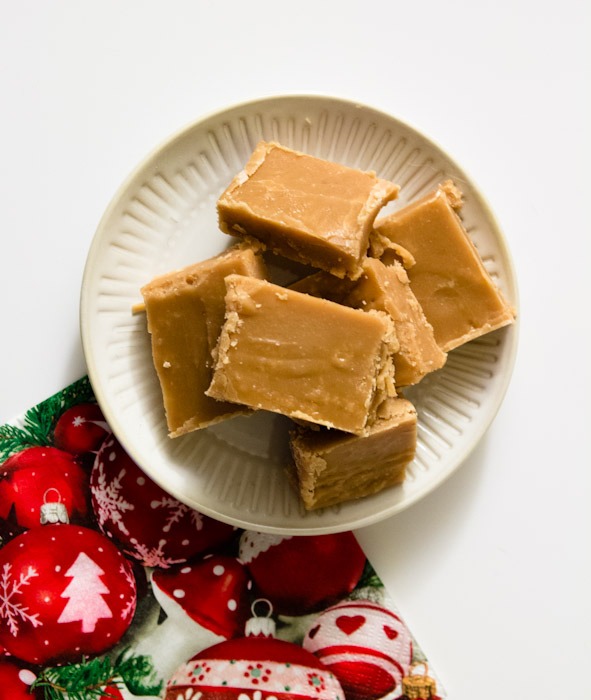 The international history behind Russian fudge
When I was a kid, my mother used to make fudge often for us.  As we got older, fudge was one of our favourite things to help her cook on a rainy weekend when there was no chance to go outside to slide around in rivers and make mud-balls (actually we also did that when it was raining), run through the fields exploring, go fishing for eels, or make tree-huts in the branches of the huge pine-trees that swayed behind the house.
Why this fudge is called "Russian" is a mystery.  If anyone can figure out why, please let me know! I'm pretty sure that this is a New Zealand recipe, but don't quote me on that, unless you're talking to an Australian, then you can argue until you are blue in the face that it's a pure Kiwi recipe and the Australians stole it. 🙂
Note: Since I wrote this post, I have talked to a French friend who spent many years living in Russia.  She made this recipe for fudge and said after tasting it that it's exactly what Russians eat as candy all the time and that it really does come from Russia!  Ha!  That's amazing that it really IS Russian originally!
The photo below shows three stages of the cooking process to help you when you are making the fudge.  The first is just as the butter is melting into the other ingredients, the second is the gentle boiling stage about 5 minutes into the cooking, the third is about the colour it should be when you take it off the heat. Have a look at the recipe instructions below on how to tell when it's cooked if you don't have a thermometer

The secret to making the perfect fudge
The secret to making it set properly is to beat it well for at least 5 minutes.  It can be a little tricky to get it right until you've tried to make it a few times.
Russian fudge makes a wonderful handmade holiday gift, or can be just an excuse to have a delicious sweet treat at home!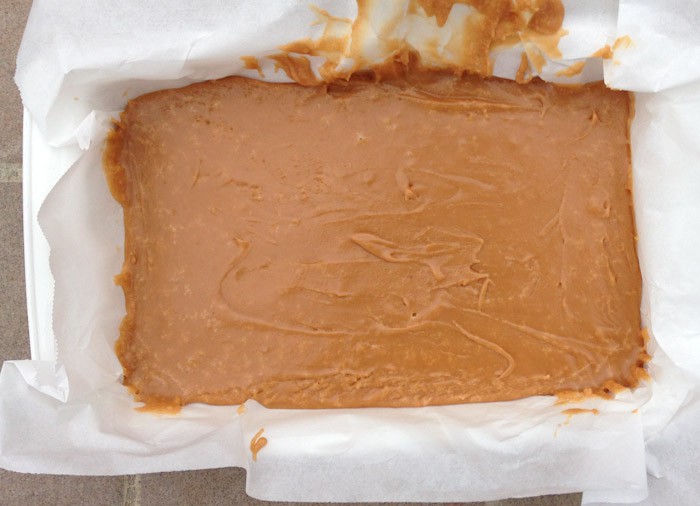 Travel photo of the week
This week's Travel Photo is of a beach called Hahei Beach in New Zealand. If you look at a map of the North Island, it's on the little peninsula called The Coromandel, which juts up from the East side of the island, just below the city of Auckland. I used to go camping all the time here with my friends.  It's fabulous for snorkling in the small bays nearby, body boarding on the waves at this beach and is as good of a place as any to eat lots of fudge!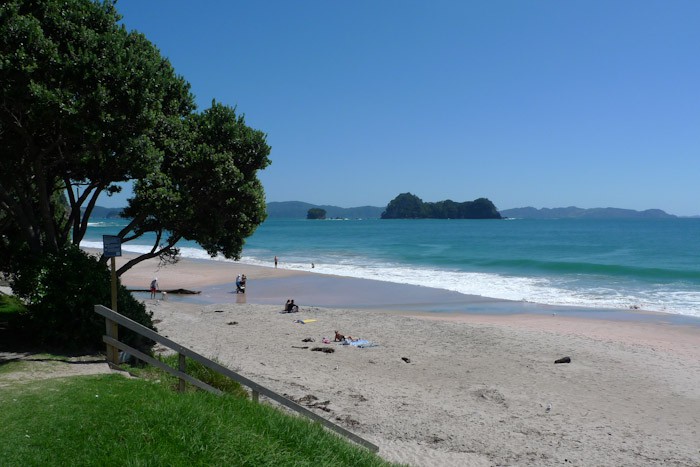 This is my last post before the New Year rolls around. We going to Italy to go skiing on stones and grass for the week if the weather doesn't change very soon. All the more reason to sit around drinking cappuccinos and eating pizza! I hope you all have a great holiday season with lots of good things to eat and drink!  See you next year!
By Lisa Watson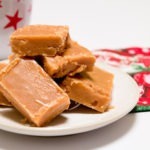 Print Recipe
Russian Fudge
A delicious sweet treat that makes a great holiday gift
Ingredients
700

g

Sugar

1 1/2 lbs

110

ml

Milk

1/2 cup

125

g

Butter

4 oz

200

ml

Sweetened Condensed Milk

1/2 can

2

pinches

Salt

1

Tbsp

Golden Syrup

1

tsp

Vanilla Essence
Instructions
Stir the sugar and milk together in a heavy-bottomed pot, then cover and heat slowly until it starts to boil.

Add the rest of the ingredients, except for the vanilla extract and stir.Put the lid back on the pot.

Boil gently at a low setting, stirring occasionally for about 15 minutes. The mixture will turn a golden-brown colour.  If you have a cooking thermometer, cook the mixture until it reaches 117°C (242°F). If you don't have a thermometer, after 10 -12 minutes, drop a teaspoon of mixture into a dish of cold water. It should set and the lump should be soft and not hold its round shape when you scoop it out of the water.

Take the fudge off the heat and stir in the vanilla extract. Leave with the lid on to cool until the thermometer reads about 80°C (175°F).  This will take about 15 minutes.

Beat the fudge with an electric mixer for at least 5 minutes, until it thickens.

Pour into a greaseproof paper lined baking dish that is about 20cm x 20cm (8 in x 8 in) in size.

Leave to set. When set, cut into small squares or rectangles.