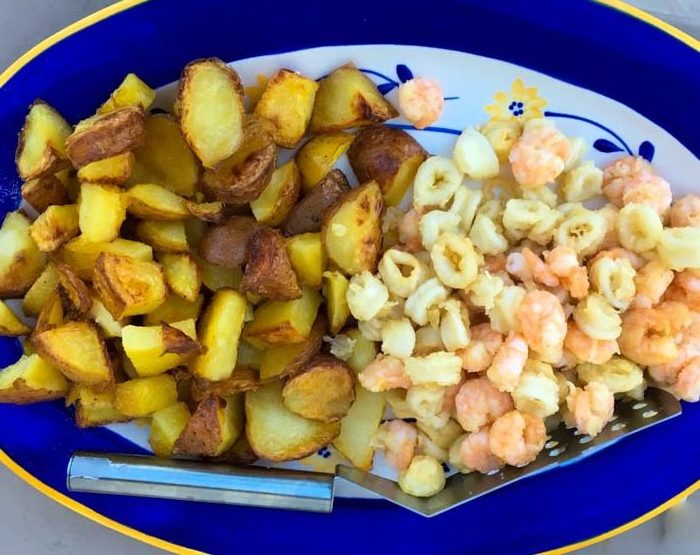 Summertime in Italy
In the Summer in Italy, people go in droves to the beach.  The sleepy seaside villages suddenly bulge at the seams with people eating gelato and drinking their morning cappuccinos under big sun-umbrellas before heading to their reserved sun-loungers on the beach for a day of swimming and sunbathing. Many Italians book the same loungers during the same week each year, which means that over the years they get to know their "lounger-neighbours".  These holiday friends can sometimes become summer friends for life, and become an integral part of the beach holiday every year. In fabulous Italian-style, large groups of people often get together to have dinner together in the evenings. One of the foods everyone loves to eat while on their beach holiday is fried seafood (fritto misto), made up of calamari rings, prawns, tiny whole fish, and tentacled tiny squid. At every beach resort you can find at least one take-out fry shop that makes them.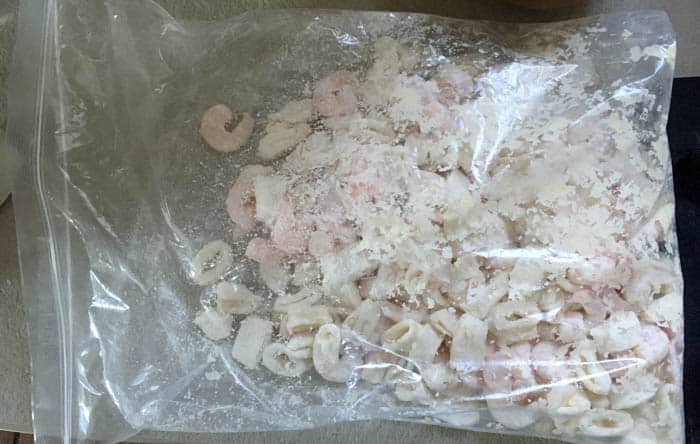 Bring beach-life in Italy to you if you can't go to Italy
We are not doing a beach trip this year, so  when I decided to make it at home to bring back memories of our beach-lounging time in Tuscany. I love the calamari and prawns, but have a little thing against tentacles, so , I  thought I would to make it just with calamari rings and a few pre-cleaned shrimp. You can mix and match your calamari bits, shrimps and little fish depending on your taste. I served mine with oven-roasted potatoes, but usually at the fry-shops in Italy, you get a big helping of french fries along with the fritto misto.
The trick to getting crispy calamari
There are a few tricks to getting the rings nice and crispy. One is to make sure they are well coated in flour, but not drowning in it.  I put my calamari in a plastic bag with the flour, then shook them out in a sieve to get rid of the excess.  The second trick is to make sure the oil is very hot, and too only cook a few calamari at one time. If you throw in too many pieces at once, it lowers the temperature of the oil and the rings will soak up the cooler oil and become soggy and greasy.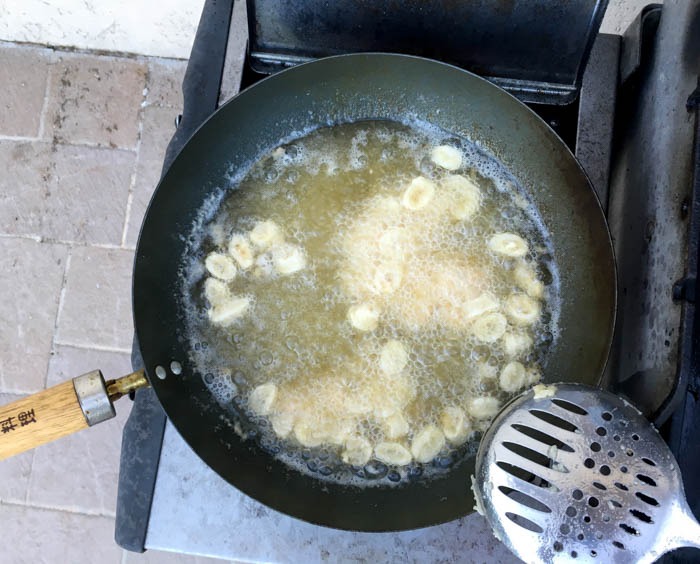 This post is part of the monthly Cucina Conversations round-up of recipes.  this month it's all surrounding fish and seafood.  Check out the posts of the talented food bloggers below to get some inspiration!
Travel Photo Of The Week
The photo this week comes from a place where I have eaten a lot of calamari fritti.  This empty stretch of beach is in Tuscany, and was taken in the middle of Summer.  We rented a house one year in an area called Roccamare, where the only easy access to the beach are from the houses hidden under the umbrella pines that stretch along the coast.  The people you see in the distance are right beside a sandy path that winds its way through the pine trees from a small parking lot to the beach.  Nobody wants to walk too far along the sand with umbrellas, kids' toys, blow-up floating things and coolers, so they all cluster around the entrance.  this was great as it meant more beach space for us!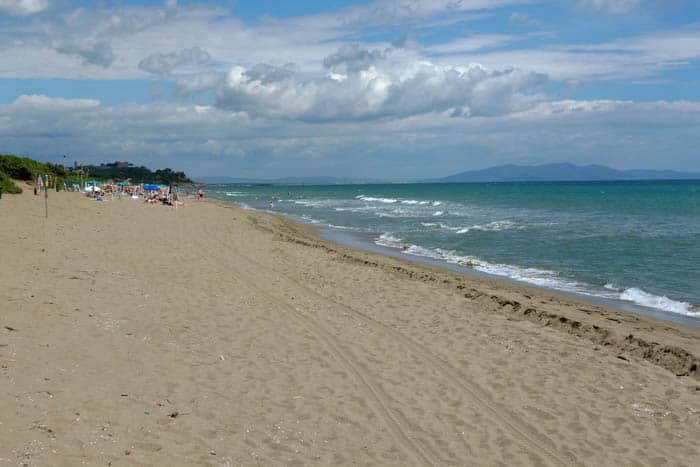 By Lisa Watson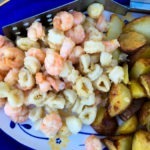 Print Recipe
Fried Calamari Rings
Making fried calamari rings and prawns will bring the taste of Italian Summer right into your kitchen.
Ingredients
500

g

Calamari rings

17.6 oz

200

g

Shrimp

optional

1

cup

Flour

Salt

to taste

Vegetable Oil

for deep frying
Instructions
Wash the calamari rings and dry them with kitchen paper-towels to remove as much moisture as possible.

Put the rings in a plastic bag with the flour and shake the bag until the rings are well covered.

Empty the rings into a sieve and shake off the excess flour.

Heat a wok or deep-fryer filled with vegetable oil until it reaches about 190 (375 F). If you do not have a thermometer, throw a cube of bread in.  If it browns within 30 seconds, the oil is hot enough.

Cook the rings in small batches until they brown.

Drain them on paper-towels and sprinkle with salt.

Serve immediately with lemon wedges.