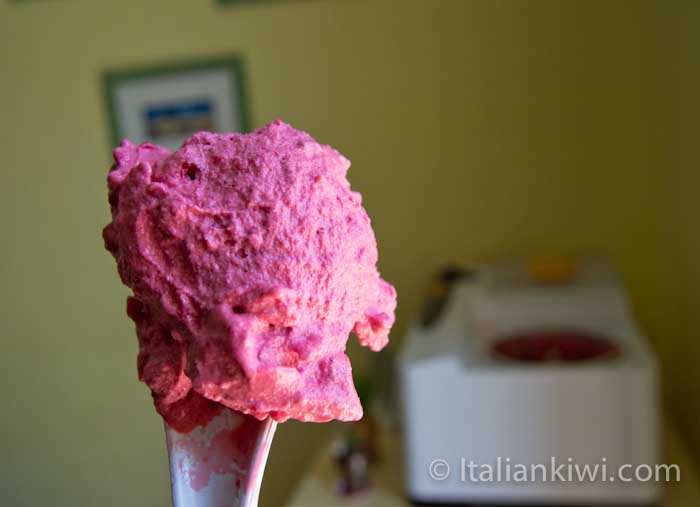 "We REALLY need to have some sorbet," my husband decided yesterday.  I had a look in our fruitbowl: three rotten peaches, 2 fuzzy apricots, some cherries and some plums, but not enough of anything to make a single flavour sorbet.  What to do?  Have you ever eaten a sorbet that has more than one fruit in it?  Maybe there is some law against it?!  "Go on," my husband said.  "Plums and cherries go well together." So, I took a deep breath and decided to do it, hoping the gelato police weren't going to rush over the nearby border from Italy and arrest me for some kind of food faux pas.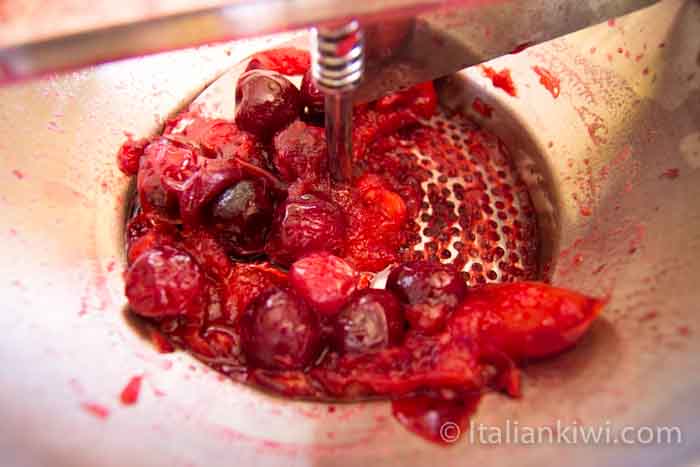 I threw some water and sugar at the fruit and cooked it for a while, then pushed it through a food mill.  I do that as I'm terribly lazy and hate pitting cherries.  I did buy a cherry pitter once, but ended up firing cherry pits all over the kitchen and leaving red indelible spots in all sorts of places.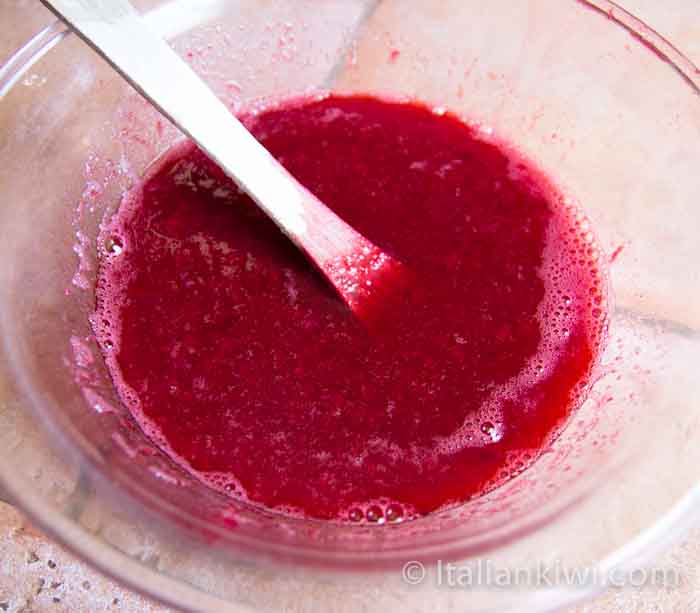 Anyway, I couldn't believe it, but the combination of cherries and plums to make sorbet was a real winner. It's some of the best tasting sorbet I think I've ever had!  the tangy-ness of the plums and the sweetness of the cherries combined fabulously, and the vivid red-pink colour they made together was impressive!  Friends who came over for afternoon tea happened to bring some juicy raspberries and blueberries with them, which we piled over the sorbet.  It was a happy accident that turned into something delicious!  All I can say is: Make it!! Don't be scared of the one fruit/one sorbet rule!  I'm standing up for change!
By Lisa Watson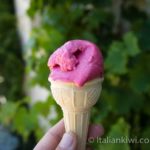 Print Recipe
Servings:
1
litre (4 -5 cups)
Ingredients
450

g

1 lb – about 6 medium sized Plums

400

g

14oz Cherries

170

g

3/4 cup White sugar

150

ml

2/3 cup Water

from 1/2 a lemon Lemon juice
Instructions
Cut the plums into quarters, removing the stone. Depitt the cherries beofre cooking them if you do not have a food mill.

Place all the ingredients in a pot and simmer them gently for 10 -12 minutes, until the cherries are soft.

Let the mixture cool, then pass it through a food-mill, or, if all the stones and pitts are removed, blend it.

Follow the instructions on your ice-cream maker to make the sorbet.  If you do not have an ice-cream maker, pour the cooled mixture into a high-sided tray and place it in your freezer.  Rake a fork through it every half hour until it becomes solid.