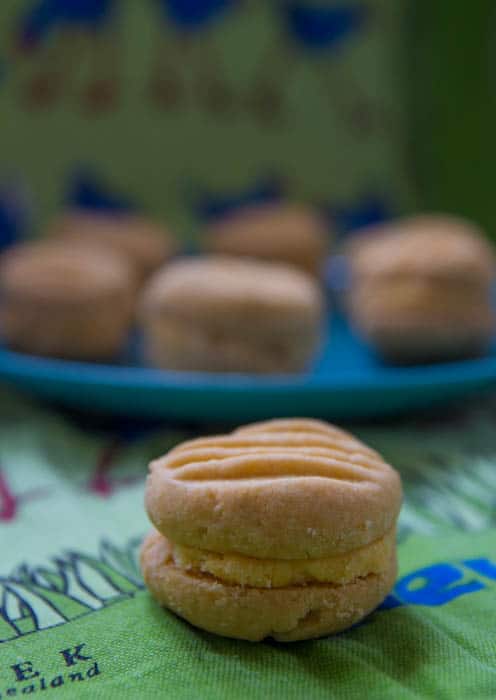 The excitement of going to town when I was a kid
When I was a kid growing up on a farm in New Zealand, we used to get to visit "The Town" a handful of times a year.  It was always a very exciting trip.  We would get dressed in our best clothes, pile into the Holden Kingswood (affectionately called the Golden Holden), and drive down the windy gravel roads towards Town, an hour away. As we got closer, the road would lose the grass ribbon growing down the middle of it and become wide enough for two cars to pass each other. Eventually, we would feel a slight bump, and suddenly the crunching, rattling sound of the tyres rolling over gravel would stop and the ride would become as smooth as floating on a cloud.  We had arrived at the asphalt!  When we were in town, one of the thrills we looked forward to was riding up and down the escalator there. Who needs a theme park when you have a moving staircase! One of my other excitements was to eat lunch at a cafe.  I would cross my fingers and make all sorts of promises to whatever entity may have been listening, that I would be good for months and not ask for a second ride on the escalator if we could have a bought lunch rather than Mum packing a picnic and making us sit in a park and eat it. When my fervent wishes came true and we did get to go  to a lunch place, we had to abide by the "Two Things" rule.  No more than two foods on your plate, one of which had to be something savoury. I almost always got a mince pie and a yoyo biscuit.  It is true that sometimes, I would go nuts and get a custard slice instead of a yoyo biscuit, but those were dark days.  Every time,when it was too late, I would realize that the yoyo biscuit was what I really wanted after all. Call it a bitter learning experience and let's leave it at that.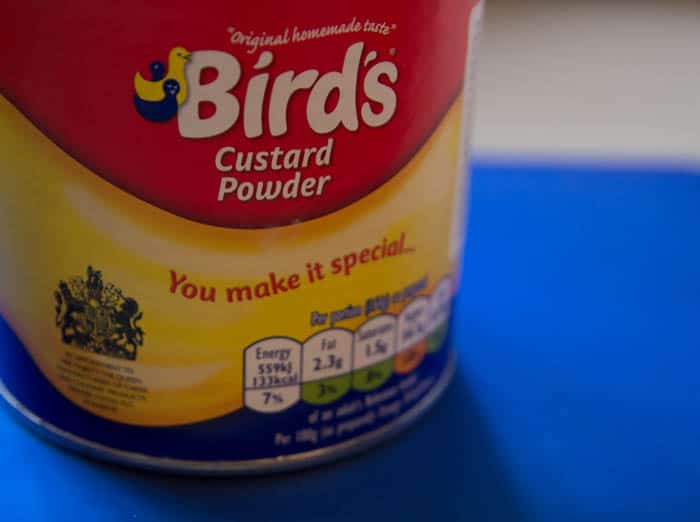 Yoyo biscuits bring back so many memories, just with one bite
It's funny how when you grow up, these small things that brought you such pleasure when you were young, like my joy at eating a yoyo biscuit, can be completely forgotten about.  In fact, I only remembered about them this week after stumbling over a recipe for them when I was looking for something completely different.  I had a sudden nostalgia to eat one and so made them on the spot. Biting into one brought all the memories and emotions flooding back. It's amazing how the taste and smell of certain things can do that to you. I felt the excitement I experienced as a kid from our town visits, and could almost smell the stale cigarette- and coffee-permeated cafe (it was before the days of smoking bans inside) as I bit into the cookie.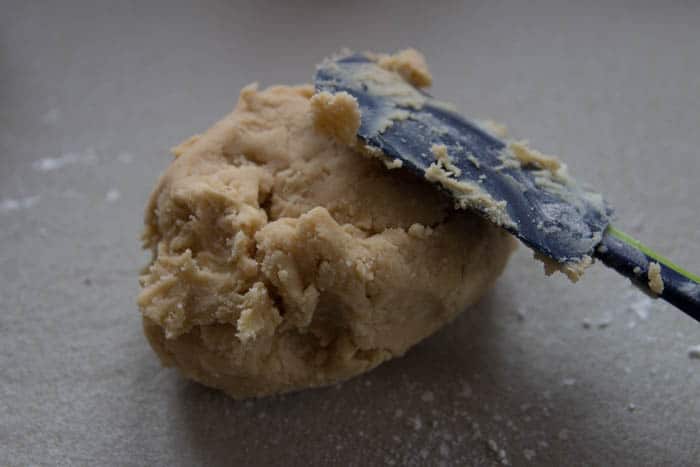 Yoyo biscuits are delicious, even in today's world
These are delicious, even without the nostalgia factor, but look away immediately if you are on, or planning to be on, any kind of diet.  Yoyo biscuits are not for the  health-conscious among us.  They are loaded with butter everywhere you look.  That is one of the reasons they taste so good!  If that doesn't scare you, then I really urge you to try them.  If it scares you just a little, make the cookies small so you get the taste, but still feel virtuous.  If it scares you a lot, you've probably left this page anyway and have gone to skim-read Facebook and scoff at what people have put up there.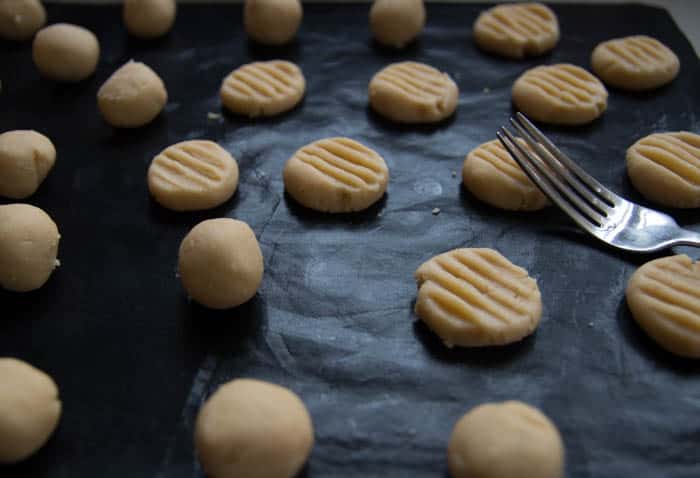 Beware the cookie stealers!
Beware when you take these out of the oven that no family members wander by and steal one off the rack when you are not looking. You'll then be left with an odd cookie with no partner. This is a serious kitchen crime which can result in banishment from the cooking area unless there are piles of dirty dishes to be washed.  Though, maybe one being stolen is a good thing as it means that you can smear it with filling and gobble it when nobody can see you. No one will even realize!
Below, I've included a photo of the filling so that you can see what sort of consistency it should have once it's mixed properly.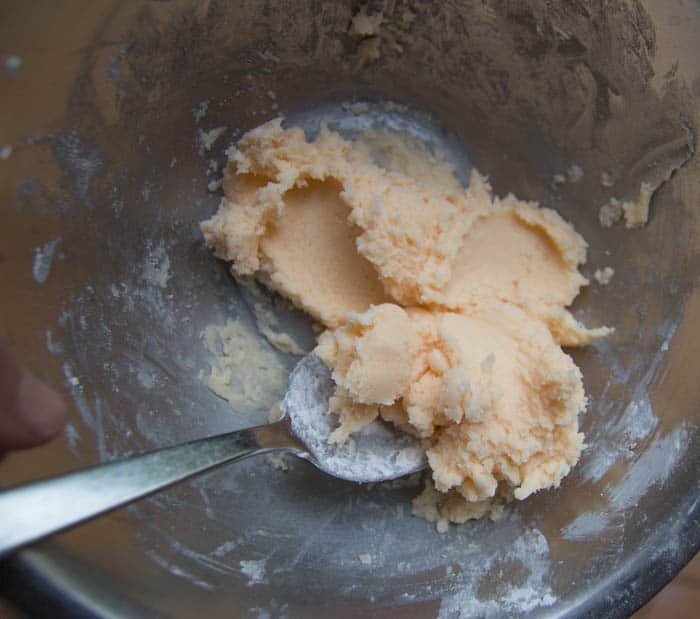 Travel Photo Of The Week
This is a short of the perils you can meet when trying to drive to town in New Zealand. I used to gnash my teeth with impatience when I was young and we were heading for town.  It always takes so long to get through these guys!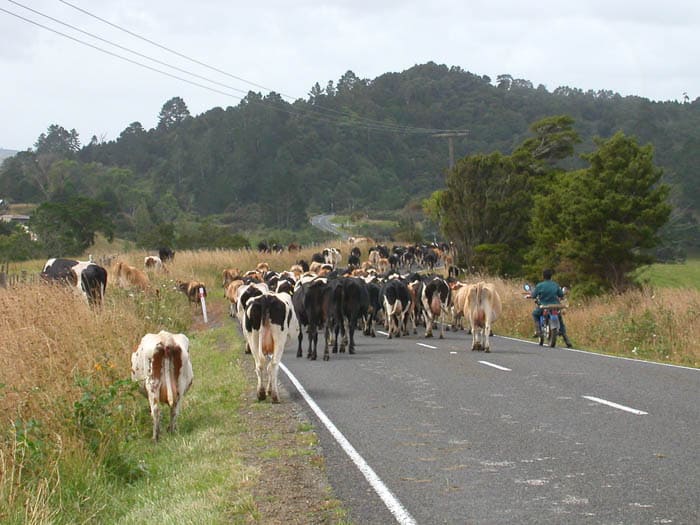 By Lisa Watson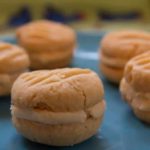 Print Recipe
Yoyo biscuits
how to make Yoyo Cookies from New Zealand. Find the perfect recipe for them on Italian Kiwi!
Servings:
26
– 28 cookies before joining
Ingredients
For The Cookies:
175

g

Butter

30

g

Icing Sugar (Powdered Sugar)

1/4 cup

1/4

tsp

Vanilla Essence

200

g

All-purpose flour

1½ cups

40

g

Custard Powder

1/4 cup
For The Filling:
50

g

Butter at room temperature

3½ Tbsp

60

g

Icing Sugar (Powdered Sugar)

½ cup

2½

Tbsp

Custard Powder
Instructions
For The Cookies:
Heat the oven to 180°C (350°F ).

Cream the butter and sugar until fluffy.

Add the vanilla essence and beat in.

Sift the dry ingredients together. Mix them into the butter mixture.

Form balls a little smaller than walnut size and place on a cookie tray lined with baking paper.

Dip a fork in water and press the cookies flat.

Bake for 15 – 18 minutes until hard to the touch.

Allow to cool completely on a wire rack.
For The Filling:
Beat the ingredients together in a bowl.

Spread one cookie with the filling and join it to another cookie of a similar size.

Allow the filling in the yoyo cookies to set a little before eating.