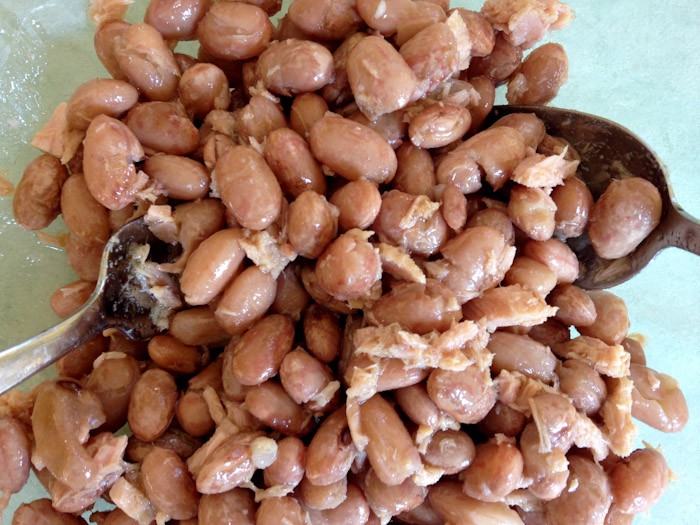 An easy meal in just five minutes!
I hope you're starting to be ready to cope with food again now, since a couple of weeks have passed since the excesses of the holidays.  Bean and tuna salad is a great one as it's incredibly quick to make and tastes delicious (of course, otherwise I wouldn't put it up on my blog!).   If you want to upmarket this tuna salad, you could always cook dried beans from scratch, buy fresh tuna steaks and grill them before cutting them into chunks and mixing them in with the cooled beans, but who has time to do all of that?! The tuna salad can be eaten as a side, a first course, or as a main meal with good crusty bread and green salad. It can be whatever you want it to be, except maybe dessert…….if you add pasta you can even make it into another recipe that you can find here.
Bean and tuna salad is very difficult to get a good photo of, so please just bear with me and trust me that it tastes really great, even if it's not very photogenic.  To make it a little less brown, you can go all out and chop a little parsley to garnish it with if you like.
Travel photo of the week
As a compensation for the uniform brown-ness of the salad, I've put in two travel photos of the week this time around.  Both are from Nice on the Cote d'Azur in France. The photo below shows the newly renovated Place Massena, which borders on the old town on Nice.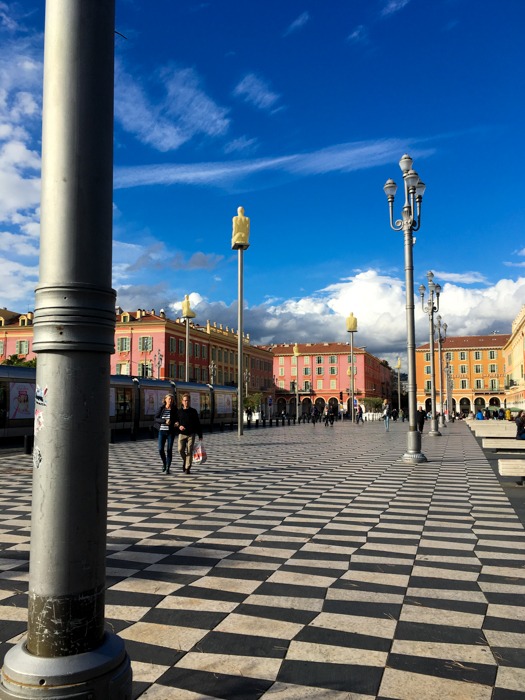 The photo below was taken in the off-season, as you may be able to see by the people in the distance dressed in coats.  This is the beach that fronts onto the old town of Nice.  In the Summer, it is plastered with lounging people in various states of undress. We like to go in the Fall and Winter so that the kids can throw stones into the sea without hitting anyone in the process.  They just have to watch out for old ladies in flower-studded bathing caps who slowly breast-stroke their way through the sea at all times of the year.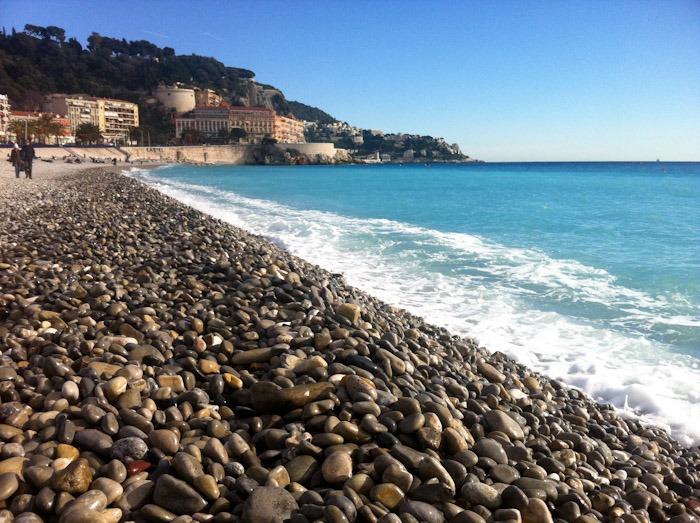 By Lisa Watson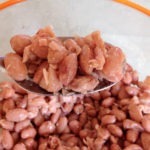 Print Recipe
Borlotti bean and tuna salad
For a quick lunch with crusty baguette or a delicious side, try Italian borlotti bean and tuna salad .
Ingredients
1

can

Tuna in olive oil

1

can

Borlotti or Cannelini beans

2

Tbsp

Red Wine Vinegar

2 – 3

Tbsp

Good olive oil

Salt and pepper

To taste
Instructions
Drain the tuna and beans.

Break the tuna up into small chunks.

Put all the ingredients into a bowl and mix.

Cover and keep refrigerated until needed