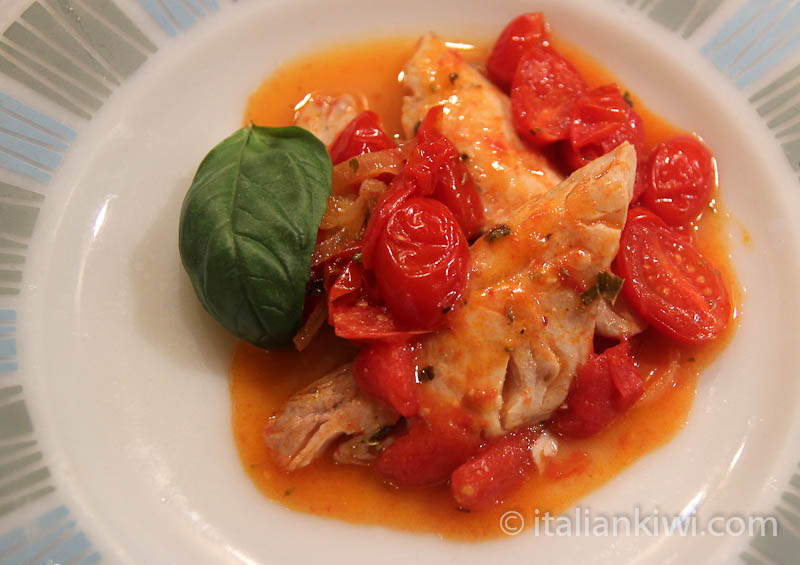 A mullet by any other name tastes the same
The fish used in this recipe is a pretty little reddish/pinkish fish is called triglia in Italian and rouget in French.  Nice names, aren't they?  Well, do you know what someone way back when decided to call it in English?  Red Mullet!  What an awful name!  I mean, Honestly! If you had a choice of eating something called triglia or something called mullet, what would you choose?  I know where my taste would lie!  Yes, I know in the end it's the same thing, but mullet doesn't sound very appetizing.  It just reminds me of high school when the word "mullet" was slang for an ugly, stupid person, OR just as bad, it was the name of that horrible haircut from the 80's that was short on top and long at the back…..well, I have to confess (and this is going to date me)….that I had a kind of "mullet" back then: the kind with a perm on top and straight and long at the back (thank goodness digital photos didn't exist, so there's hardly any evidence).  I was trying to be just like the coolest-of-cool Sheena Easton and Pat Benetar…..who? Just look them up on Wikipedia if you don't know……then you will see how cool….hmmmmmm….or not they are……OK, so I was a teenager.  Not my fault, OK?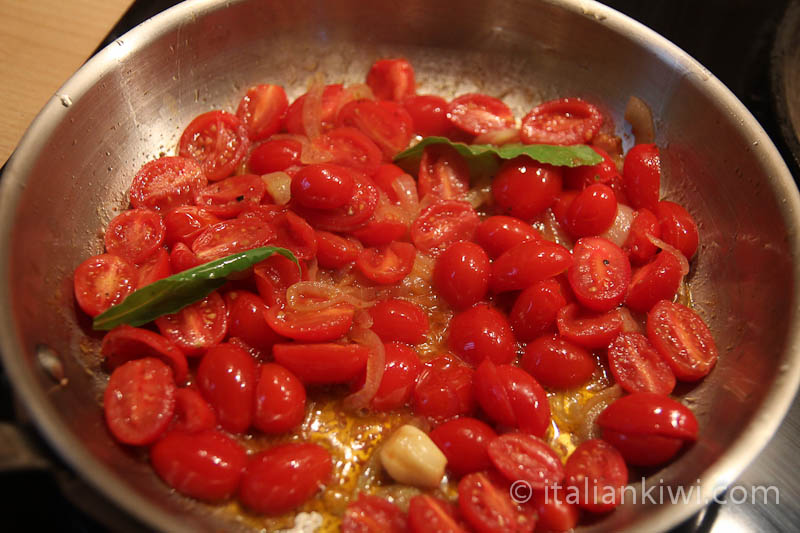 Subsitutes for red mullet
Triglie (the plural of triglia) live in the Mediterranean Sea and North Atlantic, and according to one article I read, don't travel well once they're caught. Well, of course they don't….they're dead!  If you don't live anywhere those seas, don't despair!. I did a little research and people suggest that you can use snapper, sea bream, or sea bass as a good substitute. These fish have been a prized delicacy since Roman times.  And here I was thinking that the Romans only ate cheese fondue and grapes (or so I was lead to believe by reading Asterix The Gaul comics when I was a kid). If you go to the West Coast of Italy one day, you'll quite possibly stay in Livorno.  Make a point of having a look at it before you rush further South, and eat a dish of Trigle alla Livornese for me!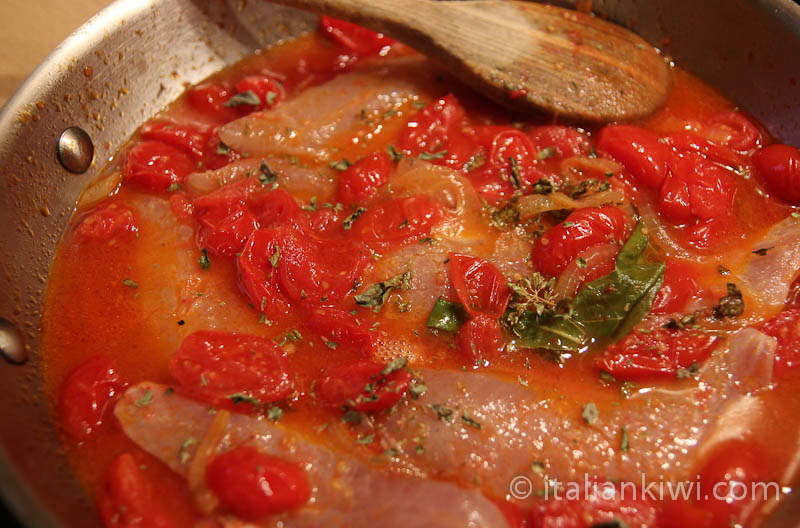 Travel photo of the week
The photo above is part of the sensational, wild coast near Livorno on the West coast of Italy where triglie hang out, and rightly so.  It's an incredibly beautiful part of Italy. If I were a fish, I would like to love there too!  Livorno, where this recipe comes from, is a beautiful town, but tends to get overshadowed by the even more beautiful countryside surrounding it and the coastline just to the South of it called the Cinque terre: 5 tiny fishing villages, that only recently became connected by road.  When I first went there mumble-mumble years ago, you could walk or take a train, or a boat  between them.  I still remember my intrepid friend and I getting lost in the terraced vineyards, somewhere high above one of the villages and having to unglamourously slide down a metal funicular track they used to move farm equipment on a little wagon from one terrace to another, so that we could get to the village.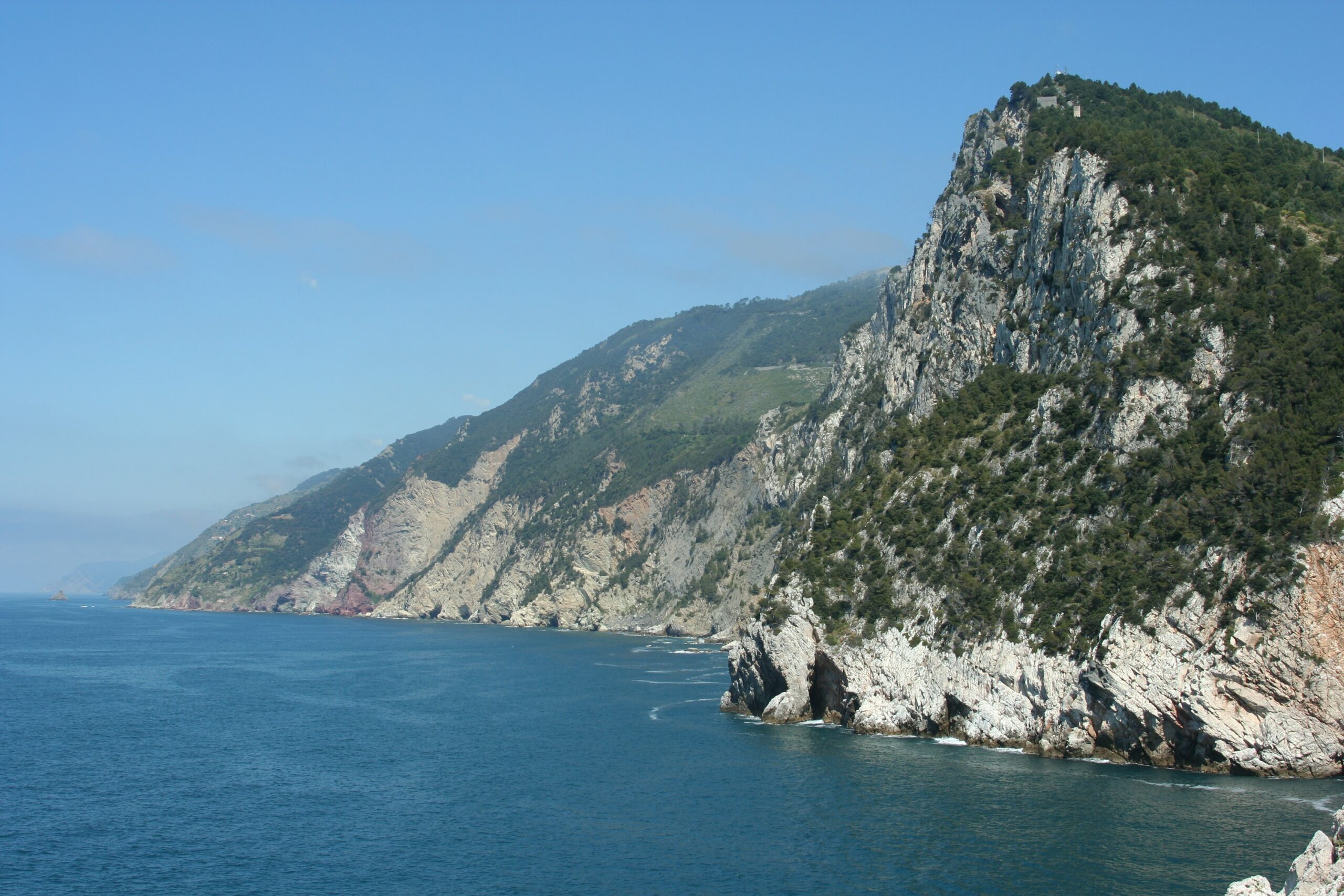 By Lisa Watson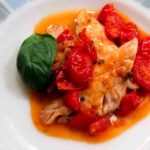 Print Recipe
Red mullet with tomatoes
How to make Triglie alla Livornese (Red Mullet with Tomatoes)
Ingredients
8

red mullet fillets

approx. 500g / or 4 – 6 cleaned whole fish

1

Onion

500

g

cherry tomatoes

or 3 large tomatoes

1

Bay leaf

1

clove

garlic

whole

125

ml

Dry white wine

1/2 cup

Italian parsley

to taste

salt and pepper

to taste
Instructions
Slice the onion finely and peel the garlic.  Saute in olive oil over a medium heat until the onion becomes translucent.

Chop the cherry tomatoes in half, or peel and chop the larger tomatoes.  Add them to the onions. Add the bay leaf and let the mixture simmer for 10 minutes, stirring occasionally.

Add the fish fillets, skin side down, or whole fish, and the wine salt and pepper.  Let simmer on a medium low heat until the fish is cooked through (this won't take long: about 5 minutes).  If using whole fish, the cooking time will be a bit longer.  You should turn them over halfway through the cooking time.  If the mixture starts to dry out, add a little more wine.

Chop the parsley and sprinkle it over the top when the fish is ready.