The history behind the making of Trappe d'Echourgnac cheese
This cheese is very special as it is made in a monastery in the Dordogne region of France and nowhere else!
The brown colour on the rind is there, as the cheese is washed with a walnut liqueur.  You eat it with the rind on, and get a wonderful smokey walnut taste with the cheese. The cheese was first made in the 1800's by the monks living in the monastery.  They used milk from the farms of locals and helped the farmers improve their herds and milk quality.  At the beginning of the 1900's, the monastery was closed.  Who knows where all those cheese producing monks went?  When it was reopened again a few years later, it was rechristened as a nunnery.  It was the inspired idea of the nuns who continued making Trappe d'Échourgnac,to wash the cheese with walnut liqueur in 1999. Maybe they had too much walnut liqueur on their hands that year, and didn't know what to do with the rest of it. Anyway, they had such a big success with it, that they have since allowed the Abbaye Notre-Dame de Timadeuc to also use the recipe, so that they can increase production of the cheese.  When it comes from this abbey it is called Timanoix.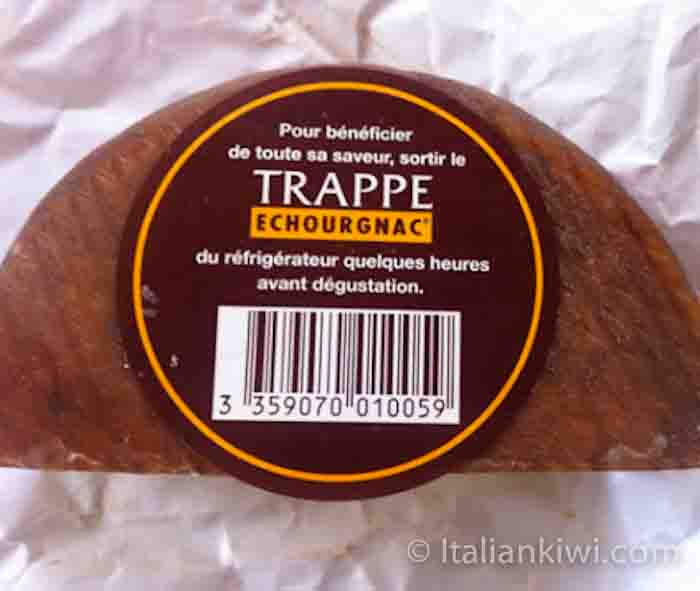 What does Trappe d'Echourgnac taste like?
The cheese is made from cow's milk and is a pasteurized cheese, so it's possible that you may be able to get it outside of Europe. Trappe is not mild and not strong: somewhere is between.  It has a smooth consistency similar to that of Gouda when you chew it. You can definitely taste the walnut notes when you eat it.  It is, of course, eaten with the crust on it.
Unfortunately, I haven't been there (yet!), so I don't have a photo of the area, but if you want to go to the source of Trappe d'Échourgnac, it's about 100 km North-East of Bordeaux in France. I skipped through Bordeaux a long time ago, but at the time I didn't know about this cheese.  Next time, I'll visit the monastery, for sure!
By Lisa Watson