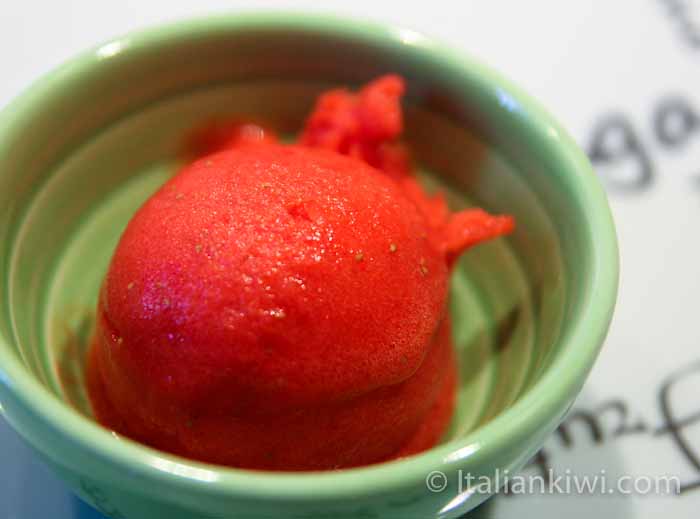 What to do with strawberries during strawberry season
It's strawberry season!!  Yahoo!!!!!  The first strawberries that appear in the shops where I live in France are called gariguette. It's when you know that Spring is really here: well, that and because of all the cars with foreign number plates from Northern parts of Europe that start to show up on the roads around here.  I'd never tasted these strawberries before I moved to the Cote d'Azur, and it's almost enough of a reason to never leave!  They're grown around Avignon, not far from us. They're only in season for a short time, so I've been making the most of them.  When we've had enough of eating them fresh (yeah, like that'll ever happen!), I make sorbet with them, and when there are REALLY a lot of them, I will even stir myself to make jam. Nothing like homemade strawberry jam on toast in the winter to make you dream of Spring….though it's usually finished long before Winter gets here……so, instead we have to look out at the rain or snow and dream of the strawberry jam we would've been eating if we weren't so greedy in the Summer.
Why you should use some strawberries to make sorbet
A few years ago my Italian family gave me an ice-cream maker for my birthday…..I think they had an ulterior motive actually, but nobody's owned up to it yet.  It's totally worth the space it takes up in my kitchen!  It's got a freezer inside it so if I decide to make ice-cream on the spur of the moment, I can. And, exactly for this reason, when we just had too many strawberries to eat in one go, I decided to make strawberry sorbet.  This recipe doesn't actually come from an Italian, but it's so good that I have to share it!  It's an adapted version from a wonderful book on making ice-cream called "The Perfect Scoop" from one of my cooking heroes, David Lebowitz. You can tell I use the book a lot as it has smears of (mainly) chocolate all over it!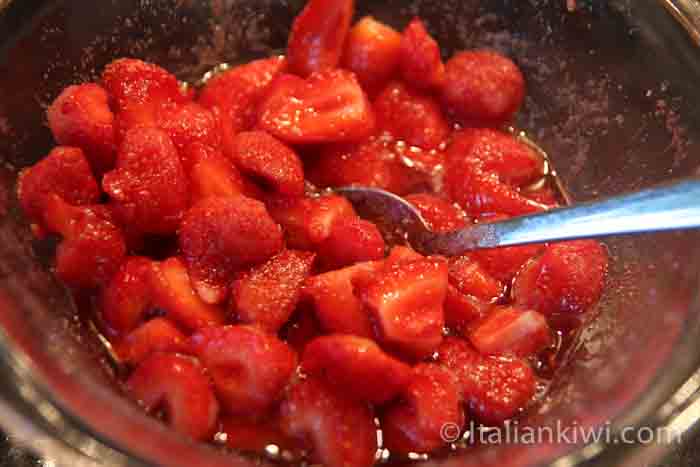 The beauty of this recipe is that it showcases the fruit as there's pretty much nothing else in it.  The flavour of the strawberries becomes more intense with the maceration with the sugar.  I didn't think it was possible for these strawberries to taste more like strawberries than they already do, but there you go, I learnt something!
Travel Photo of the Week
This was taken on a bright Spring day after a day of rain.  It's close to home this time on the South-East coast of France near where I live.  The area is spectacular because of the red rock you can see.  With the blue of the sea and the brightness of the earth here, it almost looks like some child's over-the-top colourful painting!  I cross my heart, hope to die if I tell a lie that the colours are really like this!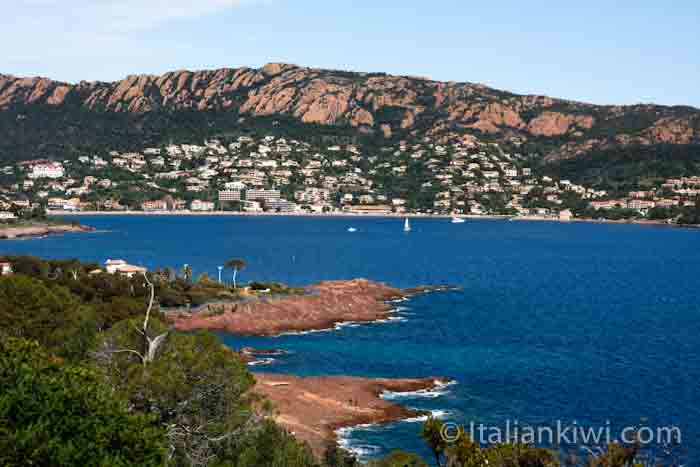 By Lisa Watson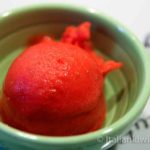 Print Recipe
Strawberry Sorbet
Nothing better than Italian strawberry sorbet to cool you down!
Ingredients
500

g

Ripe strawberries

1lb

175

g

White sugar

2/3 cup

1/2

lemon

Lemon juice
Instructions
Wash and half the strawberries.

Stir in the sugar until it starts to dissolve a little then leave the strawberries for about an hour to form juice. Puree them and add the lemon juice.

Throw the mixture in your ice-cream maker, if you have one, and follow the directions for the device.  If you don't have one, you can also put the mixture in ice-block forms and freeze in the freezer.  They come out, well, like ice-blocks, but taste really good anyway.