What not to put in Amatriciana sauce
There was a huge kerfuffle in Italy recently when a famous chef made Spaghetti All'Amatriciana and put onions in it.  The crowd went wild (in a bad way) and there was nearly a lynch mob sent out to get the chef.  That's how seriously the Italians take their food.  So, it is with trepidation that I actually put this recipe up on my blog.  I often make Spaghetti All'Amatriciana the non-traditional way and actually put onions into the sauce, but please, please……don't spread the word around!  Let's keep that one between you and me and the lamp-post…..
Where does Spaghetti all'Amatriciana come from?
What is an Amatriciana anyway, I'm sure you're asking.  It's actually not a thing, but a place. The sauce comes from a village called Amatrice (said Ama-tri-chae"), which is in the province of Lazio, in the centre of Italy.  I haven't actually had the pleasure of going there yet, but I plan to one of these days, so that I can visit the beautiful village and, of course, eat the real spaghetti all'Amatriciana. I didn't realise that I had come so close to Amatrice until I started doing a little research for this post. I'm now kicking myself that I was only a couple of hours away a few years ago when I went to visit a fabulous village called Todi. Well, I guess it gives me a good excuse to go back that way again!
One of the main ingredients of the Amatriciana sauce is a cured kind of meat called guanciale, which is made from pig cheeks. For all you Americans out there, I see on wikipedia that it is similar to "jowl bacon".  If you can't find guanciale, just go ahead and use thick-cut bacon as a replacement.  Just don't tell any Italians that you did that!
Travel Photo of The Week
Since I mentioned the closest place in Italy I've been to that's not Amatrice (but nearly!), I thought I would feature the village of Todi in Umbria  this week . The village is very beautiful, and as you can see from the photos, there is a fabulous view stretching for miles all around it.  If you are ever in Italy on the way to eat Spaghetti all'Amatriciana in Amatrice, stop by Todi on the way.  It's really worth a visit!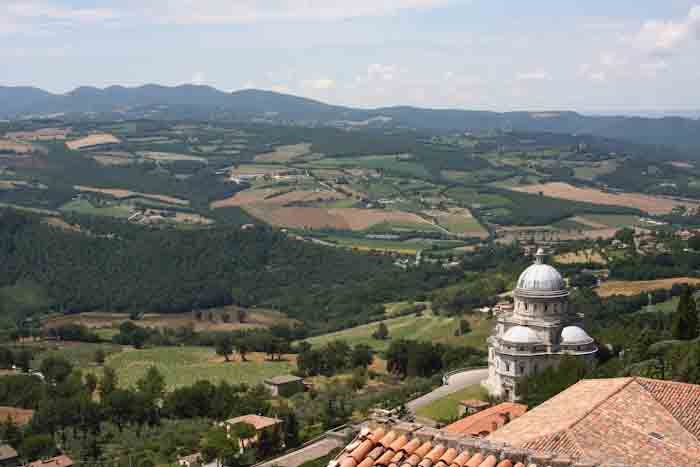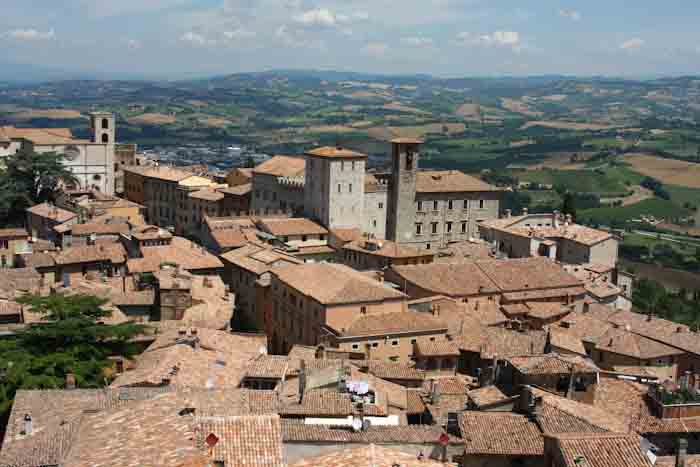 To find out how to cook pasta like an Italian does, check out my handy guide.
By Lisa Watson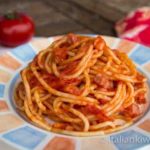 Print Recipe
Spaghetti All'Amatriciana
How to make the real Spaghetti All'Amatriciana
Ingredients
400

g

Spaghetti

14.1 oz

75

g

Guanciale or bacon

2.6 oz

300

g

10.6 oz Fresh tomatoes (or tomato pulp)

¼ – ½

tsp

dried Peperoncino flakes

or 1 fresh

Pecorino Cheese

to taste
Instructions
Boil the water for the spaghetti and cook re packet instructions.

Heat 3 Tbsp of olive oil in a frying pan. Add the guianciale (or bacon) and sauté until browned.

Chop the fresh peperoncino (or add the dried flakes).

Turn the heat to low and add the peeled, deseeded and chopped fresh tomatoes, or tomato pulp.

Let the sauce simmer until the pasta is cooked.

Drain the pasta and add it to the sauce.

Grate pecorino cheese on top, and serve immediately.