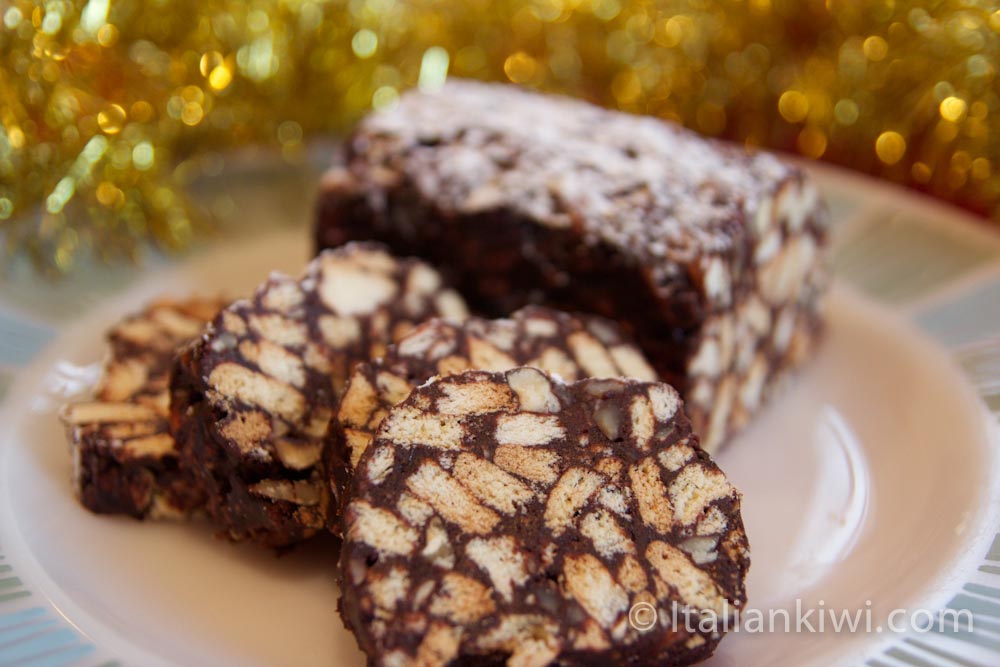 A sweet recipe passed down over generations
This recipe for Salame dolce comes from my mother-in-law, who used to make it with her grandmother when she was a little girl. And who knows where her grandmother got it from…….she probably made it with some relative or other when she was small, so we can safely say that this is the real deal as far as authentic Italian recipes go!  Well, at least for this Italian family.  I know there are plenty of versions of salame dolce out there with slightly varying ingredients.  And for each of those recipes, there will be an Italian behind it swearing and declaring that theirs is "THE" recipe for making salame dolce, so to stop any scuffles before they even start, I plant the flag and declare this recipe to be Salame Dolce di Nonna Benedetta.  Let's hope there are no other women out there who are grandmothers and are called Benedetta and who have a special recipe for salame dolce, otherwise I may be getting myself into an indignant "I was here first" fight after all!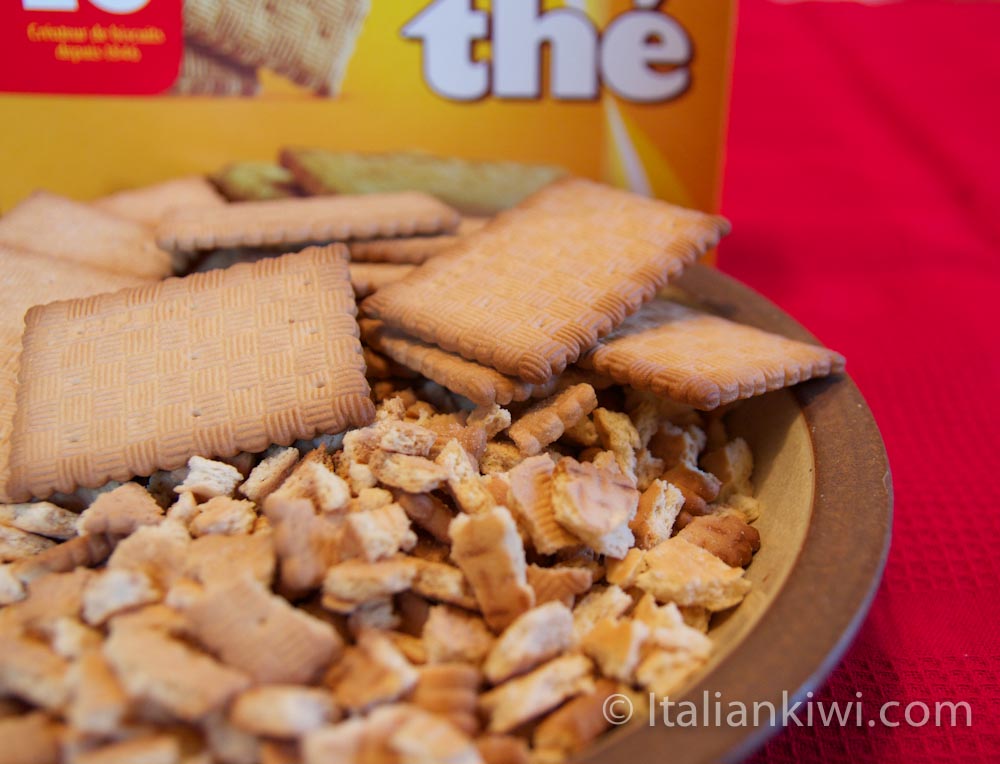 Salame dolce has nothing to do with salami
Salame dolce, as you have probably already worked out, is translated as "sweet salami" in English.  It's called that as it is formed into a roll, and when you slice it, the chunks of biscuits in it make it look like salami. It is extremely easy to make and is made for Christmas, which (sorry to be so obvious!) is why I'm putting it up right now. 🙂  I figured I'd better get Christmassy since we've already got the Christmas tree and the kids have decorated it in an artful way to make it look as though the tinsel fairy threw up all over it.  Actually, if we'd put a broomstick up with some hooks on it for the tinsel and decorations, you probably couldn't tell the difference since you can't see the green of the tree anyway! Oh, by the way, I hear from much trendier friends of mine that tinsel is not "in" this year…..on your head be it if you buck the trend.  I've decided to be "retro".  That's considered cool in a weird way………isn't it????? ( oh, now I've given the game away.  It's SO obvious now that at school I was in the "out" group…………..though what always bugged me at school was that the "out" group was much, much bigger than the "in" group…….).We were in the majority, for goodness sake!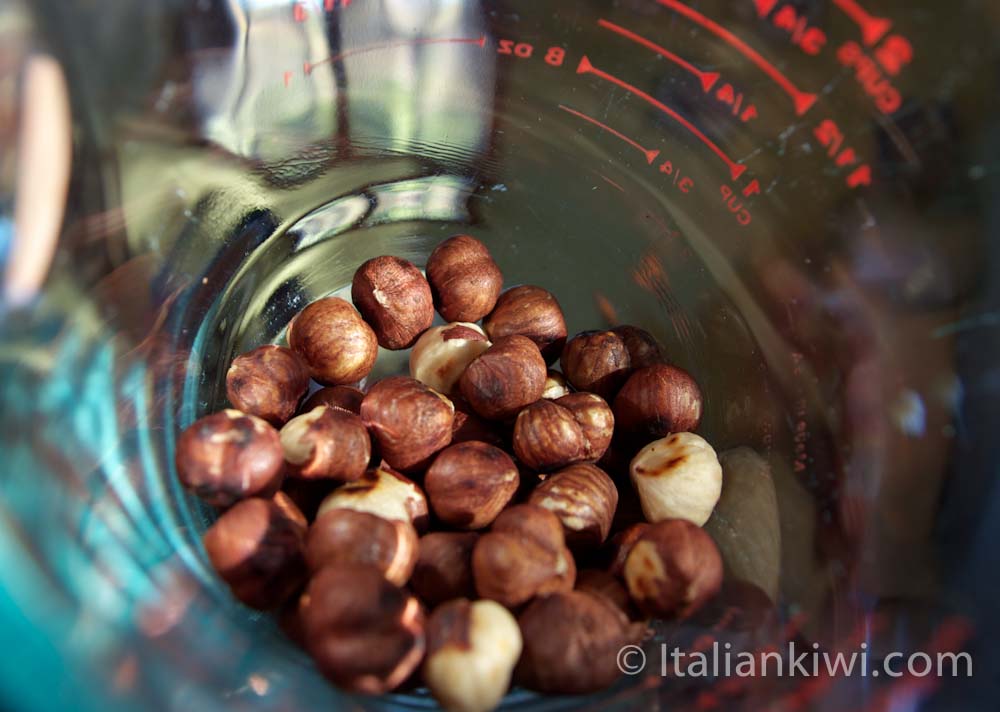 Pre-delusion about a panettone making class I did
Exciting news (for me anyway!!) before I get on to the recipe: I'm going to Turin this weekend with my friend, Giulia, to do a
panettone making class.
 I plan to come back with all sorts of tips and tricks on how to make it, which I will be sharing with you ( which, at the rate I'm putting up recipes at the moment, may be in just time for Easter to make the 
Colomba di Pasqua
) :). I also plan to stuff myself with whatever good food I can lay my hands on while I'm there (as per usual), so I will probably be rolling home, like the "Old Man" in the English nursery rhyme. O.K., enough drivel from me.  Let's get on to the recipe!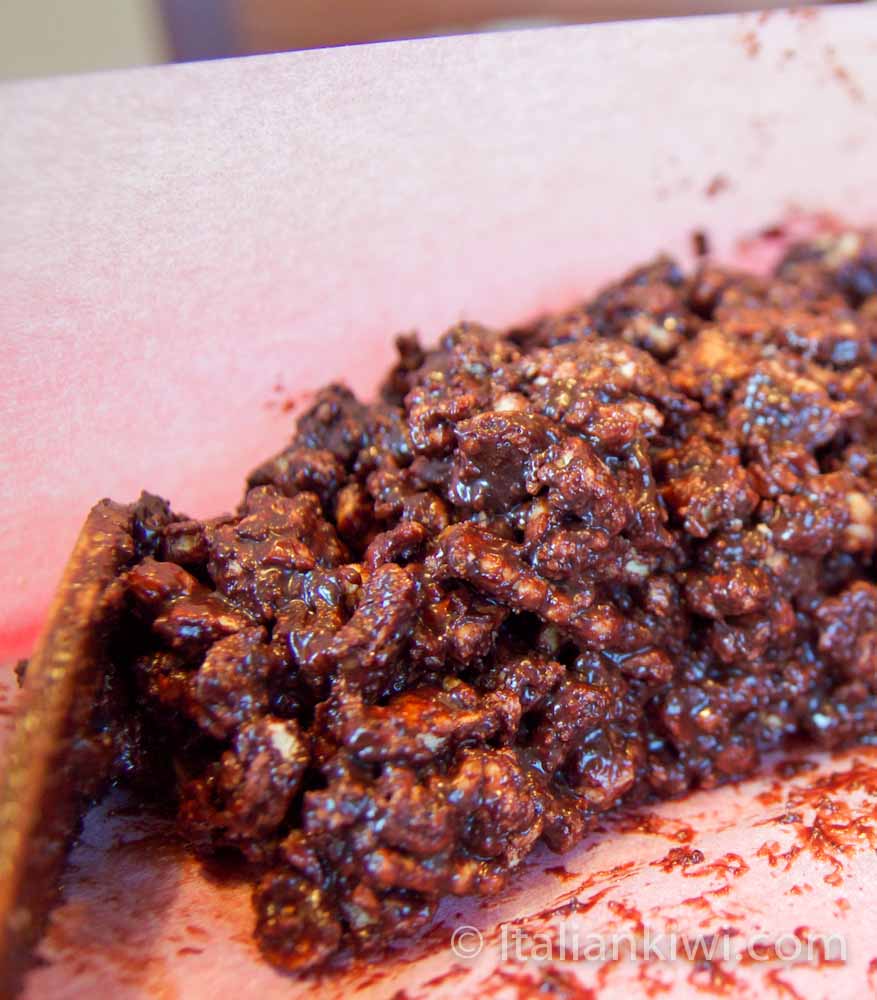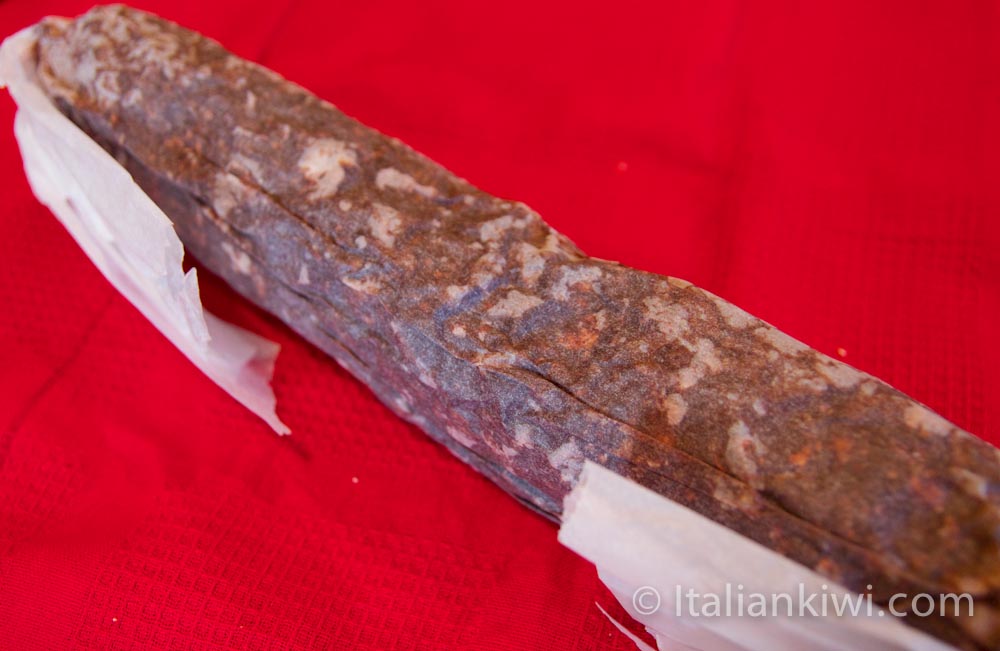 Notes on making salame dolce
Ha…me again….fooled you….you thought I'd actually stopped blabbering, didn't you!…..this is just a quick note before you start.  Get super-fresh eggs to make this as you don't want to risk giving the gift of Salmonella…..if you're worried about the eggs not being cooked, you can make it without, but double the amount of butter to help it all stick together. And, maybe add about 50 – 60g of melted chocolate to make the mixture a bit wetter. Also, one last thing, and then I promise I will leave you alone: use the driest, least-buttery biscuits you can find.  It was a tall order here in France as all biscuits seem to be dripping with butter, but it didn't work out too badly with the Lu tea biscuits.
By Lisa Watson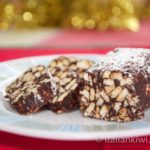 Print Recipe
Salame dolce
An Italian recipe passed down over generations for a chocolate and cookie Christmas treat.
Ingredients
100

g

Granulated sugar

6 Tbsp

2

Fresh eggs

30

g

Unsweetened cocoa powder

3 Tbsp

50

g

Butter

3.5 Tbsp

200 – 230

g

Tea biscuits

7oz , one packet

100

g

Hazelnuts

1/2 cup
Instructions
Melt the butter and leave to cool a little.

Toast the hazelnuts in a dry frying pan for 4 – 5 minutes, stirring often. Coarsely chop them. I cheated and used my mini-blender for this, rather than do it by hand.

Whisk the sugar and eggs together until the mixture is smooth.

Add the cocoa and melted butter.  Mix in.

Break up the biscuits into small pieces.

Add the hazelnuts and biscuits.  Mix until everything is well-coated in the chocolate mixture.

Pour the mixture out onto a piece of baking paper and form in into a long log.

Wrap the log firmly in the paper and put it in the fridge for at least 4 hours to harden.

To make it prettier, you can sift icing sugar over it before you slice it.
Notes
Important note: As this recipe has raw eggs in it, the eggs need to be as fresh as possible and the salami should be kept in the fridge and eaten within a few days of making it.