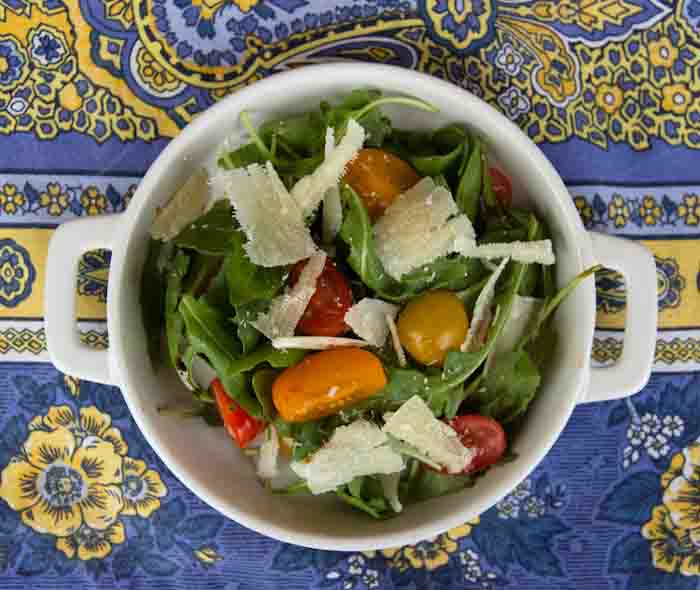 I'm in salad mode right now, as you can see from my pasta salad post last week, and now this rocket salad post this week!  The weather's getting warmer all the time and my tiny tomato plants that my neighbour gave me are starting to actually look as though they're not going to die, so things are looking up!  I remember eating this salad made of rocket, tomatoes and shavings of Parmesan cheese for first time in Santa Barbara, California, of all places, although the salad is a very Italian one.  The restaurant we went to whenever we had the chance to visit Santa Barbara was (and maybe still is) a very good Italian one on the main street.  If you're ever in Santa Barbara, it is about halfway up the street on your right if you're facing away from the sea.  I can't remember the name of it for the life of me, but it was extraordinarily good.  I hope it's still there!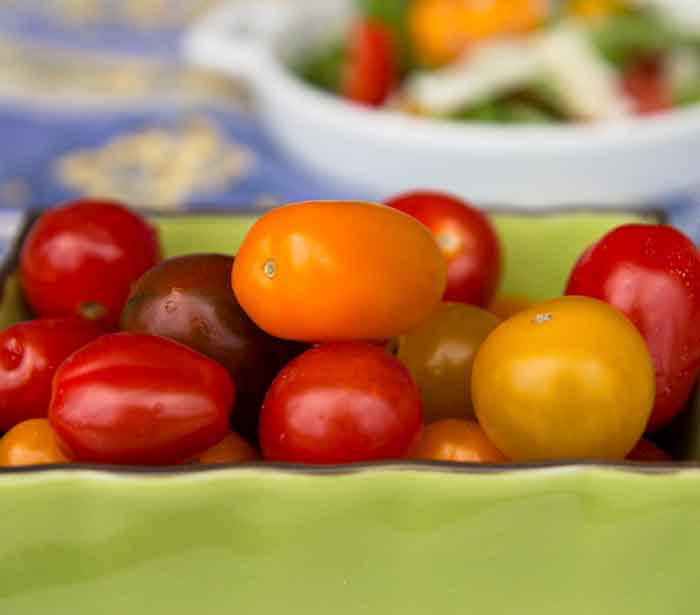 Rocket has so many aliases, it's hard to keep track. You may know it by one of it's other pseudonyms, such as arugula, rucola, rugula, roquette or if you're of the botanical persuasion, even eruca sativa, but whatever you call it, it tastes the same. I remember coming across the name "rocket" for this salad when I worked as a temporary waitress for one day in a swanky hotel restaurant in the middle of London about 20 years ago. I had no idea what I was doing and remember that the first thing on the menu was rocket and tomatoes.  My mind boggled at what "rocket" might be, and I was terrified that some diner might actually ask me what it was.  I didn't want to ask as I'd….um….exaggerated about the amount of experience I had in the restaurant industry. In the end, nobody came to the restaurant at all, so I spent the whole day being paid to fold napkins into intricate shapes.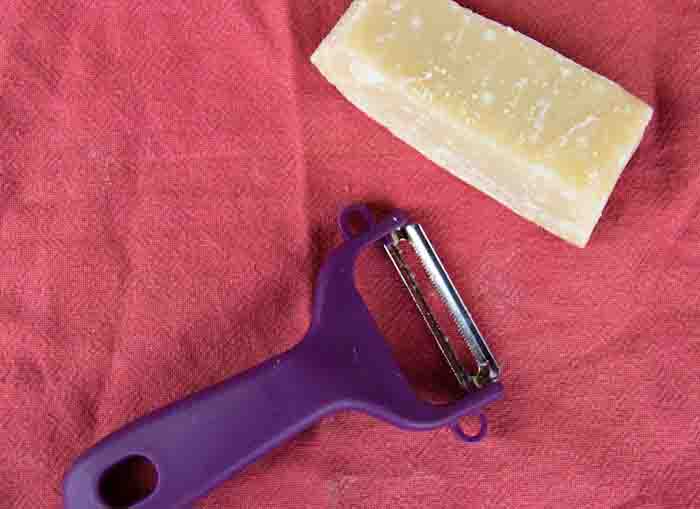 I tried to grow rocket in the garden a few years ago.  I think I was maybe too successful at getting it to grow as when we tried to eat it, it had such a strong peppery flavour that it actually hurt your tongue when you chewed it……I've gone back to buying it from the supermarket for now.  If anyone has any tips on growing it, I'd love to hear them!
This week's Travel Photo is a random photo!  Years ago I went to Florida and was amazed at how wild and beautiful it was (as soon as you got away from Orlando). This photo is taken from the garden of a house we rented on the west coast of Florida.  It was incredible!  We could sit on the jetty and watch eagles diving and fish jumping everywhere.  The only reason we weren't sitting on the chairs enjoying the sunset when the photo was taken is because of the not so incredible wildlife: the tiny "no-seeums".  These are little insects that look like little black dots that descend on you as soon as the sun starts to go down and they bite and bite and bite, and make you itchy like crazy.  We ran screaming for the house and then realised why the porch had a netting screen all over it.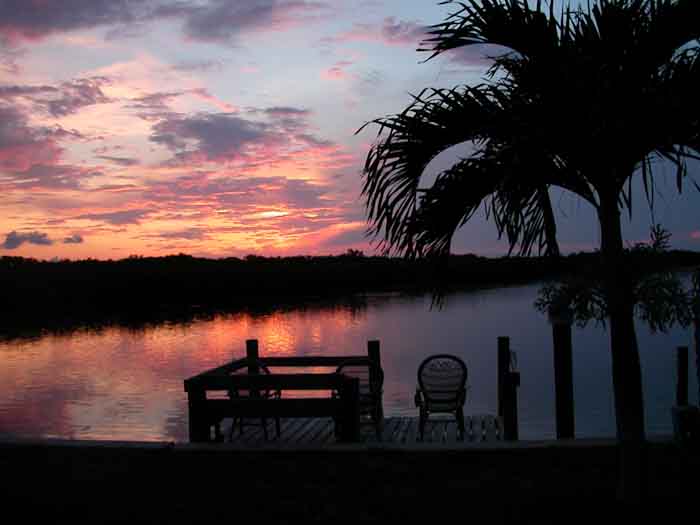 By Lisa Watson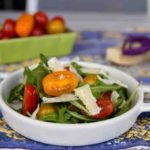 Print Recipe
Ingredients
2

cupfuls Arugula

rocket

10 – 12

cherry tomatoes

about 10 Parmesan cheese

1

Tbsp

Red wine vinegar

or balsamic vinegar

2 -3

Tbsp

Good Olive Oil

to taste Salt
Instructions
Put the salad in a bowl.

Add the cherry tomatoes, chopped in half.

Use a vegetable peeler to add shavings of parmesan cheese.

Sprinkle the olive oil, vinegar and salt over the top.

Toss and serve immediately.