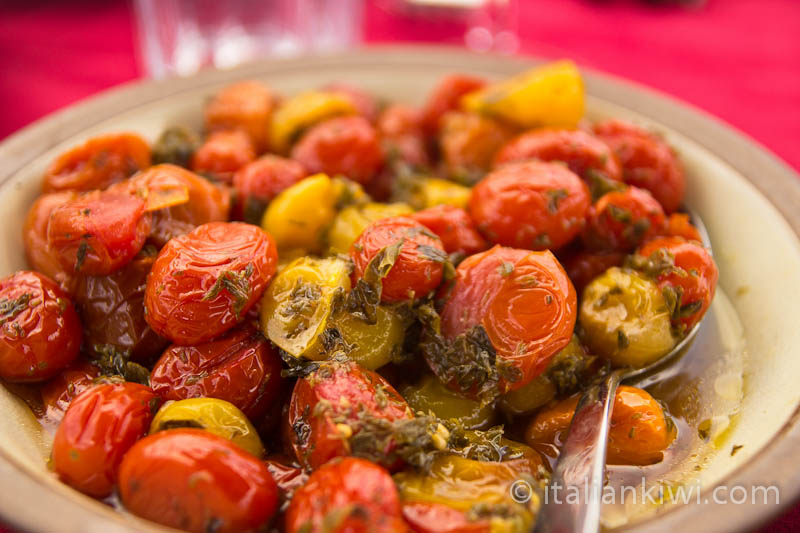 Why you should roast cherry tomatoes
I just realized that suddenly I'm wearing jeans and a sweatshirt instead of my swimsuit and a pair of shorts (now the truth is out….I DON'T wear designer Gucci clothes at home….sorry to disappoint all of you who thought I was so….(cough)…glamorous). As an aside, I have to confess that I even had to look up on the Gucci website just now to check that they even make clothes……The sudden dip in temperature also made me realize that it's time to get a recipe up using the last of the Summer's cherry tomatoes (pomodorini) before they all head South for the Winter like any self-respecting life-form should do. This recipe is fabulous to use when the tomatoes are at their best in the height of the season, but also great for when they're not, as it sensationalizes the taste of even the most wan tomato that's struggling to ripen because it's just too cold.
Every year I try to grow tomatoes in the garden.  They always come along famously and start producing buckets of green tomatoes.  The anticipation starts to build as they begin to slightly redden and grow juicier looking by the day, and then….and then (sob!)…..we always go away, to somewhere like in the photo below, just as it's almost time to pick them.  This is Valle Stretta in the Northern part of Italy, by the way.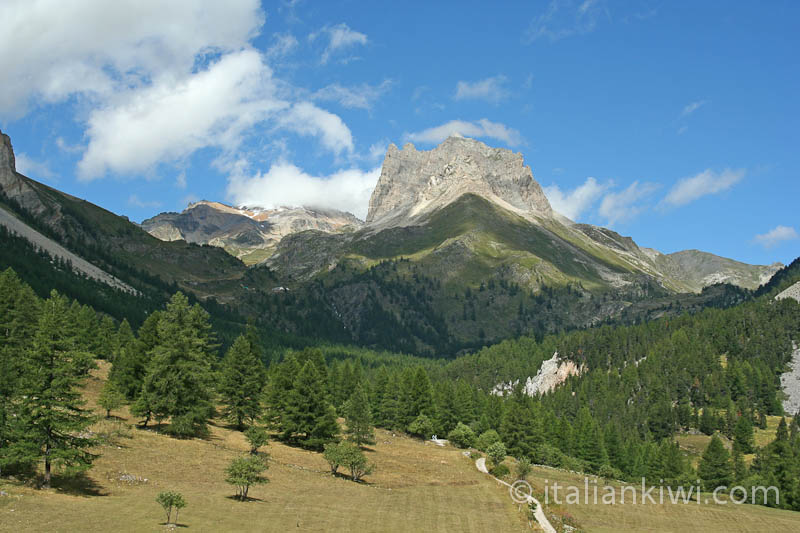 Gardening without having to do any work
By the time we get home from our holiday, the tomatoes have all rotted or been eaten by birds (or maybe by marauding neighbours).  But, I never learn my lesson and try each year.  The good thing I've discovered from this exercise is that if you let tomatoes fall off the vine and rot, you get little "wild" tomato plants growing in all sorts of unexpected corners of the garden the year after! Every Summer we have a huge cherry tomato vine that grows out from a crack between the house and our terrace and produces oodles of delicious pomodorini without me having to do anything to it.  Now, that's what I call gardening!
This recipe is very simple, but makes the tomatoes incredibly tasty.  It pairs very well with roasted meats, particularly lamb. It's great to make for a crowd at a BBQ too.  Just use as many cherry tomatoes as you can fit in your oven! You can also mix it up a bit and use thyme or herbes de Provence instead of oregano.
By Lisa Watson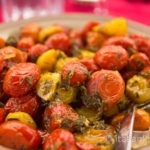 Print Recipe
Slow-roasted cherry tomatoes
A simple recipe that gives your mouth a burst of Summer!
Ingredients
500

g

Cherry tomatoes

1lb

2-3

Tbsp

Dried oregano

4

Tbsp

Olive oil

to sprinkle Salt
Instructions
Wash the tomatoes.  Either leave them whole or halve them.

Toss them with olive oil, salt and oregano.

Bake in the oven at 180 degrees C (350F,) in a single layer, for 25 minutes.

If you have time, they come out even better if you bake them at 130 degrees C for between 1 to 2 hours.  Keep checking every 15 minutes or so after the hour mark until they have become suitably shriveled.