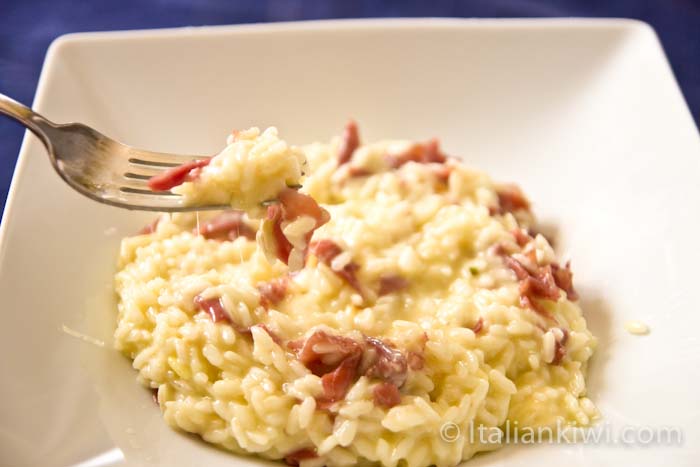 Why you need to buy a pressure cooker
A good Italian friend of mine introduced me to the wonders of the pressure cooker and risotto making a few years ago.  It is often used in Italian households and I've adopted its use with great gusto.  Instead of having to stand over a hot stove treating the rice with kid-gloves and stirring, stirring, stirring it for 30 minutes, you get to fry it a little, just to make it realize something's about to happen, then throw all the ingredients into the pot and close the lid on them.  Six, yes ONLY SIX!, minutes after the cooker has started to whistle, you have a steaming, fabulous plate of finished risotto sitting in front of you!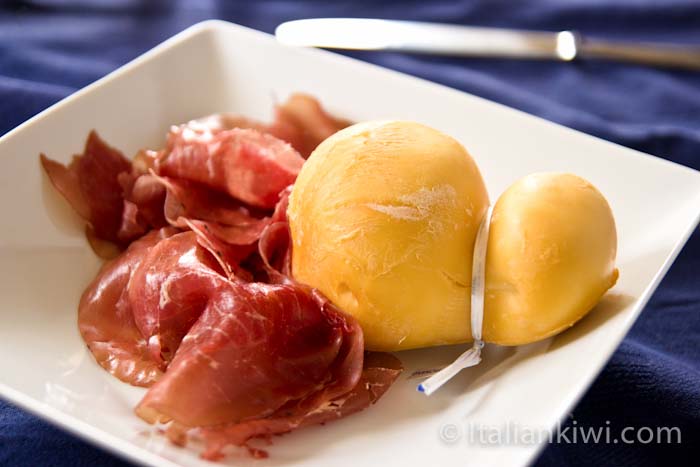 All about the ingredients
One of the favourite types of risotto in our house (i.e. one that the kids don't try to pick bits out of that they don't want to eat) is with Scamorza cheese and bresaola.  What the heck, you say?  What are those things anyway? Well, I only discovered them after infiltrating behind Italian lines.  So, that you don't have to go to all that trouble, I'll just tell you: Scamorza cheese is a smoked cow's milk cheese from the region of Puglia in Southern Italy. Bresaola is air-dried beef that comes from a valley in Lombardia, in the North-East of Italy.  As you can imagine, this combination of flavours is fairly recent since they come from opposite ends of Italy.
Now, if you don't have , or can't get your hands on, Scamorza cheese and bresaola, but you do have a pressure cooker, you can use the basic recipe here to make other kinds of risotto, such as Gorgonzola cheese and prosciutto, or any cheese that melts well, and a ham substitute.  Don't be shy: experiment!  You may be pleasantly surprised.

What to do if you don't have a pressure cooker
Now, if you don't have a pressure cooker….stop reading this at once, get yourself down to the cookware shop and buy one immediately!  I'm kidding, kind of…. What I really wanted to say is that, if you don't have a pressure cooker, you can use the instructions for making Risotto with Sausages and Borlotti Beans to do it the more traditional way.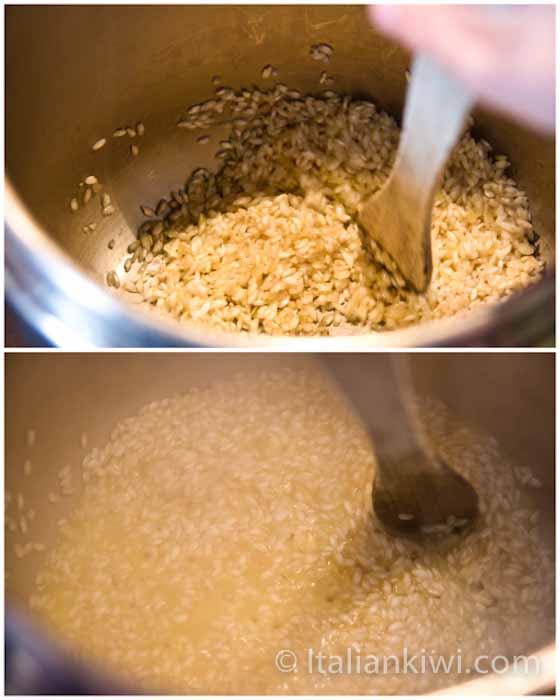 The ratio method really works for risotto
Just a quick note before we get onto the recipe: this recipe is done by ratio using cups.  I've tried to convert it to grams and ml for those who have a deep aversion to the cup method of measuring, but I promise you that it really works.  As it's by ratio, the size of the cup isn't so important; as long as you use the same one for the rice, wine and water measurements.
Travel photo of the week
It was difficult to choose between the two regions the ingredients in this risotto come from. In the end Puglia won as that's the one I have the best photos for.  This is the whitewashed village of Ostuni and lies on the seaside on the east coast of Puglia.  The houses look as if they could be in Northern Africa.  This is due to Centuries of trade and invasions between the south of what is now Italy and the north of the African continent.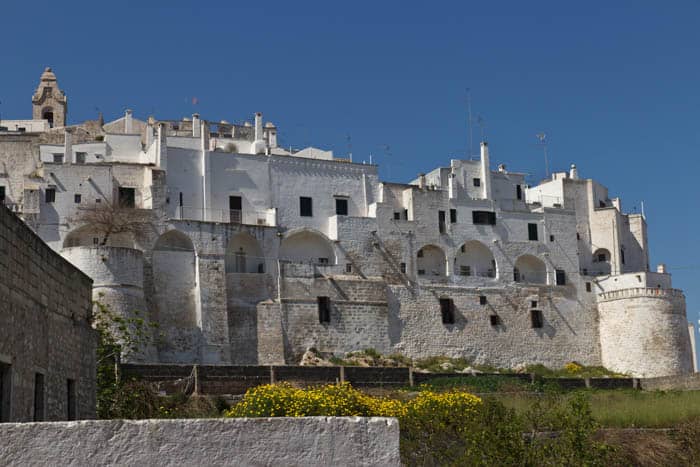 By Lisa Watson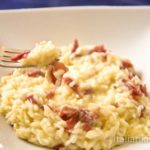 Print Recipe
Risotto With Scamorza And Bresaola
how to make risotto using a pressure cooker: Risotto With Scamorza And Bresaola
Ingredients
1

Shallot

2

cups

Carnaroli or arborio rice

350 g

1

cup

Dry white wine

250 ml

4

cups

Water or chicken broth

1L or 1 Chicken bouillon cube

1

tsp

Salt

150

g

Scamorza

1/2 a cheese

80

g

Bresaola

2.8 oz

30

g

Parmesan cheese

4 Tbsp
Instructions
Mince the shallot and saute it in olive oil until it becomes translucent.  Add the rice and saute, stirring frequently, until it starts to brown a little.

Pour in the wine and let it boil off.

Add the water, bouillon cube, if using, and add the salt.

Stir everything then close the lid of the pressure cooker.

When it starts to whistle, put a timer on for 7 minutes and sit down for a aperitif glass of wine. 🙂

Dice the scamorza, grate the parmasean and cut the bresaola into small strips (I use kitchen scissors for this).

When the timer goes off, run the cooker under cold water, then open it.  Depending on what rice you have used, it may be already of perfect consistency, or it may be still a little liquid.  If there is too much water, put the pot back on the heat and let some more of the water boil off for a few minutes.

Add the cheeses and bresaola and stir until the cheeses melt.
Notes
This risotto is better eaten immediately, as it is not that great when reheated because  the cheese clumps a little.  I think you'll find that there won't be any left-overs.